There's actually not much to be said about the LCD frame. In fact, now that I look back through the hundreds of pictures I took during the construction of the reComputer 1000, I realize it doesn't seem like I ever took a clear shot of the thing in isolation. Ah, well. We can look at the CAD file: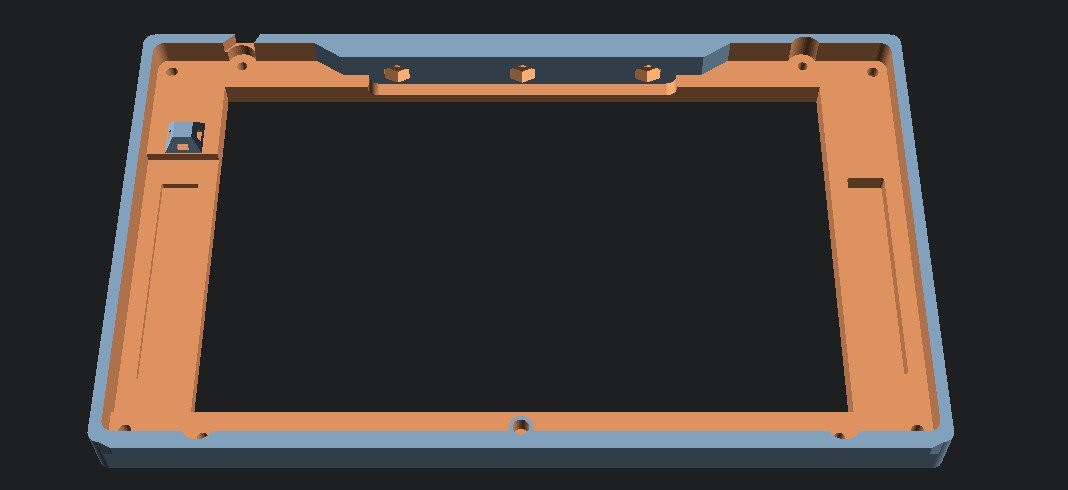 Pointing out some of the interesting bits:
Rectangles on the right and left are for the magnets to hold down the LCD
Three nut catches at the top center hold the frame to the hinge with M4 hardware.
Angled opening on top-left is for the cable that runs back down to base
The nearby integrated zip tie holder secures the cable
The semi-circles around the LCD mount screws are to accommodate PCB shape
Everything came together fine, and this is probably one of the easiest parts of the whole build to design since everything was a known-element at this point. If I'd do anything differently now, it would be to trim off the round edges of the mounting tabs, just so I didn't have to weaken the frame with those semi-circular openings.