DESIGNING MY CONCEPT:
Find or synthesize an antipyretic and anti-inflammatory drug which is absorbed through the skin.
Find an off the shelf micro piezo pump or design it by myself.
Design an according PCB.
Manufacture and populate the PCB.
Show that my concept works.
Concept drawings: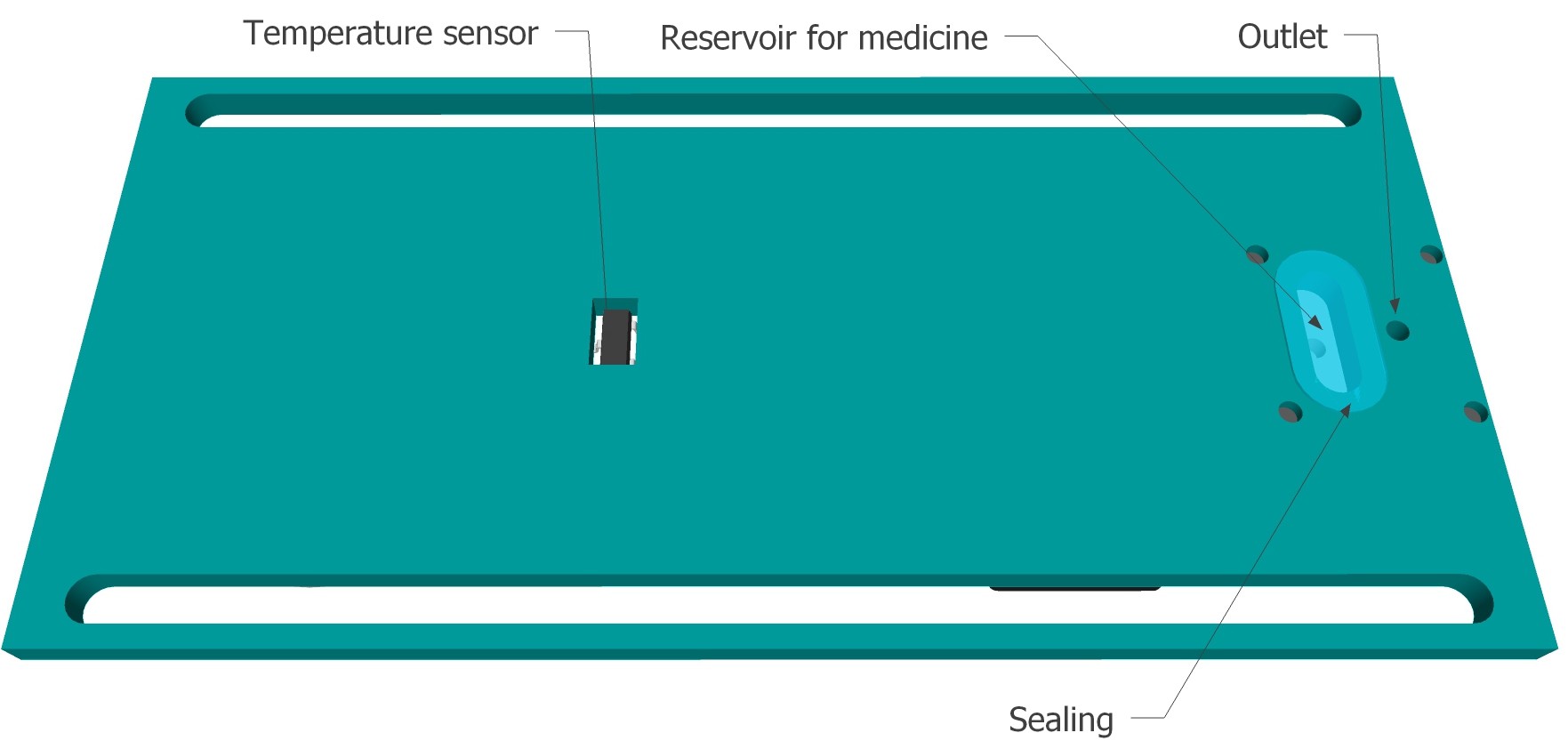 As far as I know the only available surface mount piezoelectric pump is the one from dolomite, but the datasheet is really a disaster. There is a lot of important information missing. I have contacted the company and got a prompt response:
Top View: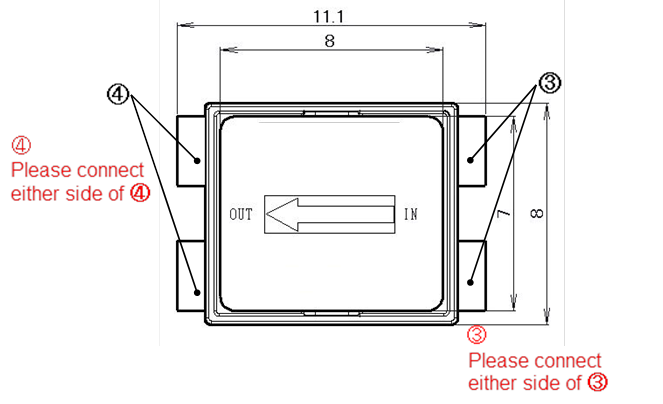 Bottom view: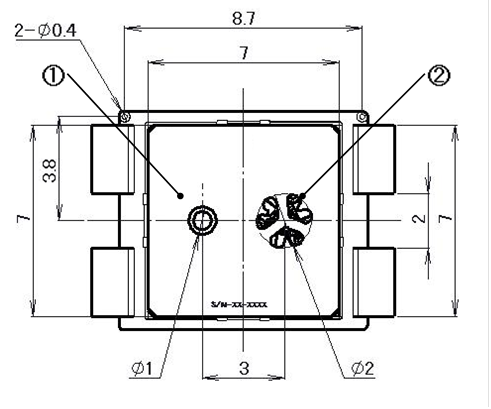 Front view:


Key:
| | |
| --- | --- |
| No. | |
| 1 | Inlet |
| 2 | Outlet |
| 3 | GND |
| 4 | VH/VL |
With regards to the Piezoelectric Pump with Surface Mount, the electrodes are paired on the same side as detailed in the diagrams.
One of the two connections on one side of the surface mount would be used to connect to HV pad, whilst one of two electrodes on the other side would connect to the GND pad on the control board. These correspond to the pin-outs on our regular Stainless Steel Piezoelectric Pumps, these are specified on page 14 of the technical note.

The pump has been designed to be operated uni-polar. However, the pump can be operated bipolar as long as you keep to the following:
Standard drive voltage of Piezoelectric Pump is V- = -60V, V+ = 60V
Voltage more than -60V~100V will be the reason of early degradation
Please do not use with higher voltage than stipulated. With drive voltage more than +/-60V, you have to arrange Offset with no less than –60V. In this case, you cannot operate the pump bipolar.
Microchip provides a Piezoelectric Micropump Driver Reference Design Piezoelectric Micropump Driver Reference Design, which could help me to design a driver. There also a few piezoelectric driver IC's available. And a few other piezoelectric pumps...

To learn more about the surface mounted piezo pump I designed a breakout board for the pump and ordered an I2C based piezo driver utilizing the DRV2667 from tindie.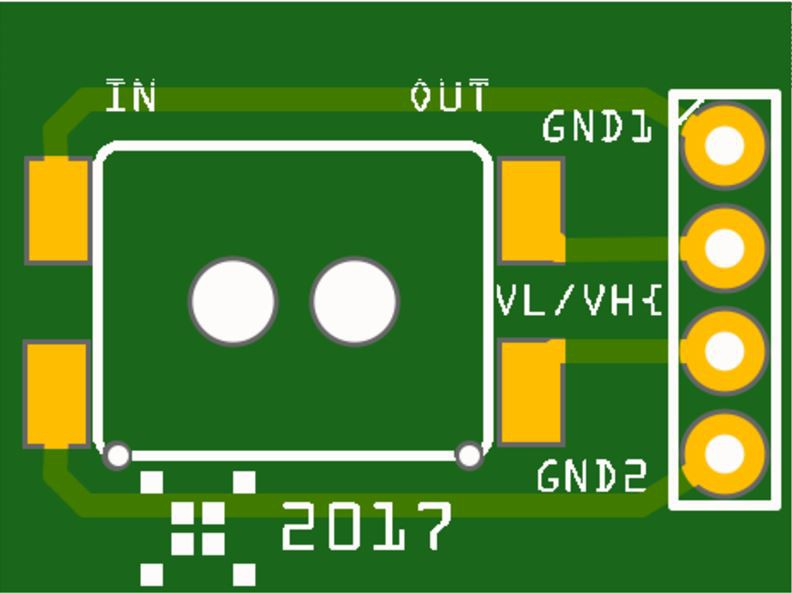 Pumps arrived too: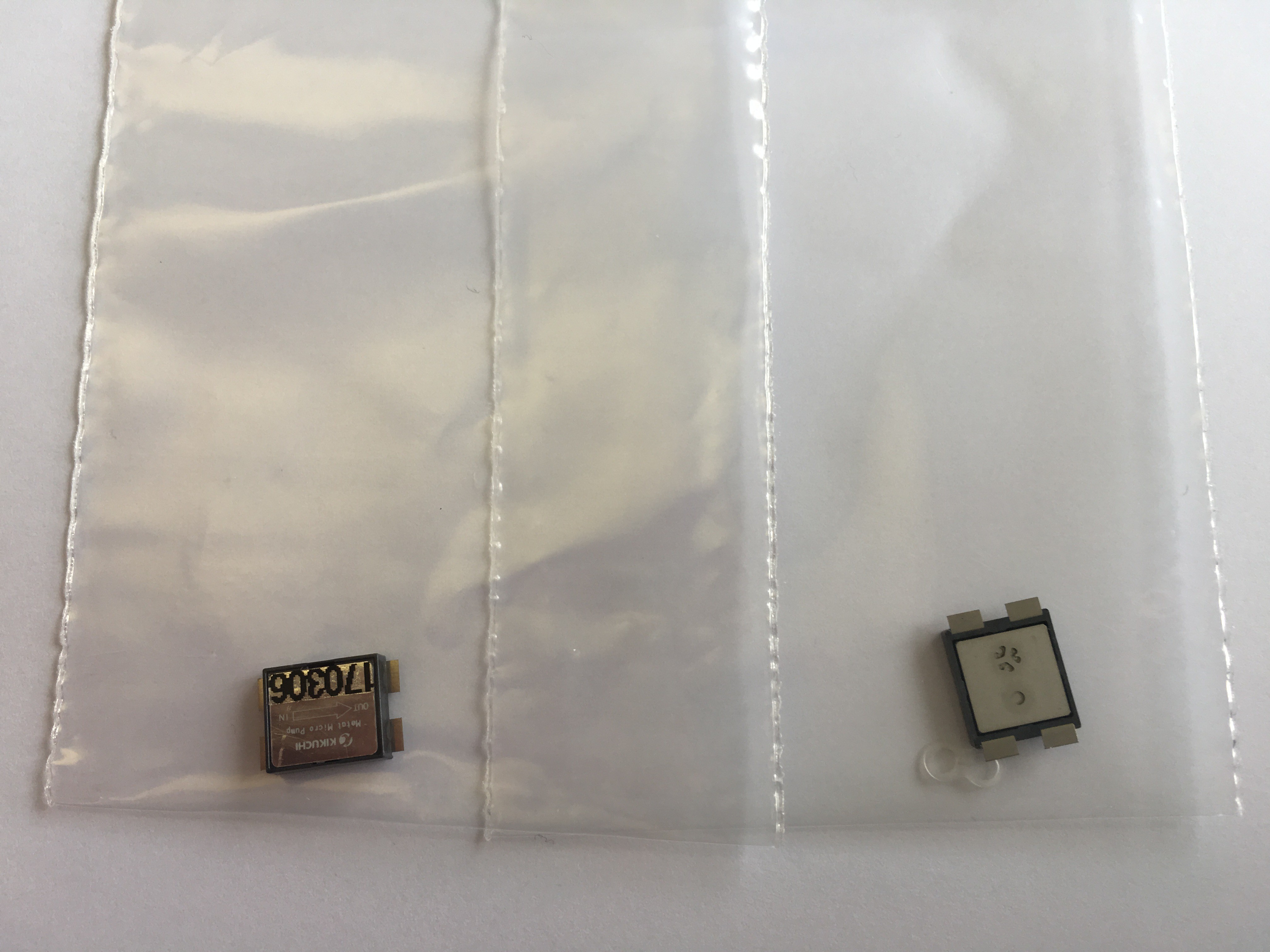 And finally several weeks later the breakout boards to test the SMD pump arrived as well...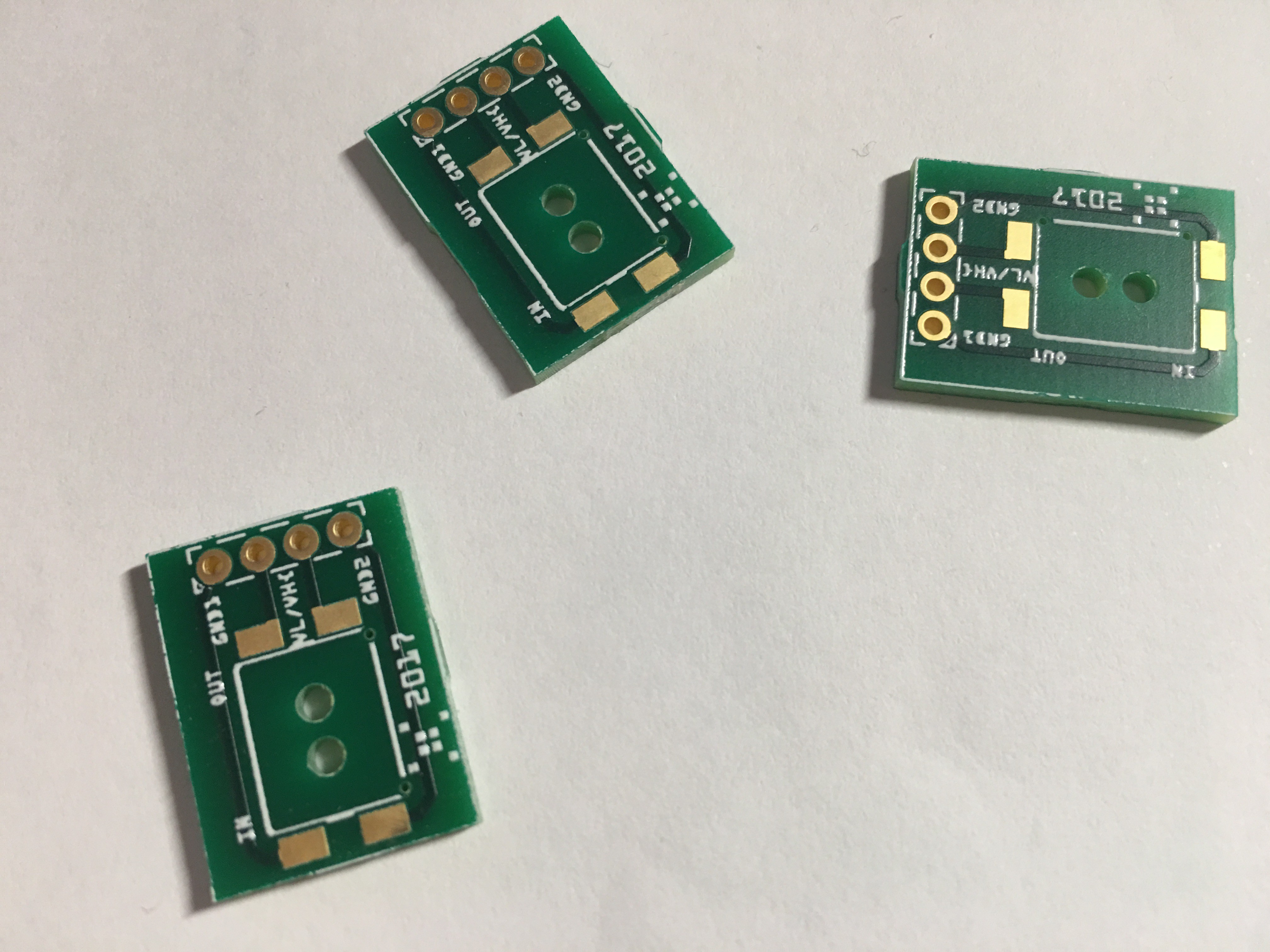 I used silicone as a sealant between the PCB top layer and the pump bottom layer...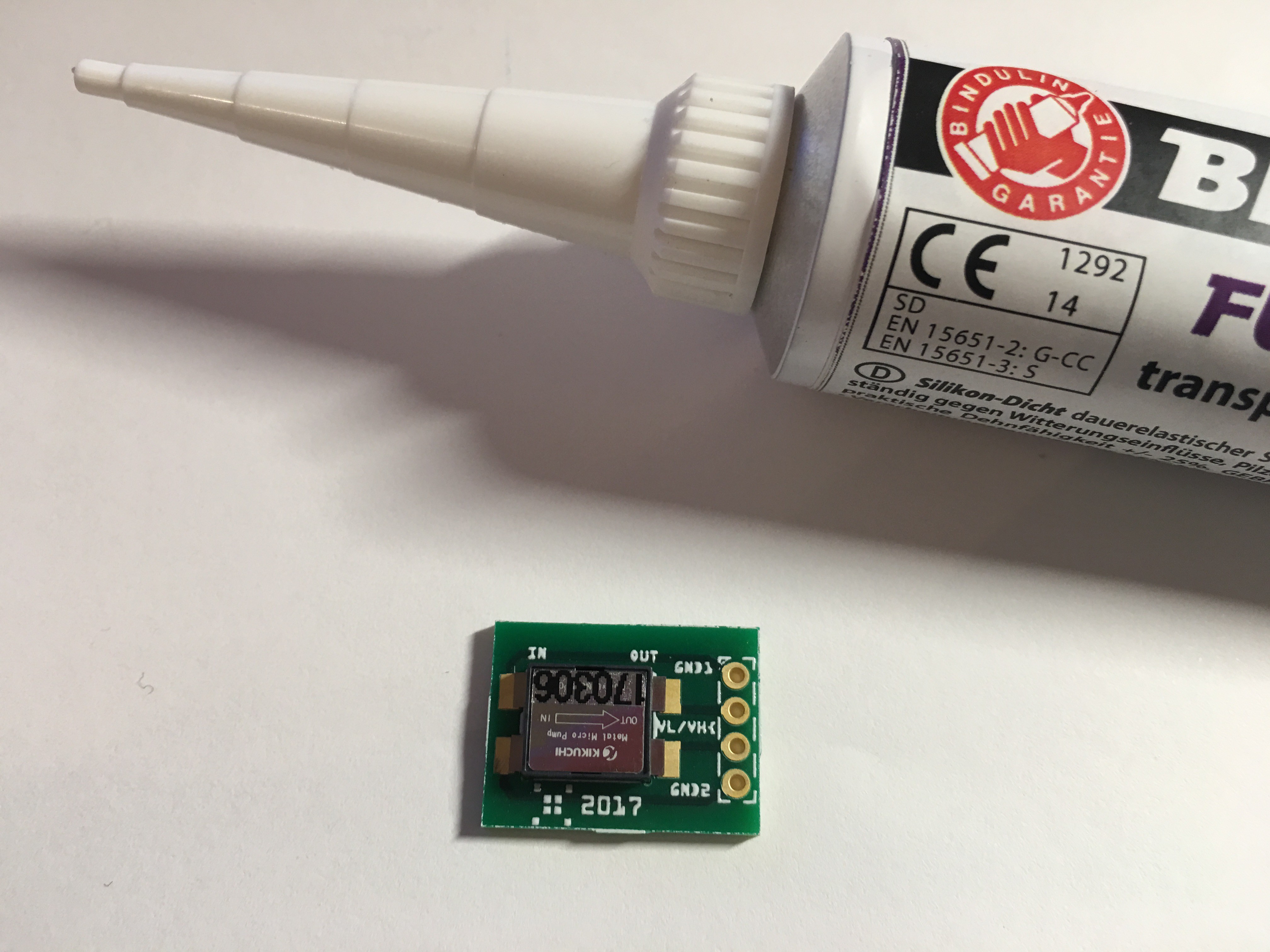 Next I purchased a couple of 2 x 0.45 mm brass tubes and an according silicone hose 1.5 x 2.5 mm...
I glued two short pieces of the brass tube with 2 component epoxy resin into the inlet and outlet drill holes of the PCB and attached silicone hoses.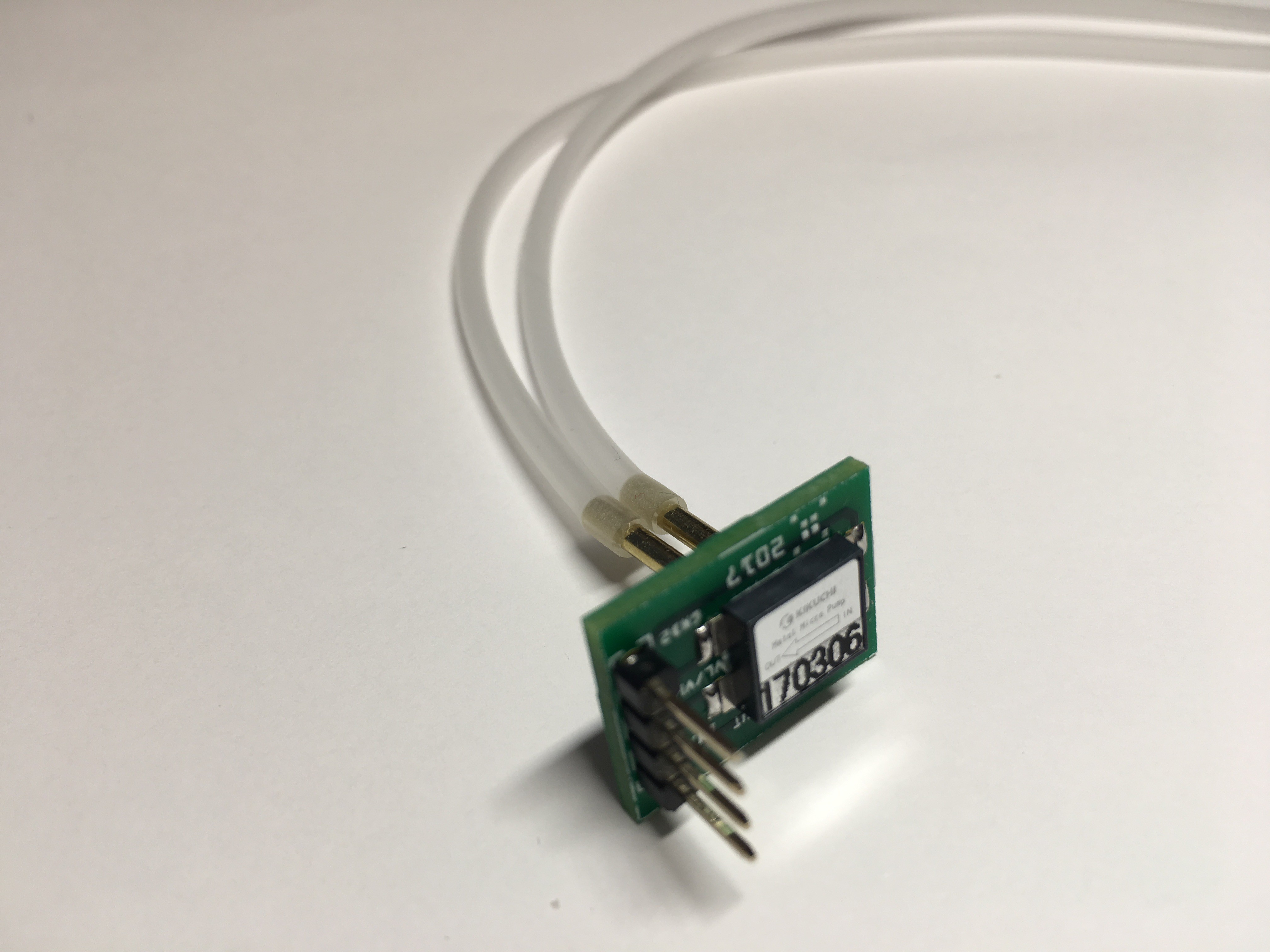 Test schematic...

I used the DRV2667 Arduino library for the test.

Video...
This project is released under the MIT license.