It'd be nice to have a small stool to sit on while at the workbench. It'd be cheapest to go and buy one from Wal-Mart, or something more stylish (and almost as cheap) from Ikea. However, the real need for a work stool is only the secondary goal of this project: The primary goal is to establish and practice a workflow for designing and building projects on a CNC router. This section serves as the "TL;DR" summary of the project log. Each paragraph (except this introduction paragraph) corresponds to an entry in the project log with more details.
---
Router Thinking: shift how we think about construction from 3D printing to CNC routing. It was a good mental exercise, but a boring design that we should just abandon.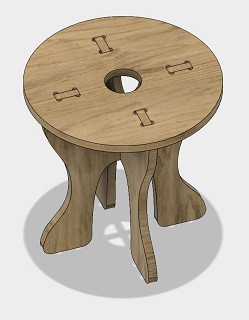 ---
Triangulate on Design: Getting past the mechanical limitations, add a little design style. The small step forward makes it interesting enough to take to the physical realm.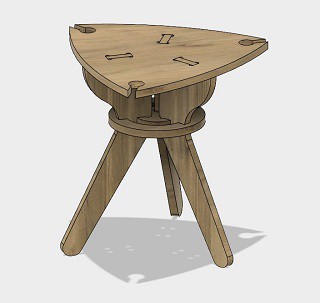 ---
Laser-cut Rotor Stool Model: Taking the CAD file into the physical realm with a 1/6th scale model, we realized that we were so focused on handling stress in the straight up-down vertical axis, we didn't pay enough attention to forces that twist the design about the vertical axis.