Since my university studies I'm amazed at atomic force microscopy (or AFM), how such a well created machine is able to measure in atomic level. As AFM doesn't requires vacuum for the operation, creating one at home would be a great project, I thought.
This project is created to find a way to measure height changes precisely at home, and if I already creating something why not use it as a scanning laser microscope?
The AFM using laser to measure the deflection of the cantilever caused by the measured surface. Creating a similar laser sensor is not impossible, but why design it, when you can hack an already existing device.
Optical disc drives such as the CD-ROM drives use laser light to read or write data from an optical disc. One of the main component is the Optical Pickup Unit (or else OPU), including the laser diode(s) and a photodiode array, which detects the reflected laser beam.
Because of uneven surface of the disc, the laser beam has to be controlled, focused to the information layer, and aim at the track to avoid any data loses. Therefore a control-loop is introduced in the OPU to move the lens to the correct position.
The exact type of OPU what I used for this project is unknown for me but the construction is very familiar to the following SONY OPU.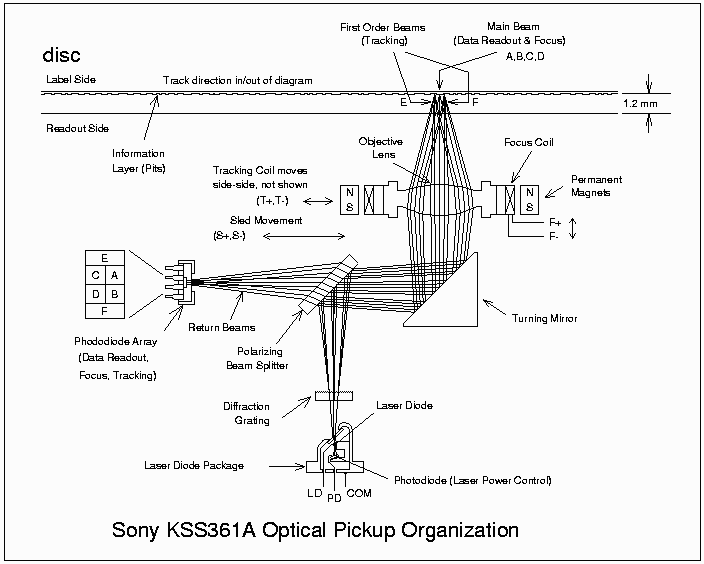 This organization is called a tree-beam configuration, where photodiodes from A to D is used to create Focus Error (FE) and Center Error (CE),  E and F to create Tracking Error (TE) signals for the control circuit.
These error signals will be used in my project to use the OPU to measure surface roughness of an object.
My final long-term goal is the creation of an AFM, but until than this machine is also can be useful for others. For instance measuring precise machining of surfaces, layers after depositions, and so on.