Following what can only be described as entrapment I've decided to resume hostilities against Social Services. I cant prove it of course, but here are the facts I know.
So, following on from my laughter at the latest 'victory'... And yes, @salec thank you sir, for a timely reminder not to trust Igor or his rodent-in-chief. I proper dodged a bullet on this by all appearances.
The Femme Fatale
My memory winds back to the first time I met her. Girls are obsessive about this even a decade later, what was she wearing, and most importantly guys, what did she say. You can get away with forgetting many things, but forget that and its over lol. Luckily, I remember these little details anyway.
I arrived late to the tenancy signing in a rainstorm so bad it cancelled trains, so I was soaked. I had a woolly hat sagging over my glasses and a weeks growth of grey beard and sat in back of the meeting with the other tenants and steamed gently next to their projection equipment. Pretty much as soon as I did, one of the other tenants shuffled seats as we all rearranged ourselves to see the presentation and suddenly I had a new best friend. She seemed shy and nerdy in a tasteless raincoat and glasses and kept herself all covered up, but she was also just a little bit too forward for it, and she was out of place. I'm an old codger, and she was obviously half my age and it made my antennae twitch.
Did we know where we all were, we hadnt had our keys yet and didnt know our house numbers.
Later, when we were given them she seemed overjoyed we were to be neighbours and I could see her making plans as she questioned me. I didnt let on who I was; she already knew, why else would she be chatting me up, I figured. I began to stare out of the windows, the meeting was boring and she was just a bit too friendly, and she was persistent. I forgot all about it though, I'm not suspicious or paranoid by nature.
After we moved in she approached me with overtures of friendship, and pretty quickly offered to help me out with Bea as she was a carer before becoming a single mum with a typical sob story about her ex. So I agreed, and she became one of my PA's when Bea came home. In the meantime, she continued the friendship, introduced me to her absolute darling of a daughter and established herself in the newly created community, befriended and introduced another carer who remains my PA. She also lost the nerdy and shy cover and revealed herself to be physically stunning and actually quite socially skilled, her and her bevy of equally beautiful and mostly single friends.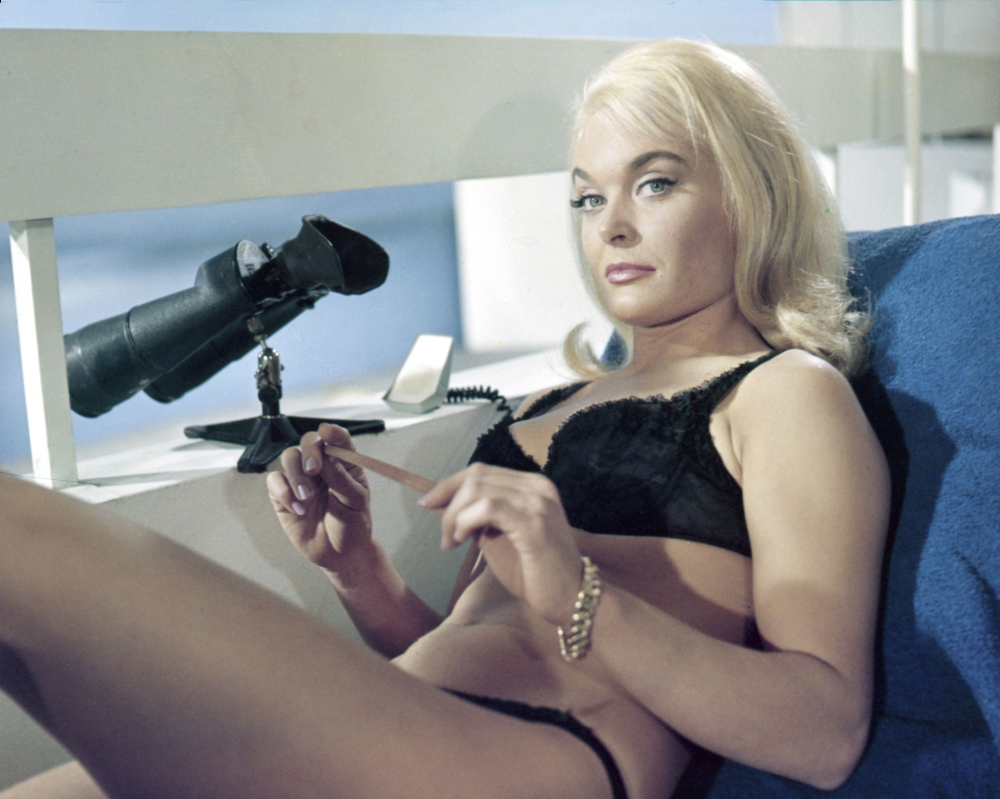 I didnt complain of course, nor did I complain when she began working for me, until the flirting became so obvious it was almost aggressive, and eventually I got invited to her bed...
Well, let me tell you that despite my friends calling me names for this, and having to take a *lot* of cold showers I didnt.
I questioned my own sanity more than once, but, fact is she worked for me and that ruled that out. By now I couldnt discuss it with her without disciplining her and losing her as a PA, so all I could do was wait for her to do the inevitable; approach me formally, if she were really interested. But no.

So she quit spectacularly, coming round with her mother who proceeded to have a go at me for not sleeping with her daughter. I could see the poor woman questioning herself as she listened to me tell her there was twenty years between me and her offspring as well as a contract we both signed so it wasnt going to happen. They got pissy and I asked them to leave and ended the contract, and thought that over bar some shouting until we all calmed down. And if there were anything genuine, we'd talk eventually.

Thats what should have happened. This is what happened next instead.

There was a knock on my door, I opened it and was greeted by a police officer. He enquired if I knew why he was calling, politely... No, I told him, I had no idea. Genuinely I had no clue at all.
So a member of the public has reported me as a highly dangerous individual. It seems my erstwhile employee decided to take revenge and informed them I am a hacker. That or maybe she actually feared reprisals. As if...
So the officer tells me he needs to take my real name, place of birth etc to create a file so he can report to Social Services as he has precisely zero records on me.
Yeah, thats right officer. I am the highly dangerous care manager known as MorningStar. XD

So, after he then tells me he does have a duty to do I show him my artwork and stuff, my laboratory and some of the robotics, and tell him of my exploits and a little of what Social Services have been up to, he tells me I'm not in trouble but could he still check to make sure I dont have anything dangerous in the house, perhaps a superweapon.
He opens my locker cupboard experimentally after I tell him I have nothing to hide, and it was unlocked.
"I dont think there's anything we need to worry about here sir" he tells me, then bids me goodnight with the news he wont be back, and leaves me literally ROTFL...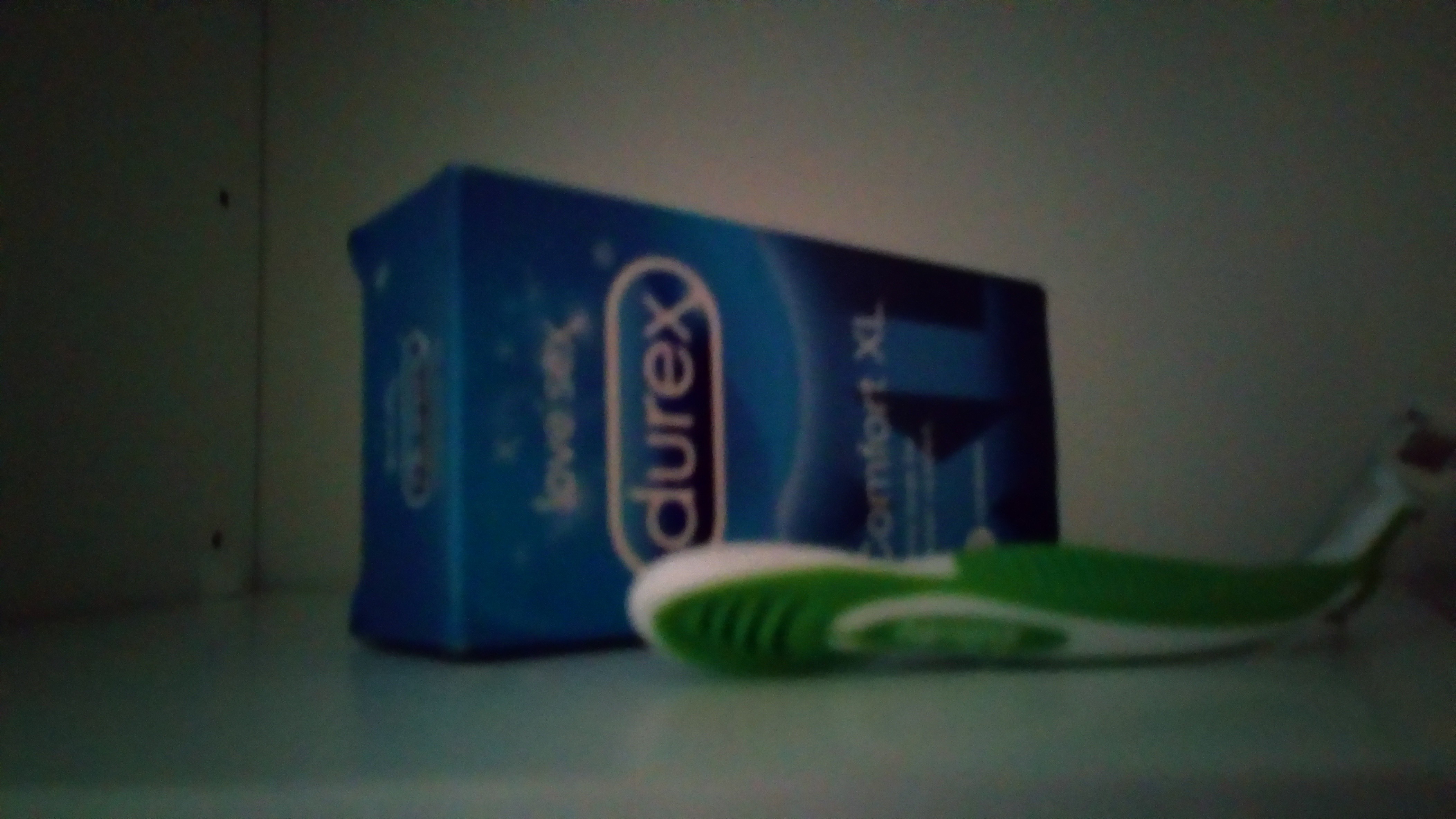 So, I file charges of sexual harassment, which I have subsequently dropped to keep the peace, and then promptly take the fight right back to Social Services, who I discovered actually placed the woman there themselves the same as they did me here, and from the police that she has a history of that kind of behaviour and thats how she came to be placed by Social Services.

Slightly less coincidental methinks.

I now dont see her, or her friends, and when she failed to convince my other neighbours of what she told the police as well and they sided with me, neither does anyone else.

Motive, opportunity, and circumstantial evidence that was entrapment. I called Igor out on it as he wouldnt intervene, and then when he simply laughed in my face as I knew he would, I went back to the Police for advocacy myself.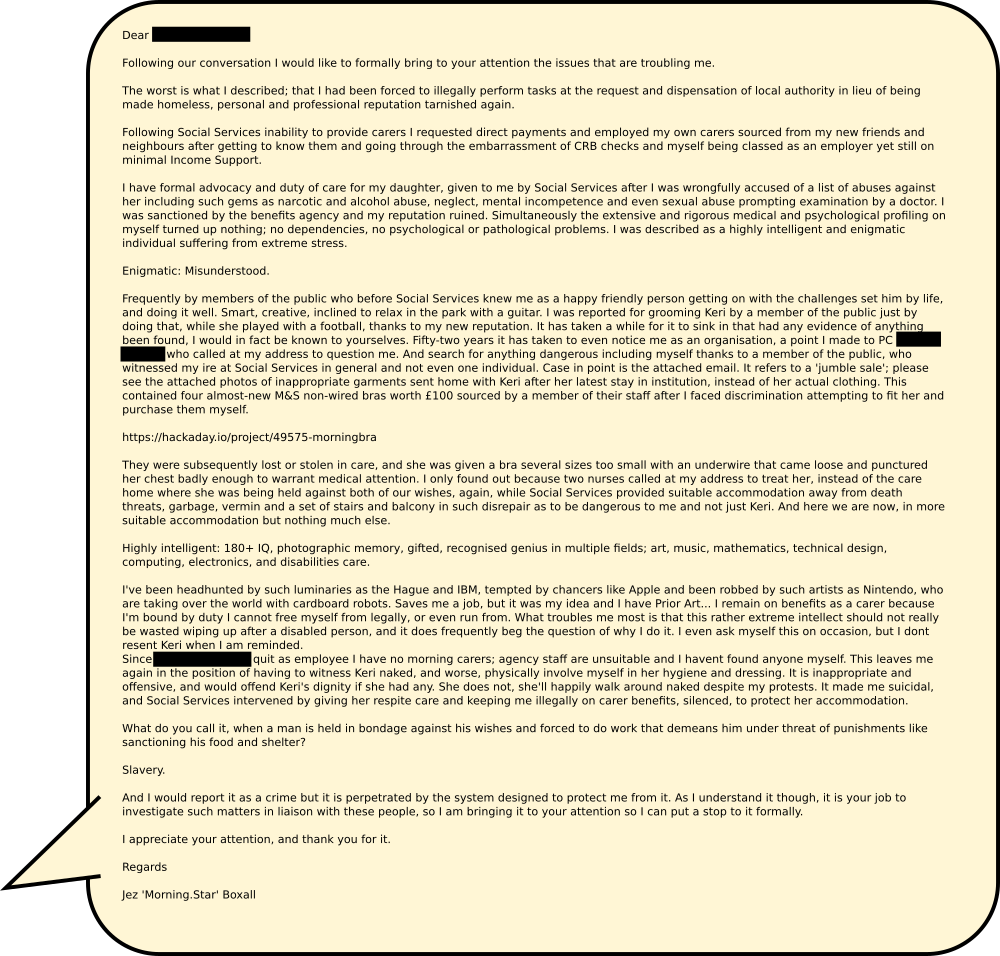 I formally accused Social Services of slavery, and our law enforcement took it seriously and are investigating it.

Hacker history my friends.

I'm now waiting for Igor to either lie to our law enforcement, or admit to the charges.

He can lie to me, his superiors, even himself, and get away with it, but he cant lie to the police and especially not in print. Nor can he simply ignore the statements set out as he has done countless times with me...
That report I can then use as a basis for litigation, because the law enforcement cannot 'arrest social services'. Not even if a crime has been committed... Because it is a governmental organisation and Igor is not directly responsible for even his own actions, much less the orders he's given and executed.
Honestly, I dont know what their next move will be.

I'm getting a lawyer. ;-)