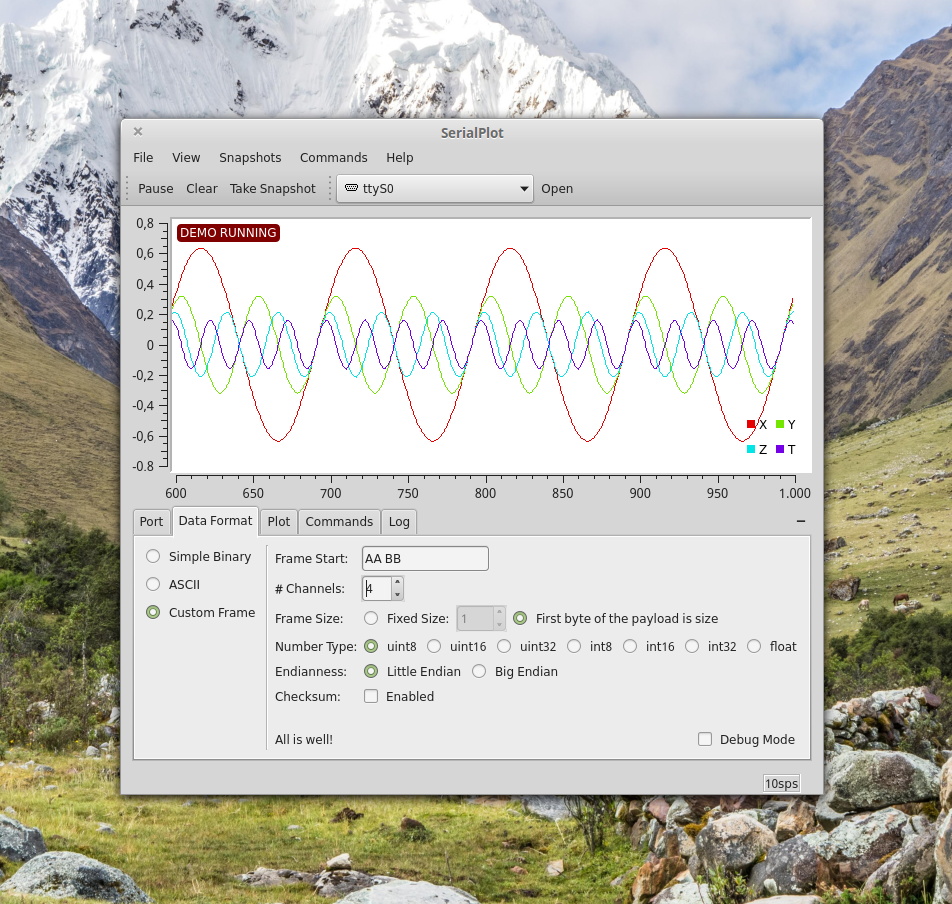 List of changes:
Custom frame format support added.
Command labels and commands menu added.
Legend added.
Skip sample button (for Simple Binary reader) added.
ASCII mode can determine number of channels automatically.
Changed shortcut for "Open Port" to F12 (was F2).
Numerous GUI improvements and bug fixes
Most important addition of this release is the "Custom Frame" data format selection. With this option you can define your own binary data format. A custom frame format is defined as follows:
Define a frame start sequence (sync word). This is defined as an array of bytes and should be at least 1 byte long. You have to have a sync word!
Define number of channels.
Define frame size. It can be a fixed number or you can transfer frame size at the beginning of each frame, right after sync word. Note that frame size byte doesn't count itself.
Define number type.
Define endianness.
Enable/disable checksum byte. When enabled checksum byte is sent at the end of each frame. It should be the least significant byte of the byte sum of all the samples. This basically includes all bytes between the frame size byte and checksum byte.
I plan to write a tutorial on how to use this feature in detail with some code examples in the near feature.
Installation
New for this release, I've created an ubuntu ppa which makes installing software and updates very easy. Here is how:
sudo add-apt-repository ppa:hyozd/serialplot
sudo apt-get update
sudo apt-get install serialplot
If you want to access .deb packages directly. You can find them on the sidebar links.
Here is the windows setup by the way. Still 64bit only at the moment.