UPDATE IV: Adding an image of the differential-amplifier simulation.

UPDATE III: DEFINITELY a current-mirror. Check out the bottom.

UPDATE II: Throwing random images and notes up at https://github.com/esot-eric-test/transistorOddities

UPDATE: Isn't this a [single transistor] current-mirror? Gotta explore this in a bit more depth... Some notes at the bottom.

--------------

Split The Current, and switch it from one side.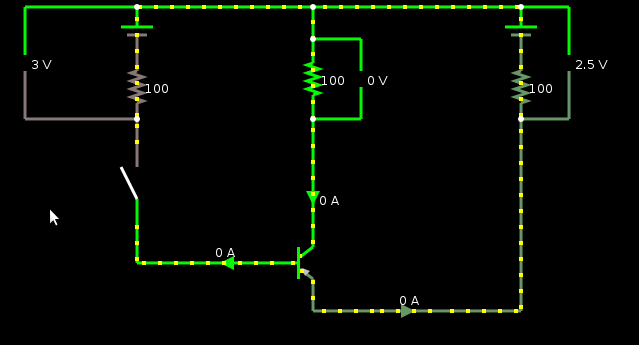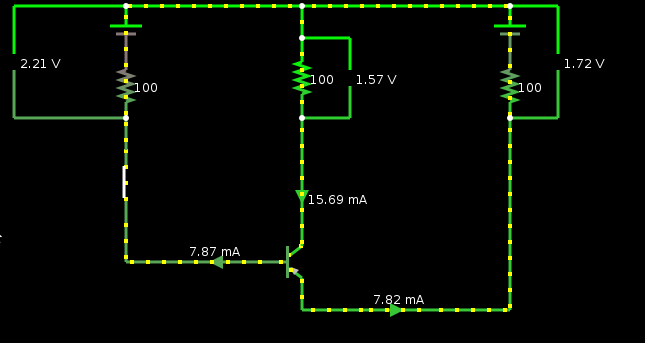 So, imagine we have two 3V coin-cells with slightly different charges, or two solar-cells which may receive slightly different amounts of light, and want to draw darn-near twice their maximum-rated current.
Putting them directly in parallel isn't so smart, right? Especially when the system's powered-down.

So, with this circuit--using a PNP on the ground-side, or an NPN on the positive-side, with its emitter tied to ground/positive, respectively--roughly half the current comes through each coin-cell, and the on/off switch (or maybe another normally-wired transistor?) controls them both.
So, here I'm simulating two coin-cells; one's at 3V, and one's at 2.5V, when unloaded. But their internal series resistance is roughly 100 ohms (represented by the 100 ohm resistors on each branch).
In the middle we have a load (a circuit, LED, etc...) simulated by another 100 ohm resistor, getting about 1.5V.

The switch could be anything, maybe a "normally-wired" transistor controlled by a pushbutton and flip-flop as part of the load, etc.
Note the directions of the current entering/leaving the transistor... Current is *exitting* the PNP's emitter, and *enterring* its collector. That's why this guy's a weird setup that's been boggling my mind for weeks.
---------
Here's the original weird circuit: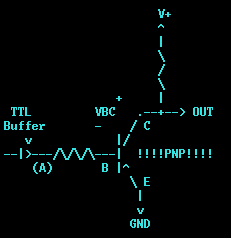 And here's another, in a more logical topology.
Note that as long as the right-side "battery" is greater-than or equal to the right-side "battery's" voltage, the two branches carry the same current. Doesn't that make it a single-transistor current-mirror? Hmmm...
-----------
DEFINITELY a current-mirror. Have never heard of a single-transistor current-mirror, have you?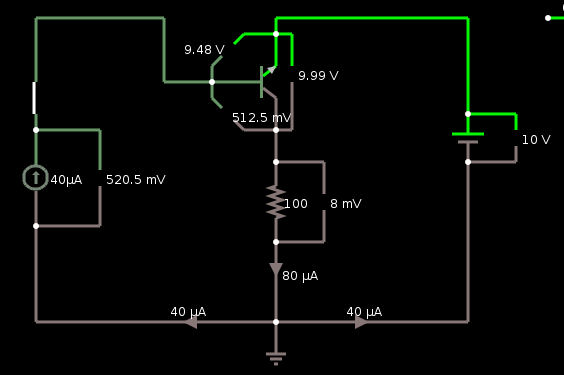 Not that we can trust simulations...
Here's a simulation of an attempt at a differential amplifier using this current mirror. It *sorta* works. Though I know little about diff-amps, these days...
-----------

If you haven't been following the saga, check out The mistake that started it all, and Some more rambling.