Working with embedded devices we need to use oscilloscope to check what's going wrong in corrupted device. We don't exactly know the actual reason of wrong work of device. Oscilloscope can help us to recognize the problem and see the packet sended for example from cpu, uart of other interface.
It is okay when your team located in one place. But when you have a remote team, you can't easily show your oscillograms to other members. Yes, you can make a video and upload it to YouTube, but doing it every time is very embarassing (checked by us).
That's why we decided to build not only the o-scope.
We think that cloud o-scope could be useful for DIY. Many professional o-scopes have a big cost and better equipment. But for usual application no need to use very accurate components.
Low cost and build instructions can help students to get a working oscilloscope in their personal labs. Our prototype costs about 60$ like Raspberry Pi, so we think it is a good opportunity to get an oscilloscope like in University/College.
Also we think about application at radio industry between engineers. In Russia radio is very popular. Many people like to build radio receiver by hands and speak with them. Making o-scope with battery can help to bring it on the road and check any device.
Imagine that you have two Arduino Pro micro with equal firmware: one is working, second not. You want to discover what's going on corrupted device and decide to use cloud oscilloscope.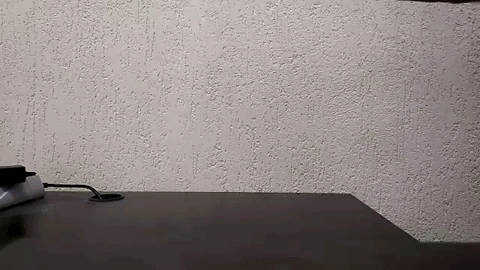 At this example we work with SoftwareSerial at Arduino that sends data. We need to connect o-scope's probe and SoftwareSerial pin. Here it a beginning of oscillogram:
After that we need to press data button to save an oscillogram, connect to MQTT. Next press will upload saved oscillogram to cloud.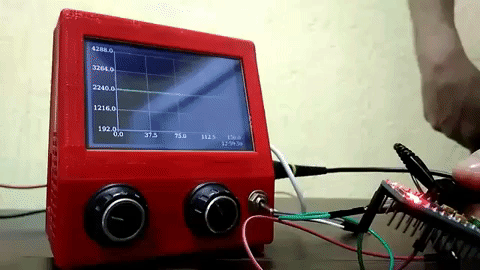 This is how uploaded oscillogram is showing in the web-interface. Click here to view paste.
Let's make similar actions with corrupted Arduino:
Connect probe
Write data
Send data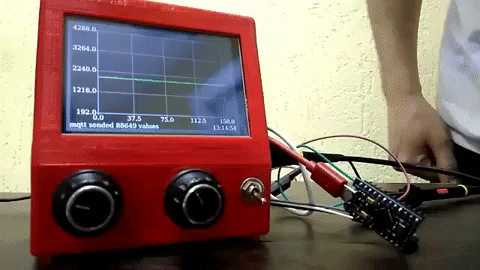 This is screenshot with oscillogram from corrupted Arduino. Click here again.
At the "My diffs" section you can choose these oscillograms and make a graph like a diff, check out where things went bad.
It works! :)

Our cloud service: http://oscilloscope.cloud/
More details in blog at http://dronov.net/