Why?
Depression, Anxiety and chronic stress are among the most common and highly debilitating mental ailments which affect people across different demographics and ages. Over long term it can increase chances of destructive behavioural tendencies such as substance abuse and suicidal tendencies. Mental ailments have huge costs on both a personal level and societal level. There is a need for an effective prevention and long term treatment programs that are tailored to an individual. Though virtual reality (VR) has been used for decades as a tool for psychotherapists. Virtual reality therapy has been used to aid people with Post Traumatic Stress disorder and adverse phobias. This performed by usage of exposure therapy which allows a person to experience the scenario in a safe and controlled manner helping release anxiety and other symptoms. Large scale adoption in recent years has been due to advent of affordable Virtual Reality headsets. VR therapy alone however is not a complete solution. Lack of biophysiological sensing hampers assessment of a given therapy's effectiveness. Many VR therapy apps do not take advantage biofeedback mechanisms(Respiration/Heart Rate Variability) which have been widely used for mental health treatments. Further a lack of patient specific modulation of the stimulants provided to patient reduce effectiveness of therapy. Body haptic feedback is a significant component that is lacking in current VR therapy. Far too often pseudoscientific and vague therapeutic methods marketed to people suffering from mental ailments and there is no reliable metric that comes along with those methods which allow users to gauge their mental state. Zen based relaxation techniques and other eastern approaches to relaxation are hindered by lack of access to a proper trainer to provide feedback in home sessions. Our goal with NeuroCuddl is to create an open platform that can use validated and data backed approaches to aid themselves and be customizable to serve them better.
With a reliable base platform and support for expansion we believe the community can develop "experiences" or adding other sensors(Perhaps a RADAR based non-contact respiration sensor) or actuators(Heating pads mayhap?).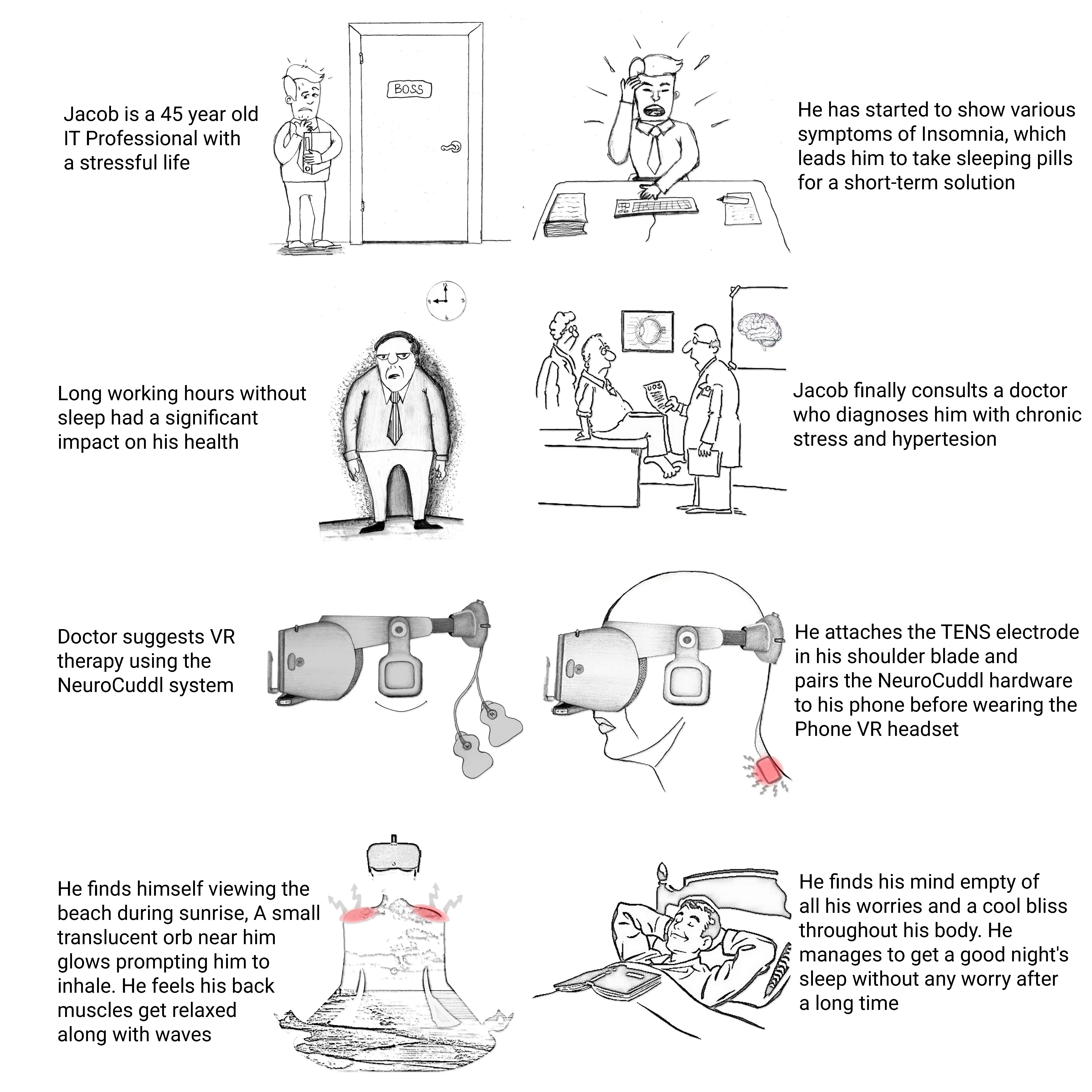 Fig 1: Storyboard sketch shows how NeuroCuddl helps Jacob by solving his physical and mental health related problems
How?
Our solution would use a combination of validated techniques for to provide relief. Biofeedback, A validated approach for mental wellness would form the basis of a patient specific training regimen and provide modulation to muscular and audio-visual stimulation provided by the EMS unit and VR headset respectively.
Biofeedback & Mental State assesment:
Biofeedback is a technique which uses provides a person awareness on immediate and continuing signals due to a bodily function that the user is not usually conscious of. Biofeedback techniques are well known to facilitate treatment for a wide variety of disorders with a psychosomatic symptoms such as hypertension, chronic pain, anxiety and depression, and in many cases the results obtained have been notably positive. During biofeedback therapy, a patient learns relaxation techniques and mental exercises that allow them to lower their blood pressure or regulate their physiology.


Breathing is among the most fundamental physiological functions of the human body and has a significant role in physiological regulation and biofeedback. From an evolutionary perspective, breathing is closely linked to emotions: it plays an important role in "fight or flight" responses. While signals such as heart rate and electrodermal activity (EDA), which measures skin perspiration, can also serve as markers for stress, they cannot be consciously modulated breathing however can easily be modulated. Breathing exercises, diaphragmatic breathing in particular is a well-validated technique to help people relieve stress...
Read more »