The Problem
Even though 3D printing is a newly emerging technology, it has rapidly became mainstream in education, manufacturing and many other industries. 3D printers allow anyone to easily produce complex parts.
However, these machines have one critical flaw. After a 3D printer has finished printing a part, a person must physically go to the printer and remove the part from the print bed. A 3D printer cannot start its next print job, until the previous part is removed. This constraint cripples the productivity of 3D printers. If 3D printers could automatically eject their prints, then they could print out a constant stream of parts. The efficiency of the machine would drastically increase.
Many businesses already use 3D printers to manufacture product. Currently, their manufacturing capabilities are constrained by the constant need to manually remove/start print jobs If this task was automated, it would be easier for more companies to use 3D printing for volume manufacturing.
Personally, I work in a 3D printing lab that prints hundreds of parts for my fellow university students. From my position, it is obvious that this constraint significantly limits the number of print jobs our lab can complete per day.
[Figure 1: Problem Pitch Video]

The Solution
The purpose of this project is to build a fully automated 3D Printer: The WorkHorse 3D Printer. The WorkHorse 3D Printer will have some sort of manipulator that autonomously ejects finished print jobs from the printer. With this novel feature, the WorkHorse 3D Printer will be able to print a constant stream of print jobs without human intervention. This will be a breakthrough for the 3D printing industry. Automatic part ejection will improve the functionality and capability of 3D printers. Within the next few years, autonomous part ejectors will be as ubiquitous to 3D printers as paper ejectors are to paper printers.  
Features of WorkHorse 3D Printer(Mk 1 and Mk 2, Mk 3 in Progress!)
Automatic Part Ejector
Mk 1.

WorkHorse 3D Printer Mk. 1 is a Delta 3D Printer with an automatic conveyor belt. Whenever the printer finishes a print job, the conveyor belt rolls the part away and the printer begins another print job.
[Figure 2: Automatic Part Ejection Demonstration]
[Figure 3: UI Interface Demonstration]

Mk 2.
WorkHorse 3D Printer Mk 2 is a Cartesian 3D printer with a conveyor belt for the bed. The conveyor belt provides both the y axis movement and ejection system. A major upgrade in Mk. 2 is the simplicity of the new design.
 [Figure 4: WorkHorse 3D Printer Mk. 2]
[Figure 5: Printing Queue of Parts Automatically]
Mk 3.
IN PROGRESS(FEA STILL GOING :D)
Software interface
The WorkHorse 3D Printer has an easy to use software application. The application allows users to easily manage the print queue. Users can add/remove parts to/from the print queue, while the printer is running.
[Figure 7: WorkHorse Print Queue Handle Interface]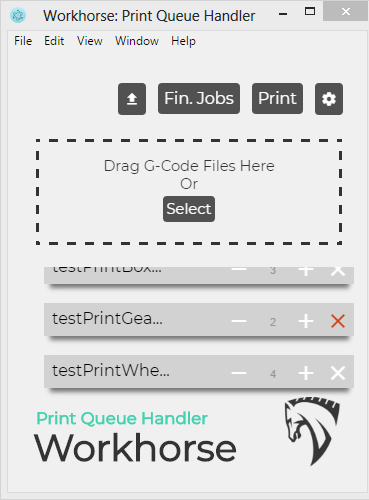 [Figure 8: WorkHorse Print Queue Handle Interface with Print Jobs]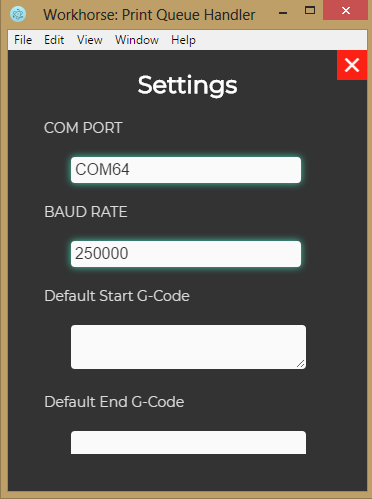 [Figure 9: WorkHorse Print Queue Handle Interface Settings Menu]
Key Objectives
Robust
This machine is intended for mass production purpose. Ideally, the machine would run 24/7 outputting a constant stream of print jobs. Of course, scheduled breaks would have to be programmed into operation to prevent overheating. But the machine should reflect its name. The WorkHorse 3D Printer should be able to print a wide variety of parts, for long periods of time, without breaking down.
Modular Design
There were...
Read more »