Background:
The dragonfly is nature's guided missile. They can use their 360° visual span to swoop down and devour their prey mid-flight with a 95% kill rate. They can individually manipulate the trajectory of each wing to switch directions rapidly in mid-flight. Ant-Man? Spider-Man? They really should have Dragonfly-Man. To illustrate this insect's abilities, I invite you to google "dragonfly catching fly slow motion video," or something of that sort. You will be amazed.
Despite their stunning predatory accuracy, dragonflies are deceptively simple creatures. 300 million years ago, they were still buzzing around like little killer drones. The source of the accuracy of dragonflies is also deceptively simple. Eight pairs of neurons (called TSDNs for target selective descending neurons) that run from the dragonfly's visual system to their flight center, help them encode the direction of their target (their prey) and track it with such incredible accuracy. Through examination of this surprisingly simple yet adept insect, it is my hope that my research can be used for the purpose of furthering technology, such as building a faster, more accurate helicopter, and education, by providing a cheap, DIY method of producing a professional experiment.
In my project, I will be replicating and extending Paloma Gonzalez- Bellido's 2012 paper, "Eight pairs of descending visual neurons in the dragonfly give wing motor centers accurate population vector of prey direction." This paper studies the relationship between eight pairs of neurons and the dragonfly's predatory abilities. The results of the paper show that these neurons, aptly named the target-selective descending neurons (TSDNs), encode a population vector that is strongly correlated with the position of the target (the fly). This means that these eight pairs of neurons are direction-oriented, or that they have a preferred direction and show more activity when their direction is favored.

The Original Set-Up:
As previously mentioned, this project will be replicating a academic paper, "Eight pairs of descending visual in the dragonfly give wing motor centers accurate population vector of prey direction." In this paper, Gonzalez-Bellido used a modified projector to shine a black dot (representing prey) on a curved screen and measured the neural activity of the dragonfly. Below is Gonzalez- Bellido's set up: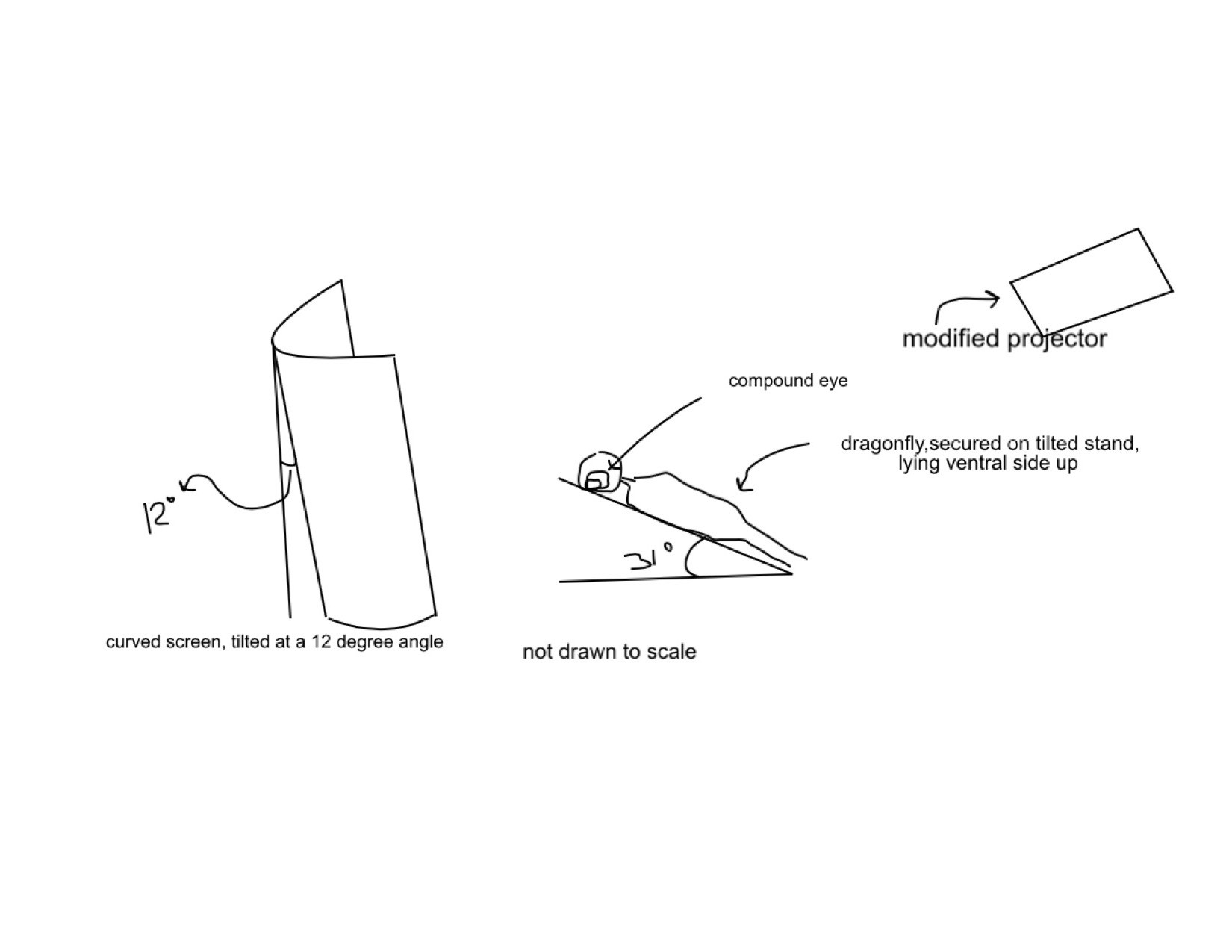 The set-up in the original 2012 paper
My Set-Up:
In my set up I will use a laser light show system instead of an expensive modified projector. The laser show is very replicable because it is cheap and made with materials that most makers have around. My laser light show includes two servos and an Arduino Uno. These servos have mirrors attached to them. As different voltages pass through these galvos, the mirror will change position. The two servos, one moving in the x direction and one in the y, will change the position of the laser. The laser and the two servos are connected to an Arduino Uno, making the position of the laser both reliably and easily manipulated through Arduino software. Furthermore, a Spikerbox (Backyard Brains) is connected to two electrodes (one in the dragonfly's abdomen and acting as a ground, and one in the TSDN) to measure the neural activity of the target neurons, and displaying it on an laptop. This set-up is pictured below: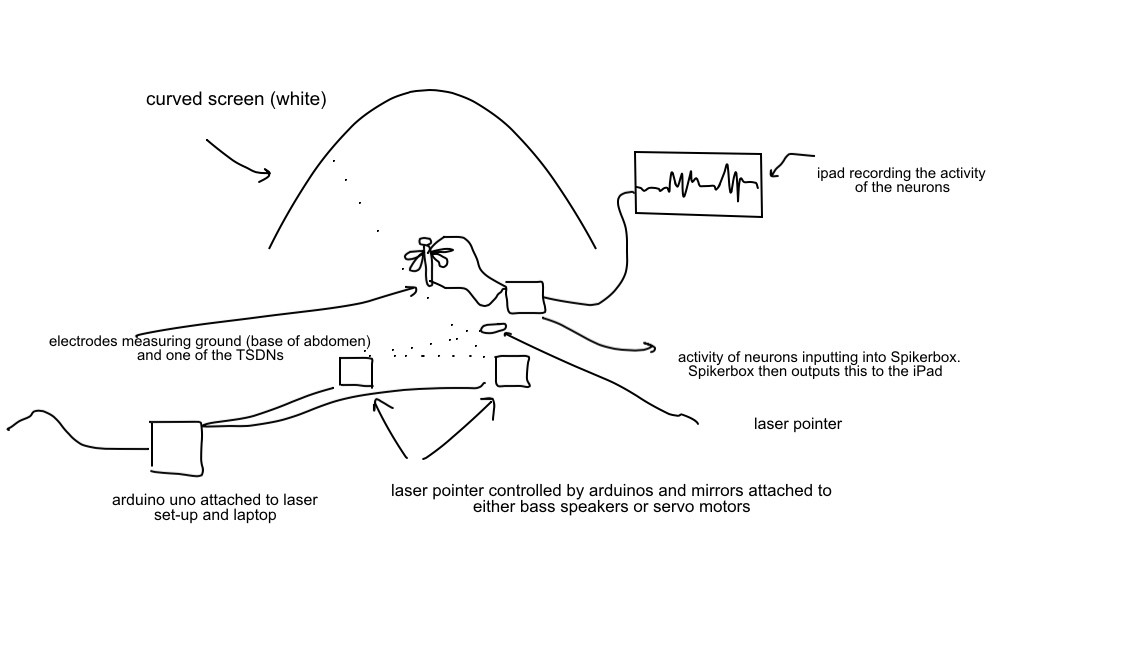 My modified set-up
If all works, the essential goal of my experiment is to provide a way for anyone to replicate professional laboratory neuroscience!