It's almost certain that you've used a plate stack valve before - they are made of lapped alumina plates and found in many faucets.
inside there's a set of ceramic plates with channels. These are made by dry-pressing ceramic powder with a binder and subsequent firing to sinter the particles.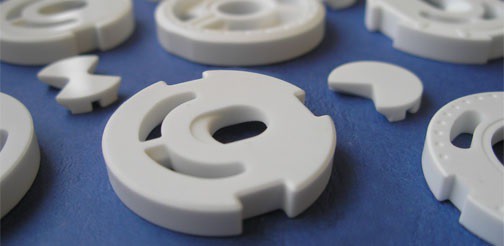 To achieve precise dimensions the parts have to be lapped afterwards. It's interesting to note that for these very hard and brittle materials sustained wear occurs down to surface roughness / waviness in the order of 10 nanometers - so basically these plates will wear just as everything else but do so very, very slowly at the minute sealing pressures involved. (Reference: https://www.nature.com/articles/ncomms11816)
Here's a video from This Old Tony where one of them is being serviced.

Lubrication is also an important factor in wear processes, but for the scope of our discussion we'll just mention the inevitability of wear, prompting the question what materials and operating conditions to select to minimize it. Also note that soft materials will have harder particles like rust flakes embedded in their surface when contaminated, changing the wear mechanism from frictional / adhesive wear to more severe abrasive wear.
Acrylic Plate Valves
It's not too far-fetched to try and make plate valves oneself. They key to success is surface flatness and preload, both of which seem easy to achieve at first glance but soon descend into manufacturing hurdles and principal limitations.
Cast polymethylmethacrylate (PMMA) being a soft yet somewhat brittle plastic can be water jet cut, but lacking the capabilities, can also be neatly processed using a laser cutter while retaining most of the appealing properties of plate stock - smooth surfaces, consistent thickness and coplanarity. The problems come with the heat-affected zone though.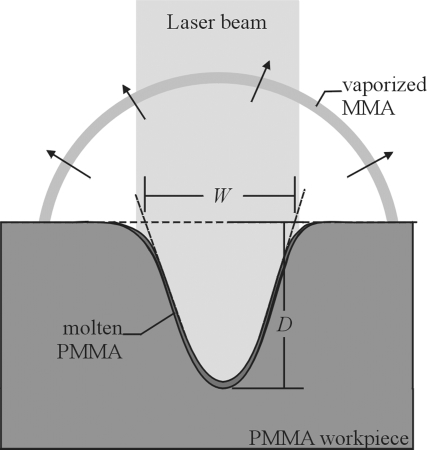 "When the laser beam is moving across the workpiece surface,
it creates a pool of molten polymer in a spot where it impinges
on the surface. The pool is driven away from the hot spot into all
directions by the heated gases of the vaporizing plastic, while
most of the melted material is resolidifying in the wake of the
beam."
Source: http://citeseerx.ist.psu.edu/viewdoc/download?doi=10.1.1.464.6609&rep=rep1&type=pdf
This is what one would expect from a laser cut feature - mostly ablation and a small heat-affected zone.
Experimental Results

Let's start with the aftermath of a laser cut (here: ~100W CO2)

Here's a picture of laser-cut PMMA made with 90° crossed polarizers. The bright areas are caused by stress-induced birefringence - this generally makes the polarization somewhat elliptical and thus regenerates a component of light that subsequently passes the second polarizer. right: after laser cutting, left: additionally submerged in ethanol, severe solvent crazing and partial relaxation of stresses:

All edges are laser cut and thus have a thin veneer of rapidly melted and re-solidified PMMA with high internal stresses. The material can be annealed to remove the stresses and they have been found to also dissipate over weeks of storing at room temperature.

What's more bothersome however is that there is a bit of upwelling / raised border around the edges which foil our attempts to use the laser cut parts as is. Now they have to be sanded on both sides, and it's hard to sand soft, locally uneven materials without causing unevenness / waviness across the whole thing. Moving forward with the sanded plates the overall setup conceived here is this: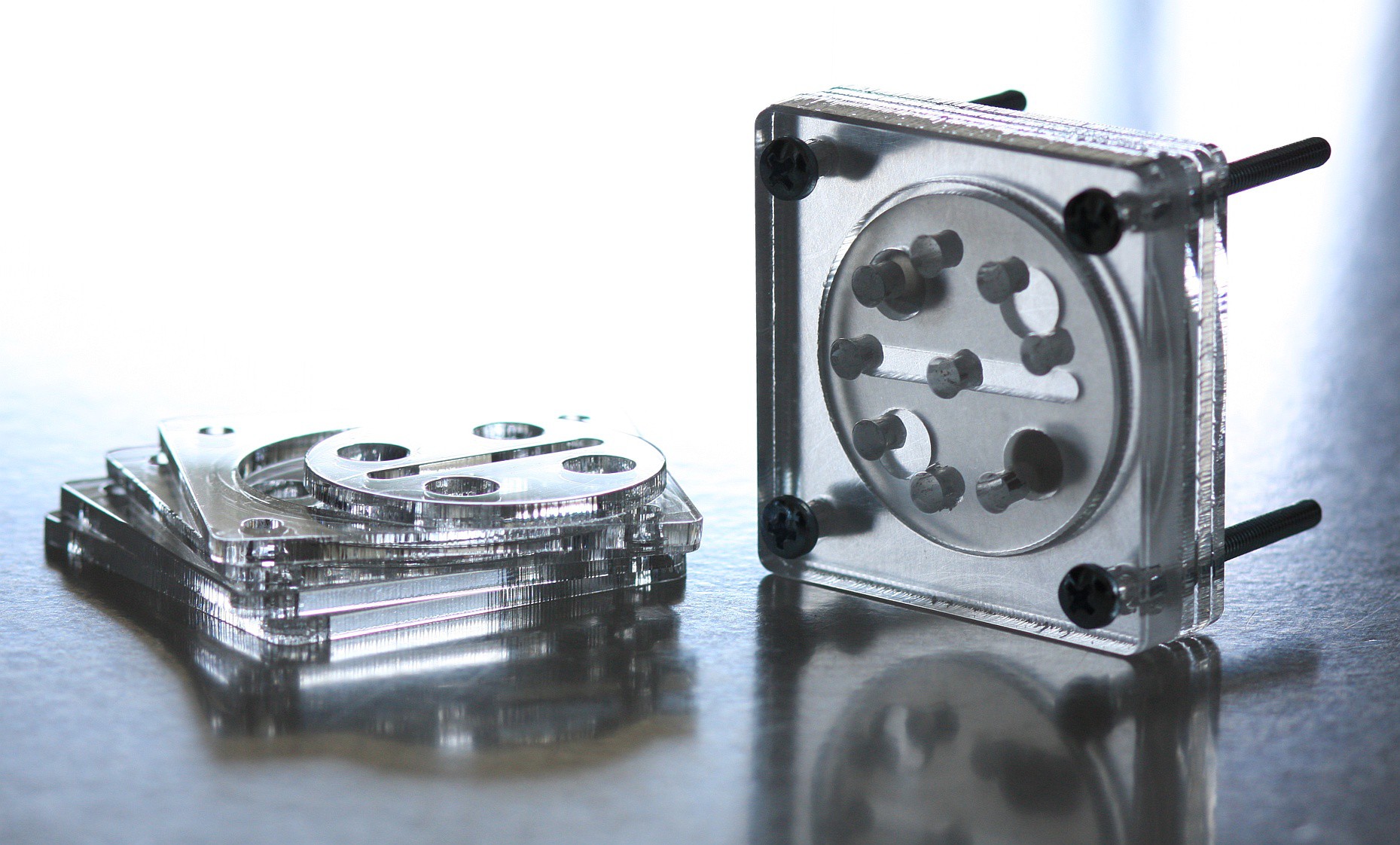 Water can enter the central hole and flow through the diametral slot. The holes are addressed such that the next hole is 190..200° from the previous one so...
Read more »