BlueBoard#01 is...
A 100mm by 100mm board that's for prototyping and one-off projects that use SMT and through-hole components.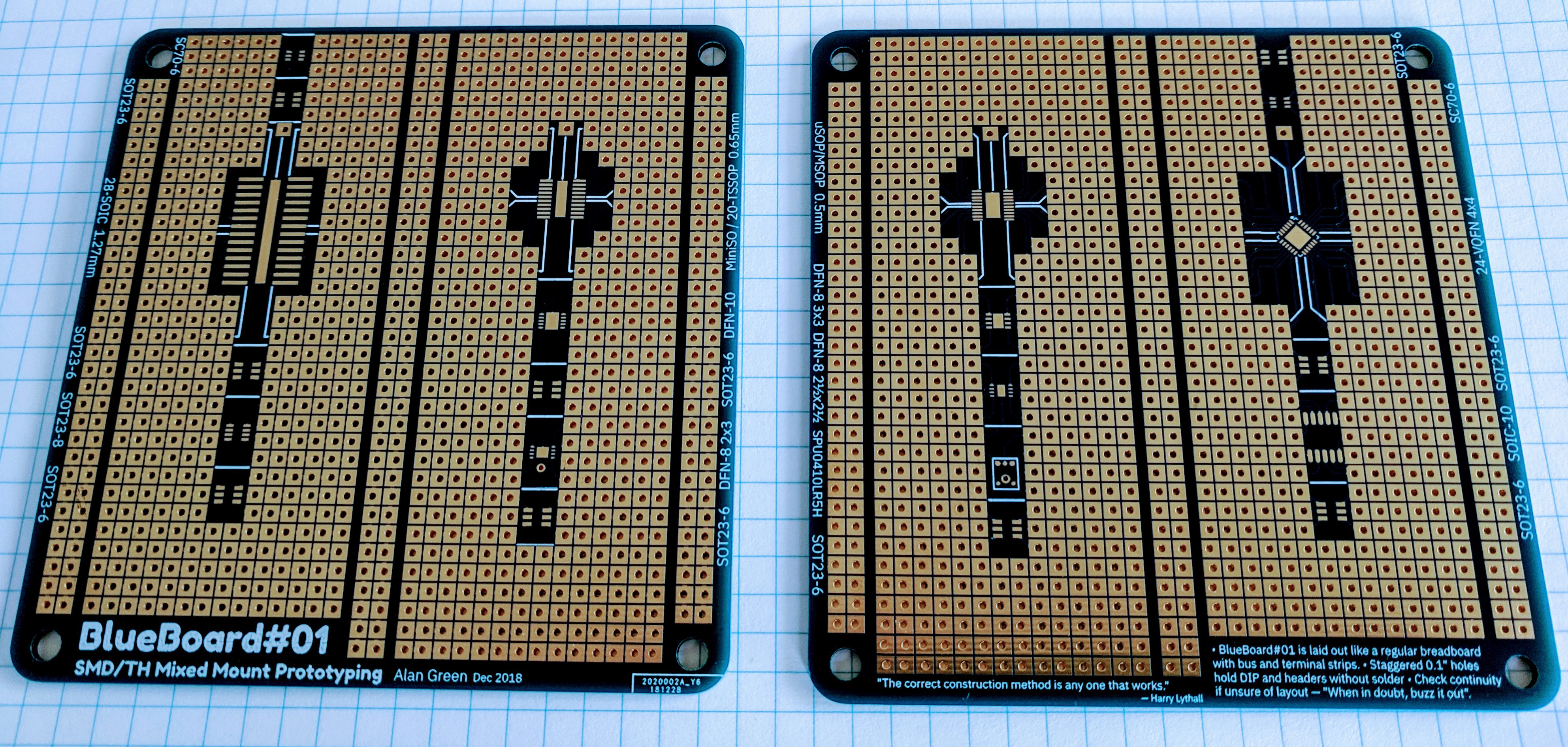 Features
19 standard footprints

2 x 1.27mm pitch footprints (10 pads, 28 pads)
1 x 0.65mm and 0.635mm dual-pitch footprint (28 pads).
1 x 0.5mm pitch footprint. (10 pads)
6 x SOT23-6, 3 x SOT23-8 and 4 x SC70-6 footprints

More than 1000 square pads with 0.1" spacing and plated through holes

Easy mounting of all two terminal SMT parts, and many three and four terminal parts, too.
Terminal and bus strips reduce the need for additional wiring.
Compatible with through-hole parts. Use your existing collection of resistors and caps where appropriate.
Staggered holes reliably hold 0.1" header pins and MCU development boards without solder.

Two special footprints

A 24-VQFN 4x4, 0.5mm pitch footprint compatible with a wide range microcontrollers.
Knowles SPU0410LR5H-QB-7 MEMS analog microphone.

Attention to detail:

Standard 1.6mm thick board for ease of handling.
ENIG finish for best possible soldering surface. Also, it looks great with the blue soldermask.
M3 mounting holes for standoffs or screws.
Footprints identified on board to simplify assembly.
Inspirational quotes from Harry Lythall and Randy Pausch printed on the reverse.
Comprehensive documentation including printable planning sheets.
Footprint Compatibility
SMT parts come in a huge variety of package shapes and sizes, however many of them share pin pitches. With care and attention, it's possible to have a single footprint that can be used to mount many different types of packages, and this is the approach BlueBoard#01 takes.
The following table shows the dimensions of each footprint on the board, along with common compatible package names and examples of compatible parts.
Remember to always check the package drawing in the datasheet to verify that the part will fit. In particular, check:
the pitch of pads (distance between pads),
the number of pads (a 32 pin part won't fit on a 28 pin footprint, but a 14 pin part will.)
the width of the package - check that the part of the pins that makes contact with the footprint are far enough apart to reach the pads, and not so far apart that they overhang the pads.
if the part has an exposed pad, it won't contact the signal pads.
checking is less important for the SOT23-6, SOT23-8 and SC70-6 packages which are better  standardised.
The 24-VQFN Footprint
The 24-VQFN footprint supports a wide range of 8, 16 and 32 bit microcontrollers (Digikey search) as well as audio amplifiers, DACs, ADCs, digital switches, LED drivers, half bridges and more.
This footprint is for a 4mm x 4mm package, with leads at 0.5mm pitch and an exposed pad. The exposed pad is not thermally connected to a large plane, but that should not present a problem for most uses. The package dimensions are...
Read more »