2021 HACKADAY PRIZE CHALLENGE TWO: REFRESH WORK-FROM-HOME LIFE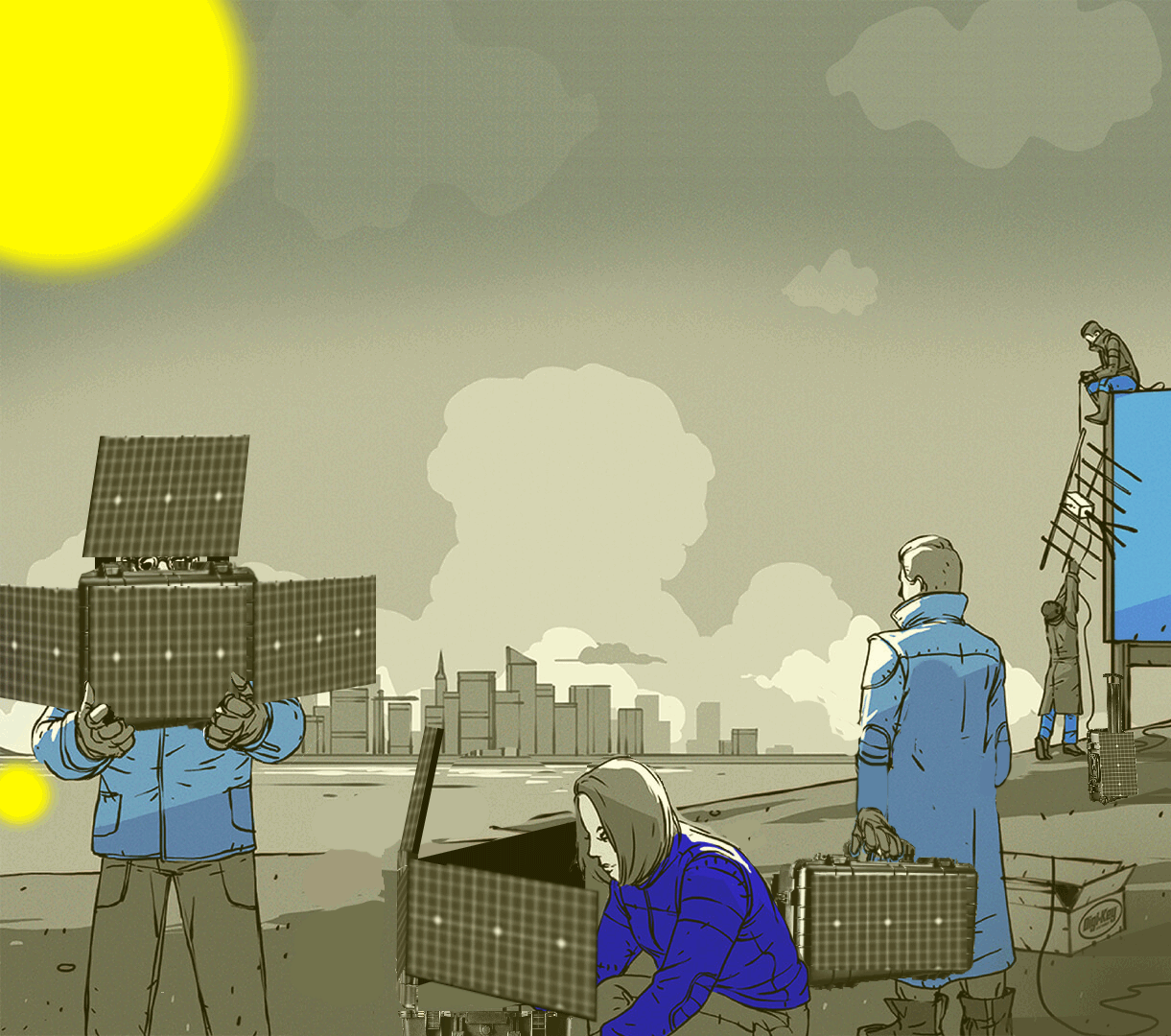 In a world like we see in the hackaday prize images, individuals are required to work in a variety of environments. Since we are always multitasking, it does not make sense to only be limited to one screen when working on the go. The Solar Display Case solves the issue of having to compromise productivity for portability by using 100 watts of solar energy to charge a 50,000 mAH powerbank in order to power three low-power portable monitors and an additional source device so you can experience all of the advantages of a multi-monitor setup no matter where you are.
Inspiration
This project was inspired by the COVID-19 pandemic. When the pandemic first hit, many employers and employees in tech and other industries had to transition to working remotely, and experienced difficulties moving their multi screen setups home due to complex wiring and bulky monitors. Many businesses just decided to provide employees with a stipend to purchase new equipment for their home office to solve this problem. As an IT Director I understand how much a multi-monitor setup impacts productivity, so I sought out a better solution that could save companies money in case another disruptive event such as a pandemic forces employees to relocate their display setups. What I created ended up being so much more than a way to trim the budget, my creation gives the user the freedom to work wherever they please.
Specifics
The Solar Display Case consists of:
1. Three 17'' Inch Portable Monitors
2. Five 20 watt solar panels for a total of 100 watts of input
3. A weatherproof, wheeled briefcase for transportation
4. One work light for working at night.
5. Lithium-Ion Battery back consisting of 1650 Cells.
4. IO Panel with 3 Female USB Ports (For Powering Monitors), 3 Female HDMI Ports(For Connecting Monitors to Source Device), One AC Port for charging a laptop or other source device, One Fan to Cool the Battery.
Design Features
The final build will have solar panels mounted to the back of each display in addition to BOTH sides of the case, making the case completely solar.
Three Monitors with open hardware IO panel configuration so mixing source devices or power delivery options is possible.
Wheeled design so the case can be transported without exerting too much energy carrying it.
100 Watts of Solar Energy will Charge the battery faster than the monitors deplete it, making long remote working stints in the field possible.
The inclusion of an AC port also allows you to charge your source device, at the cost of depleting your battery life faster, but no worries! The Solar Panels will recharge the case even during transport since two of them are affixed to the outside of the case, so you can rest easy knowing your power gradually being replenished while moving to the next work site. Long trip between sites? Strap the case to the top of a vehicle or put it in the back of a pickup truck and your case will continue to restore power to itself. 
Usage
I designed the Solar Display Case so it is simple enough to be used by anyone anywhere for any purpose. Some specific fields where it would be useful include:
3D Modelers
Developers
Digital Artists
Drone Pilots
Graphic Designers
Industrial Professions
Law Enforcement
Military
Penetration Testers
Photographers
Preppers
Researchers
Scientists
Video Editors
Want to code on top of a mountaintop? Done. Want to explore remote areas with your drone with an amazing field of view? You can. Want to screen share during your company meeting and be able to see the reactions of your co-workers while you create your amazing graphic design project in real time? Do it. The possibility and applications this project have are limitless. The Solar Display Case has removed a huge hinderance to productivity, and will change the way we work and communicate for the foreseeable future.