If anyone can build a functional dehydrator without expense, technical knowledge, or many tools, then why are they so expensive to buy? Is the proper engineering and injection molded plastic worth the price? Let's find out. For this project I will experiment with a simple, cheap dehydrator design, and share what I learn so you can build one too. Here's the basic concept.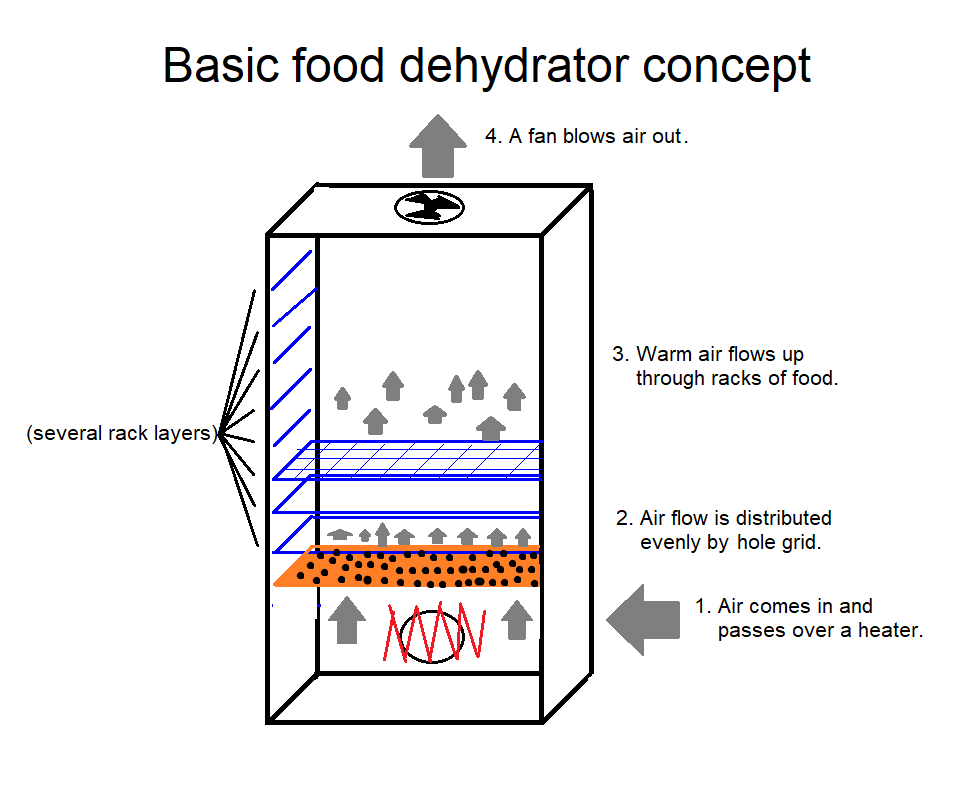 It is essentially a plywood box with a fan, heater, and lots of racks. No Arduino.
More specifically, it consists of:
A plywood box about 90x43x35cm with thin strips of plywood to hold the racks, holes for air inlet and outlet, and a door.
A 100V AC 7watt fan. I found a box of about 50 of them new in a garbage pile. I'm still trying to think of a good project with lots of fans.
A 150watt resistive heater unit salvaged from a vending machine. It conveniently had an attached 90C thermostat.
A piece of pegboard as an air distributor. It doesn't significantly impede flow, but it spreads the air flow over the whole rack area.
8 steel BBQ racks. 40x30cm. The only parts I had to buy.
2 switches salvaged from junk.
An air filter made from one ply of a surgical mask.
The idea is that air is pulled in through a hole near the bottom. It flows over the heating elements then gets spread out by the pegboard. The warm air flows up through the racks of food and exits through the fan on the top.

I don't yet know how well this will work. I may be looking at this way too naively. The only way to tell will be to try it. I'm going to stick some fruit in it tonight and if it dehydrates successfully then I will know that it is indeed as easy as it seems. If it doesn't, I will put a little more thought into the design and I'll have a little more respect for the commercial units.