Update- Finished! Here's the build video. Skip to 5 minutes in if you just want to see it moving.
I made a Stargate Horus helmet a while back but it was a low budget Halloween costume piece and certainly not an accurate replica by any stretch of the imagination.
A friend of mine owns many screen used Stargate pieces but was missing a few key items in order to make a complete set of screen accurate helmet castings. As luck would have it he hit pay dirt when he was commissioned to restore an original screen used piece and was given permission to pull molds for the few missing items. My friend contacted me to build the animatronics for his helmet.
The result of many years of work has now produced a truly accurate set of fiberglass helmet castings- some of these parts are cast from the original movie molds and some are cast from molds pulled from movie production pieces. Some of the molds made for these new castings were even made by the same person that made the original movie helmet molds. Everything has been extensively researched and verified- this is the real deal!
My friend and I have been waiting many years for this and it represents probably what is most considered the Holy Grail of Stargate movie props.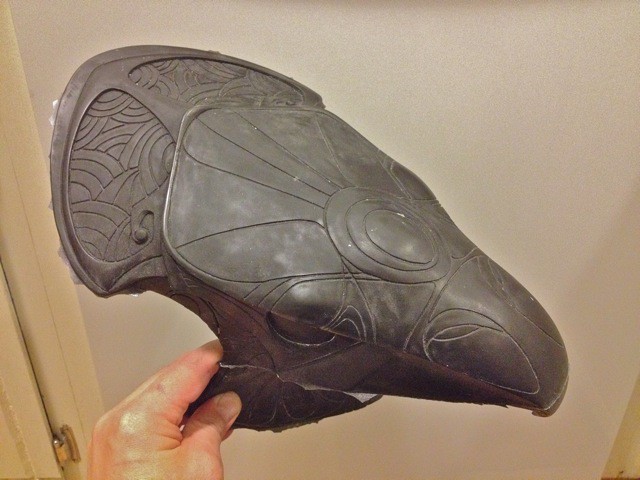 Here's a pic my friend sent me showing the helmet mock up. This mockup has the fixed fans to show placement but ours will have moving fans. The previous helmet I made had moving fans but the movement was incorrect- I had the center fan fixed and the upper and lower fans moved in opposite directions. On the movie helmets all of the fans moved in the same direction while expanding and collapsing.
The movie helmets are a lot more complex than you would believe- the hero helmet eyes even had an opening/closing iris (which will be accurately replicated.) I always thought the movie helmets were a single piece construction but they're actually made of several pieces that are hinged together.
Please note that I do not manufacture nor do I sell any Stargate movie props. This is a one off project that I'm doing for my friend.