2022 FPV Contest on Hackaday:
Whether you're flying race quads, diving the depths in a yellow submarine, or simply roving the surface of the land, we want to see your builds. If it's remote controlled, and you feel like you're in the pilot's seat, it's FPV.
If you need some examples, we've got you covered.
Hackaday and Digi-Key have partnered on this contest to offer three winners an online shopping spree to the Digi-Key warehouse!

You've got until Tuesday, Jan 3 to get your entry in, but these aren't necessarily simple builds, so get going now.
Awards
Thanks to our partner Digi-Key, three top projects will be awarded a $150 shopping spree to Digi-Key.
Special Categories:
By Land

Rovers, racecars, tanks, and trucks. If it moves on the ground, it counts for this category. 

By Air

Quads or fixed wings fit in here. As would a steerable Zepplin. Surprise us.

By Sea

While submarine vehicles are the obvious candidates, we'd love to see your surface boats too!

Full Immersion

User experience is a part of the FPV experience as well. This category is for setups that go further than just goggles and a remote.
Examples
Need some inspiration? Here are some projects to check out that should get your ideas flowing:
How to Enter
Start a new project on Hackaday.io. Share images of your project and tell the story of how you designed it and built it in the description of your project.
Once you have published your project, look in the left sidebar for the "Submit project to..." menu to enter it in the 2022 FPV Contest: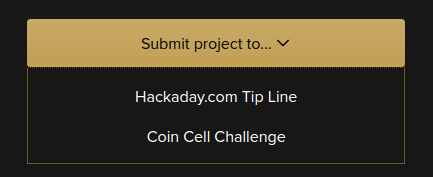 Judging Criteria 
Here are some criteria judges will have in mind while reviewing entries: 
The build is the main thing. We'd like to see you push the boundaries of FPV, either in terms of crazy vehicles or immersive experience.
We'd also like to know how it works, and maybe make one ourselves. In addition to the entry, we'll be scoring on how well the project is documented.
Contest Rules
Include some photos and/or a good video demo of your work in action. Show us what you can do, from the inside and the outside.
We'd love to see all the details of your build as well. Make sure your documentation is up to scratch.
This doesn't have to be brand-new work just for the contest, but if you are entering an old project, at least make some new entries.
Employees and contractors of DigiKey, Supply Frame, Siemens and their immediate family members are ineligible to win, but are still encouraged to enter.
Rules and categories subject to change and judges' decisions are final.
The Contest runs from November 22, 2022 9:00 am PST to January 3, 2023 9:00 am PST.