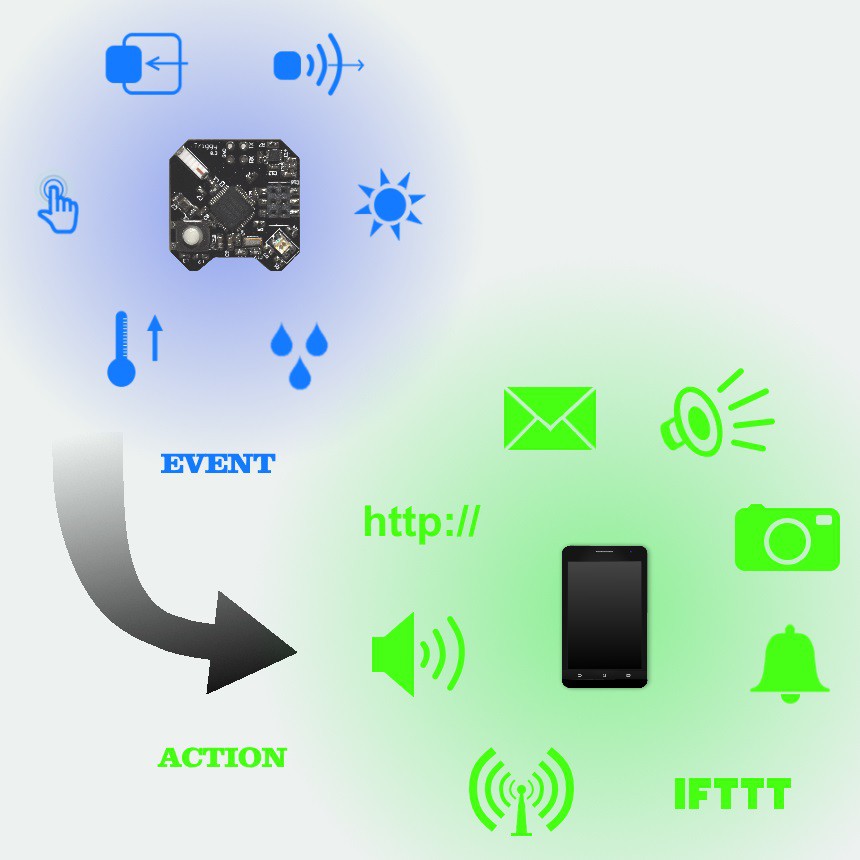 Basically, the goal of Triggy is to provide a solution to many situations, using a small board (the Triggy Node or T-Node) as a smartphone or tablet companion. The T-Nodes sense the environment and automatically trigger actions based on physical events, paving the way to numerous usage scenarios. A Triggy Node can detect an event such as: this door is opening, the temperature in the fridge goes above x degrees, someone pushed the button, etc... Then a fully customizable rule allows to decide what to do: generate a notification on the phone, play a ringtone, or a lot more. An advantage over other solutions is that no external server or account creation is required.
This project focuses on usages possibilities, thus a series of PDFs will be provided in the Files section. In each PDF a few number of scenarios are described, showing situation when Triggy can help:
Here below are shown additional situations where Triggy can be used, based on verified rules:







Some actions are local to the device connected to a T-Node (notification , play a sound/ringtone, put the device on vibrate...), others are available through IFTTT. Cloud connection + IFTTT = extended possibilities. 
 Triggy can be used as a component of a home automation system (http webhooks are parts of the possible actions), however not limited to home applications.
Video showing an exampIe of IFTTT recipe creation and action triggering:
MOTIVATIONS
Today one can easily buy and install a more or less expensive smart home solution. Some of them allows a connection to the cloud, others also support the IFTTT service. With Triggy, we want to enable new possibilities, new usages. Hereafter the key points that have guided this project:
Low investment required

Most of home automation solutions use a hub, a box to centralize and connect the different parts of the system (sensors, actuators ...) The price of that hub makes the whole solution generally expensive. Using an already owned, a spare or second-hand smartphone or tablet, the hardware cost of a Triggy solution will be far lower. With one Triggy board and a smartphone, it is already possible to do wonderful things. Additionally buy a WiFi smart plug, smart light or any available smart actuator that supports IFTTT, and you can easily do home automation. Low cost and easy to use!

Small form factor and low power

These two constraints go hand in hand, because the size of a WiFi-connected sensor (no hub required) is generally imposed by the size of the battery required to operate it for a decent duration. Components choices and efforts to reduce the power consumption of the Triggy Node allow now to make it work on a coin-cell battery (CR2032) with at least a year of battery life. The board dimensions have been decreased down to 25mm x 25mm, which allows to stick it almost everywhere (mailbox flap, cat flap, small objects ...) while being discreet. Existing sensors, such as a movement detector, working without a hub or gateway (WiFi) are a lot bigger than this, due to the WiFi peak consumption.

Open standard

Bluetooth Low Energy is used for the communication between the Triggy board and the smartphone. This protocol is both publicly accessible and low power. BLE GATT servers (such as Triggy) expose a standard data structure, allowing to use it with other applications. Another advantage is a seamless integration of Triggy with any smart home solution compatible with IFTTT. It can work also...
Read more »