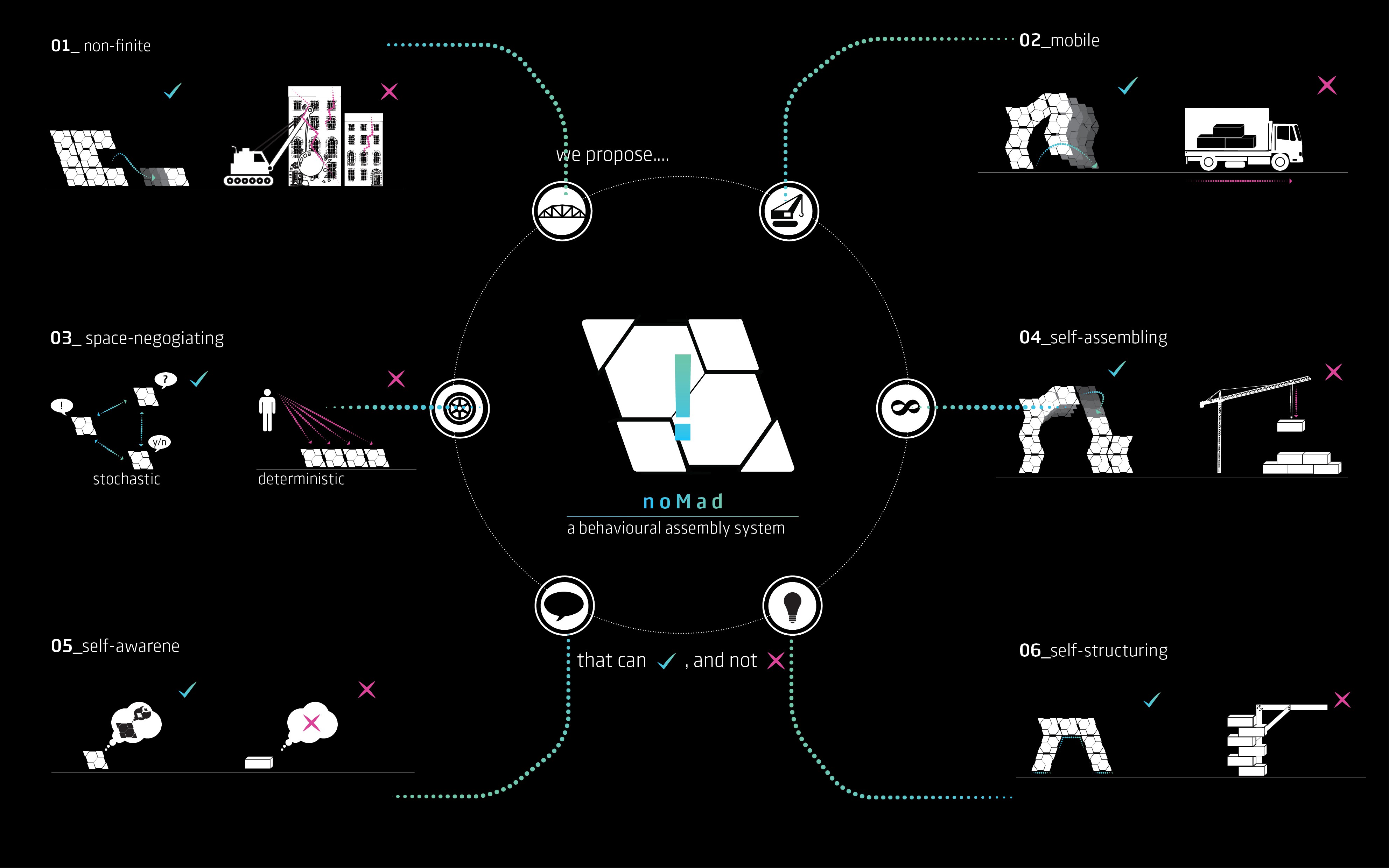 noMad proposes a behavioural fabrication system that marks a shift of our build environment as a finite lifecycle construct, but is instead looking for autonomous, non-finite and real-time solutions to adapt dynamically to the demands of its environment - constantly restructuring itself.
In a self-assembling fabrication approach of 'negotiated space', noMad aims to enable architecture with a sensory system, localising decision making by self-aware unit to unit communication instead of a deterministic, superimposed building plan.
Anchored in the world of self-structuring polyhedra, noMad is based on principles of synergetics, the study of geometry in transformation and the impact of a local change on its global systems behaviour: a single unit can autonomously change state, shifting its state by a simple rotational translation from one polyhedra to the other.
Hereby, noMad is operating on different scales of (collective) intelligence and behaviour, each autonomously self-assembling to the next higher order of organisation - from a highly mobile, nomadic states to high population spatial configurations.
noMad proposes a system, that can self-regulate and adapt, react to outside influences and demands and encourages both interaction and communication.
scales of operation |
Through the use of active and passive geometry shifting components the system can reconfig- uring its global behaviour. Based on self-struc- turing qualities of polyhedra, the research is engaging the issues of mobility, self-structuring and space-making.
When applied, noMad's system of assembly operates on three distinct scales of intelligence and autonomy. Each scale is autonomously self-organizing and self-assembling to reach its next higher order of organization.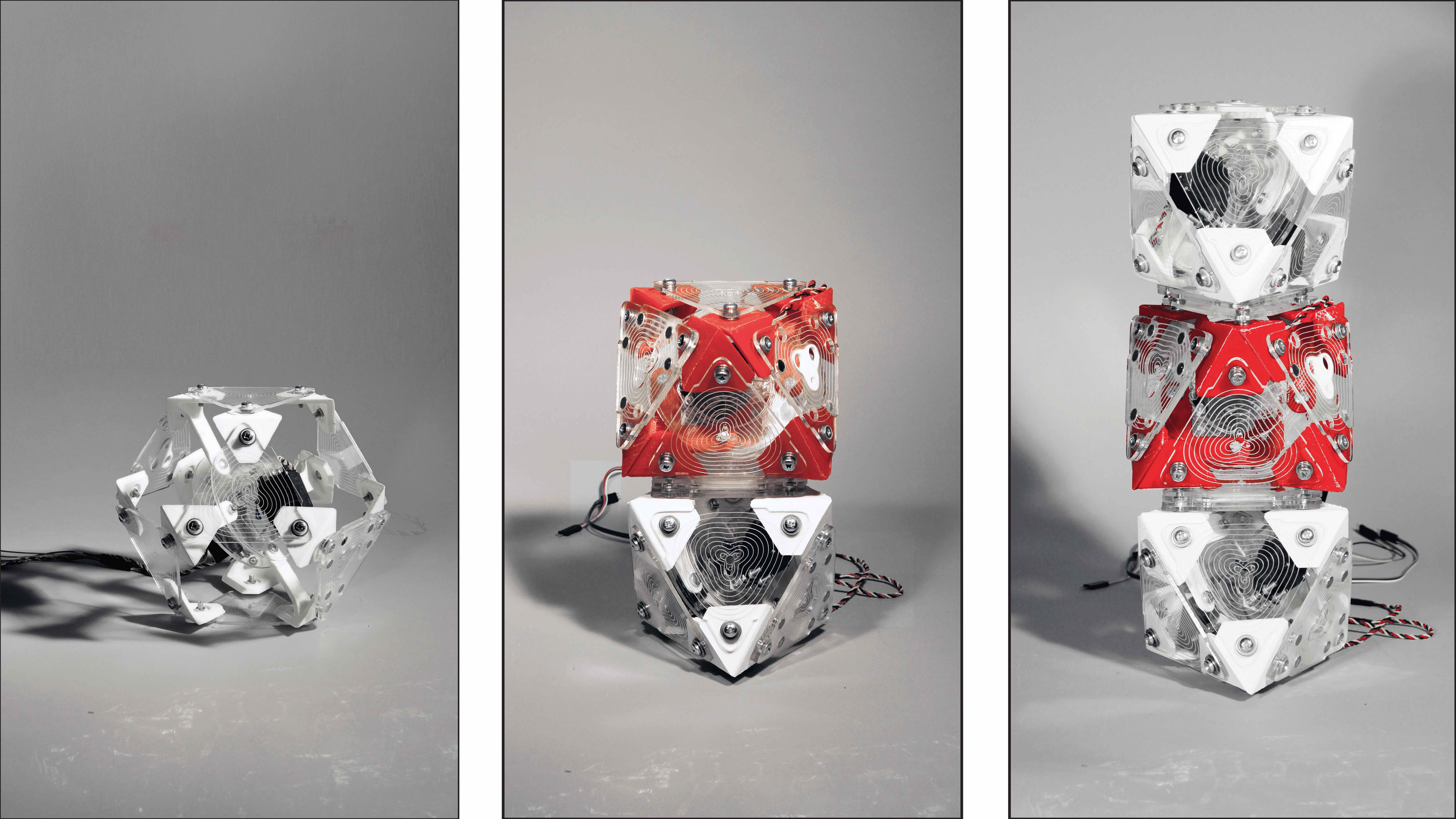 01 - single unit |

Beginning from its smallest operational scale, the single unit, the system is still capable of sim- plest decisions and actions, such as changing the state of the unit, limited locomotion, connecting and disconnecting from an global system. The unit is the main building block, based on a simple rotational movement of the faces of an octahedron around the vertices of its neighbor. Within this transformation, the unit starts from octahedral state, expands to an icosahedron, cuboctahedron, back to icosahedron an and octahedron again. Central design features focus on the activation of the single unit through internal controls and mechanics, possibilities of the single unit to self-connect and disconnect to system, mobility through locomotion, soft faces and control over its internal equilibrium.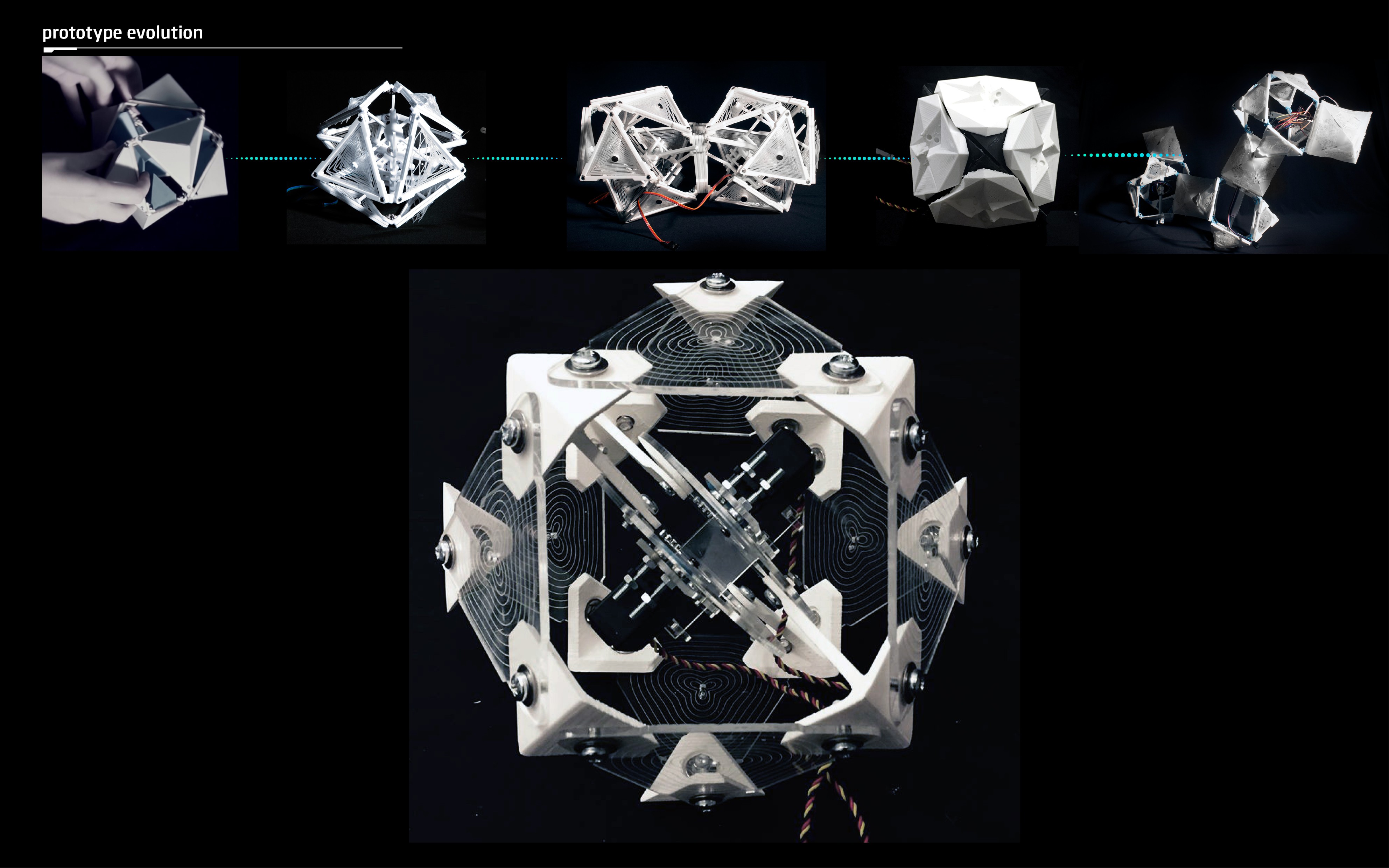 02 - nomadic body |
The formation of nomadic bodyplans - both through detrministic and stochastic means - is where the intelligence of the system starts. A logic of potential shape grammar combinations is defines the body like a genetic sequence:
The ecology of machines shows creature-like characteristics and highly specific behaviour both due to their individual bodyplans, i.e. the physical body, and its sequence of activation, i.e. choreography of movement. The choreographies enable features and abilites such as lifting mat- ter, walking or snake-like locomotion, rotational or translating arms and cranes etc.
Only a few of used components having active capacities while the rest of the structure reacts passively.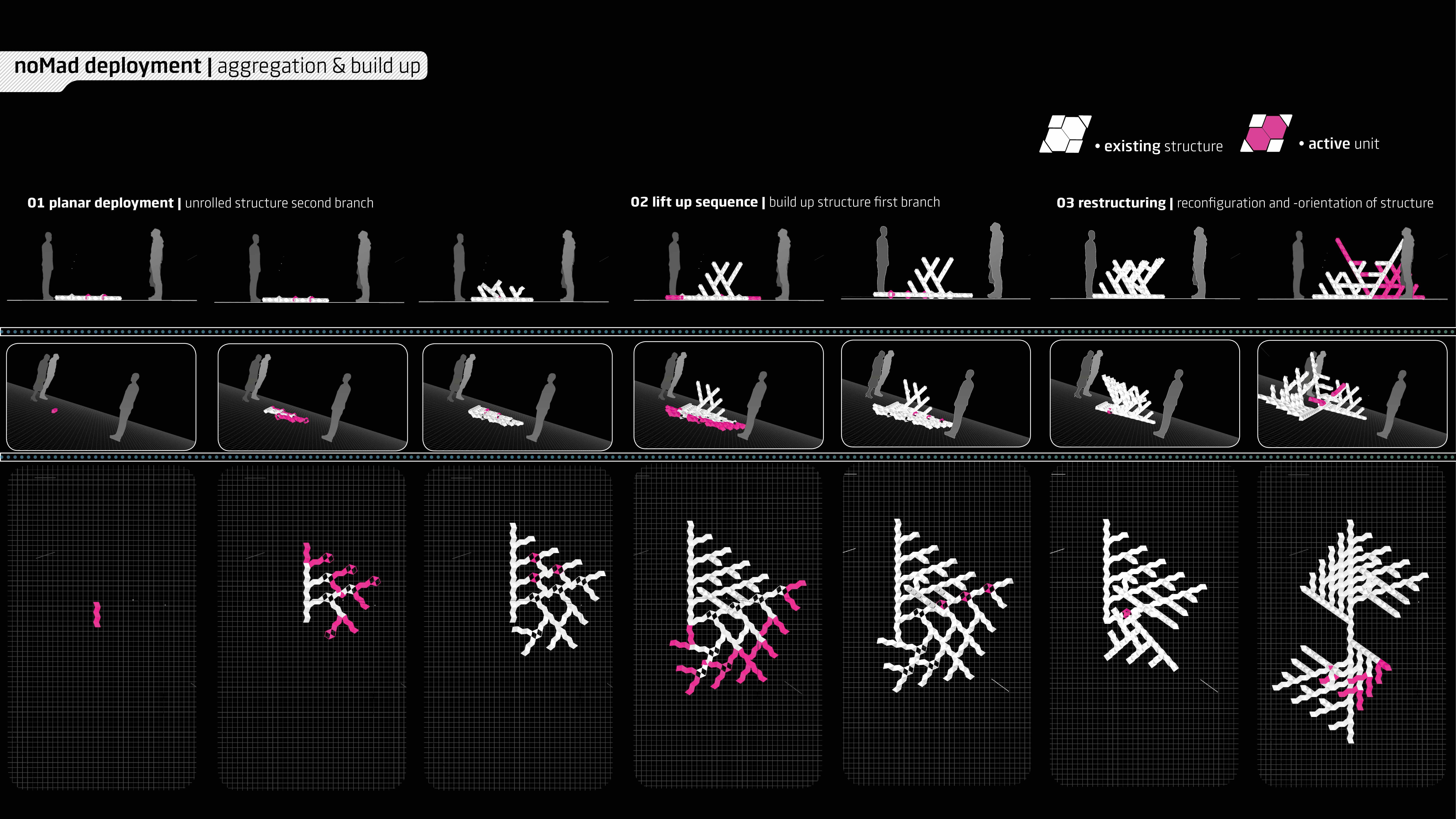 03 - high population collective |
In the scenario of high population settlements, parts of the system lock in, losing their highly mobile features in favor of spatial and structural configurations. Transformation is now used for optimization & adaptation through reconfigu- ration, i.e. temporary scaffolds during its own build-up process, lifting up of extensions and outer parts of the structur, or temporarilty repo- sitioning to allow another body to get in place. Testing different deployment strategies and time based...
Read more »