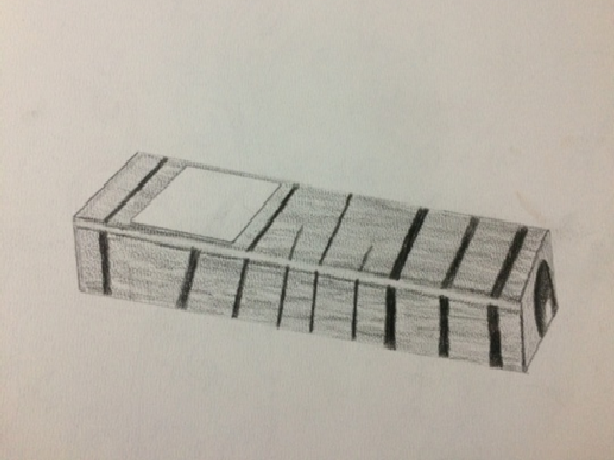 Short Project Description
My objective in my project was to create a flashlight that runs solely on the heat of the human hand. Using two Peltier tiles and the temperature difference between the palm of the hand and ambient air, I designed a flashlight that provides bright light without batteries or moving parts. My design is ergonomic, thermodynamically efficient, and only needs a five degree temperature difference to work and produce up to 5.4 mW at 5 foot candles of brightness.
Summary
I chose to investigate the aspect of human energy when I found out that we are like walking 100 Watt light bulbs. The goal of my project became a flashlight powered solely from the heat of the human hand. I decided to use Peltier tiles. If one side of these tiles is heated, and the other is cooled, electricity is produced. For my flashlight, I would be heating one side with the palm, and cooling the other side of the tile with a heat sink.
I calculated that our bodies radiate 5.7 mW/cm2, but only 0.5 mW is needed to generate a bright light at the LED. I characterized both Peltier devices. Both produced power, but only a few millivolts. I need 2.5 V !  I had to convert my DC input to AC, and then run it through a oscillator circuit with a step up transformer. My final circuit had only 3 parts and produced a step up ratio of 100:1. So for 50 mV DC from the Peltiers I obtained 5 Volts AC which was sufficient to light the LED. The final design included mounting the Peltiers on a hollow aluminum Rectangle tube and acrylic sheet was wrapped on hollow aluminum rectangle sheet leaving aria ofpeltier that allowed ambient air to cool the tube. The palm wrapped around the peltier to warmed the peltier tiles. The result was a bright light at 5 degree Celcius of Peltier differential. The flashlight worked!
About Me
Hello, my name is Muhammad Wasim. I live in Pakistan. I have a great love for science, and have been competed many project about power generation and energy saving. A full size of ceiling fan 56" powered by cell phone battery. Cell phone battery charging system through walking for shoes with piezoelectric. Hydrogen fuel cell and hydrogen production from water with cheap way and running a bike through hydrogen. Cell phone charging system through radio signals coming from cell towers. I also submitted  propeller design which is able reduce 70% noise and about 30 save energy to DJI drone company about a year ago with no replay. Now DJI is using these propellers in mavicpro platinum. This time I am going with the project; The Infinity Flashlight.
My next projects are power generating football 2 a bike helmet having personal air conditioning and heating system on demand. Creating water from air. Creating a energy harvester on mass base like Nikola Tesla.
My family has encouraged my interest in the sciences, and my first toy was a box of transistors. Nikola Tesla and Edison have both inspired me greatly as role models.
To be honest, I am not sure exactly what I want to study in the future just yet; I'm thinking it will probably be the Sciences.   My passion is "Serve the humanity through advance science".
Question / Proposal
Hypothesis: If I can capture enough heat from a human hand and convert it efficiently to electricity, then I can power a flashlight without any batteries or kinetic energy.
Objective: To make a flashlight that runs on the heat of the human hand.   
Research
The website was dedicated to low voltage transistor oscillator...
Read more »