I designed and ordered new board with heart shape, unfortunately It is not possible receive it before contest end. I providing proof video based on my 1 inch joule thief. 

I am very sad that I can not show new board in action.
---
Operation:
Design is based on joule thief, 2x BPW34 solar cells are used to charge storage capacitor, when voltage rise above startup voltage, joule thief make LED blink from storage capacitor, all is repeating.
Flasher is based on classic joule thief design usually based on toroid transformer, but in this case
is transformer etched on PCB, Joule thief usually works as continuous light device but thanks to to combination
low current source + storage capacitor and startup voltage hysteresis it blinking !!!!
---
I think It is world first one component led flasher
---
Advantages:
very simple Transistor + LED + Solar cells + capacitor
small, just 1 square inch
( for heart pendant little enhanced )
durable unbreakable solar cells
( BPW34 are plastic )
innovative design, all magic in PCB structure
very elective
wearable, new generation self powered led jewelry
(can be coated transparent resin and survive doomsday ) 
harvesting power supply, can be used as module for powering another devices
Flashing is faster and much more powerfull but my camera can not catch all flashes,
I can take video in night for more proof..... ouch it is solar powered .. I am sorry ...
Note:
on schematic are 2 leds, because you can use SMD or TH led
Resistor is 0R, it is only for future tuning, but is not required
you can order testing prototype board here PCB coil joule thief
(just connect capacitor an diodes,)
Schematic: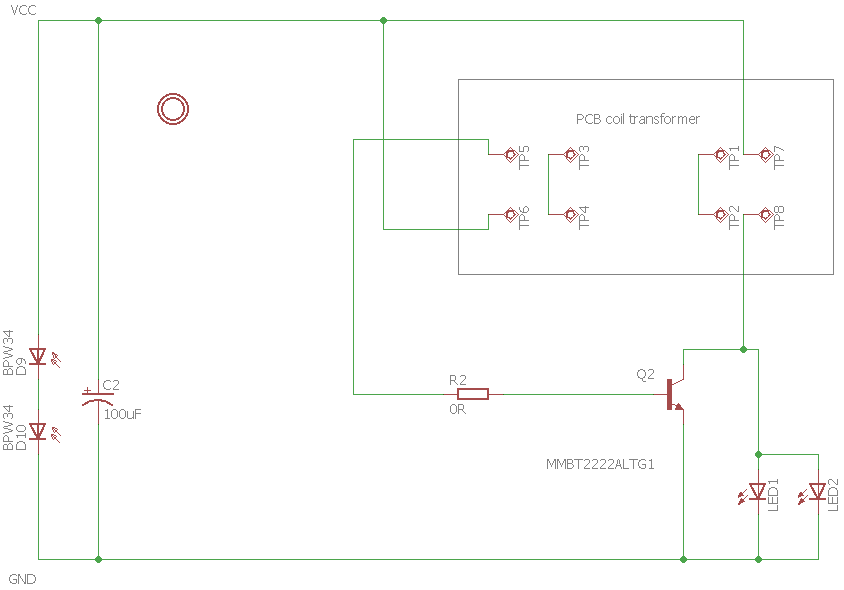 Heart PCB
Bill of materials with Mouser links to each component:
OFF COURSE IT WORK WITH BIGGER COMPONENTS CASE (0805, 1206) OR WITH TH COMPONENT