Led flasher work as charge pump, multiply input voltage twice to get 2V pulses
Advantages compared to other designs.
discrete components, no special QFN chip (two standard transistors, 5 resistors and 3 capacitors)
based on charge pump design
work indoor, no direct sunlight required !!!!
startup current is less than 1uA, it is much lower than on commercial harvesting IC or designs
Why again BPW34 aka solar cell?

PLASTIC, harder to break
easy to buy, it is smallest commercially available solar cells
there is no way to get small non Chinese solar panel
IXYS solar bit are discontinued
Panasonic amorton are made from glass and is not easy to buy
As you can see on video, led flashing in room light.
I created all on breadboard and about month experimentally adjust components values to get best performance.

Board image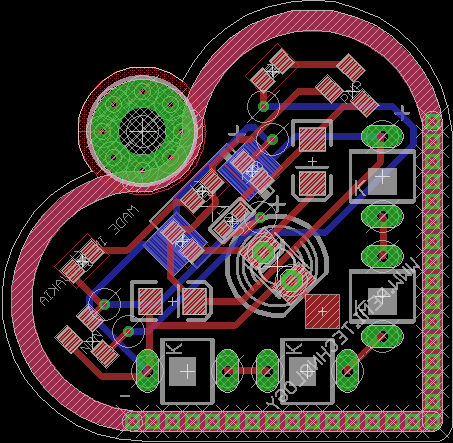 Bill of materials with Mouser links to each component:

OFF COURSE IT WORK WITH BIGGER COMPONENTS CASE (0805, 1206) OR TH COMPONENTS