First, see how the device works.
If possible, make some sound and have fun with it.
The configuration of the device is as shown in the following picture.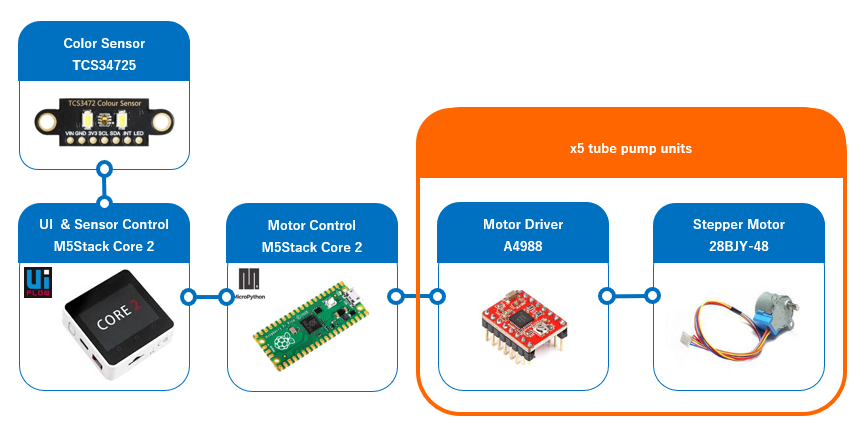 User Interface & Color Sensor
This device uses a color sensor to read the color information of an object and convert it from RGB to CMYK color format. Color sensor is controlled by the M5Stack Core2 and simultaneously displayed in the UI on the display. UI shows CMYK data on a slider, which can be freely edited. M5Stack Core2 sends the color data to the Raspberry Pi PICO when the make color button on the display is pressed.

Control Stepper Motors & Synthesize the Paints
After receiving the color data, the Raspberry Pi PICO calculates the mixing ratio of the paints. The metering and transport of the paints is done by a tube pump driven by a stepper motor.
In a color printer, colors are represented by a mixture of the four CMYK colors, but since we are using watercolors, we will be using five colors: CMYK + Water.
I used a syringe as the tank for the paints.
Development of high performance tube pumps
A tube pump is a convenient device that can transport and meter liquids simultaneously. However, due to the structure of pumping liquid while squeezing the tube, pulsation occurs. Especially when measuring a small amount, as in this case, the pulsation can cause a large measurement error.
Several methods have been proposed to reduce the pulsation of tube pumps. However, I have developed a tube pump that can suppress pulsation easily and inexpensively without additional components.
Using this method, you can get a tube pump with less pulsation by simply combining a 3D printed part with a motor.
I believe that my pulsation-free tube pump is a valuable invention for medical, chemical laboratory and other commercial applications. Unfortunately, I am unable to release data on the pump at this time as I am preparing to obtain a patent.
However, we plan to make this pump free for personal use in M5Stack color makers, other hobby crafts, educational purposes, or free distribution for such purposes. Please wait a little longer for the data release.
Instead, I will publish the data of a tube pump with a common structure. The device will still work with this pump.
An Unexpected Response
When I introduced the M5Stack Color Maker on Twitter, a color-blind person said.
"For me, a color-blind person, this device is like a dream!"
In addition, when I created a sound visualization device, I received the following comment from a person who was deaf in one ear.
"I can only hear in one ear, which means I can't tell the direction of the sound source, so this is very helpful for me. I wish it could be commercialized."
Even though the results are different from what I had expected, I couldn't be happier if the device I created helps people to overcome the barrier of disability.
This work was planned and created for this contest, but it became a great guideline for my future activities as a maker.