Step 1
The Frame:
I laser cut the frame out of three sheets of 24"x18" MDF. The design is for 1/4" thickness. It could be made out of a different thickness, but your results will vary with rigidity and the press fit tabs will need to be edited. The tabs will fit together snugly, with a very little bit of sanding to get the tabs just right.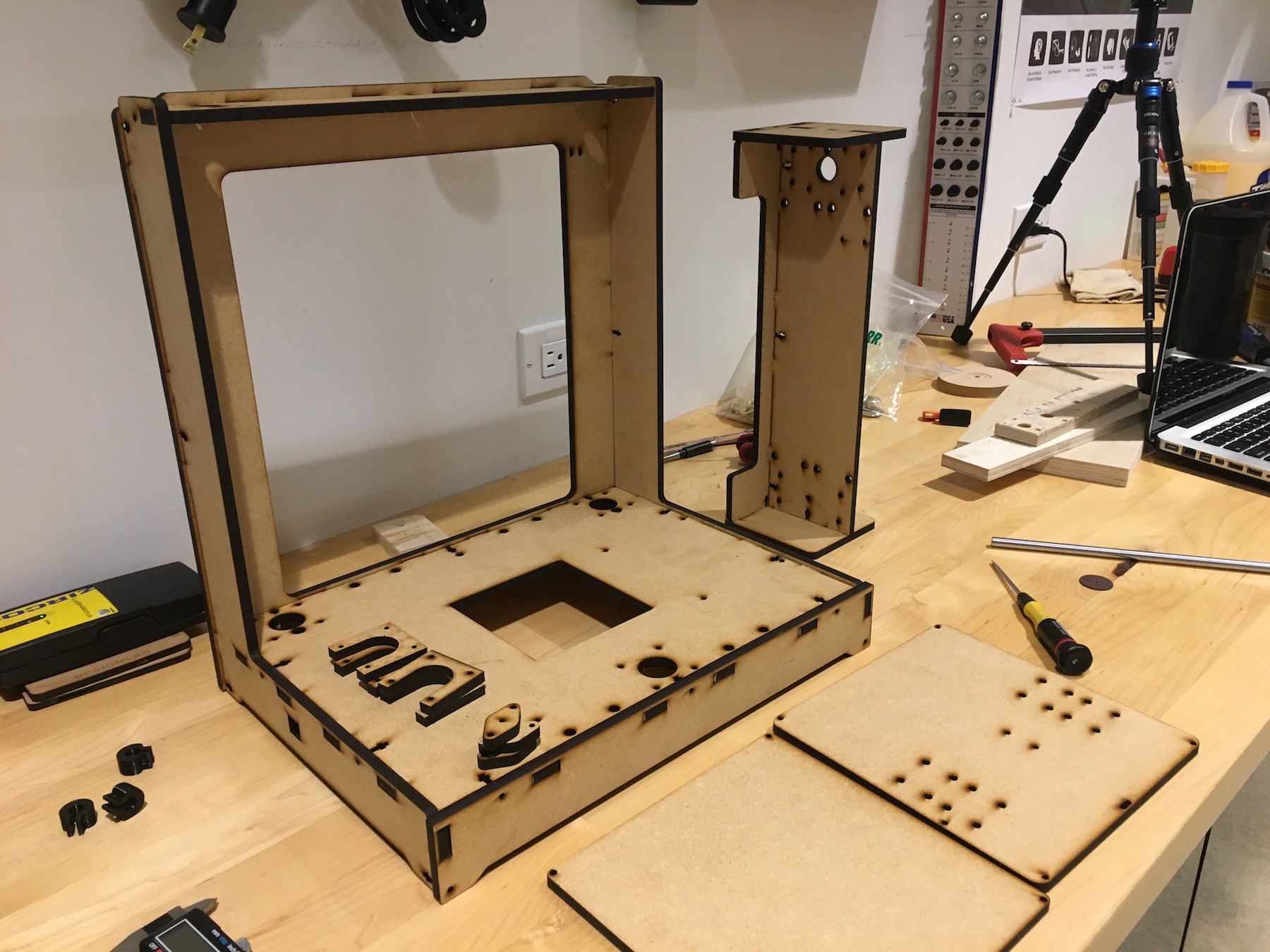 Here you can see how the frame will be assembled. There is a main body assembly consisting of a front, top, back, base, and "L" side plates.
On the top right is the X/Z axis assembly. This will eventually be mounted on rails that will slide through the two back holes in the base of the main assembly. Stepper motors under the base will control Z height, and a single stepper on the X/Z axis assembly itself will control the X direction.
Lastly, on close right you can see two square plates that will be the printing bed itself. This will be movable in the Y direction with another stepper motor placed underneath the base.
Even though everything fits together well with the press fit tabs, there are slots for hardware and will the weight of all the parts that will eventually be mounted, screws will be necessary to maintain rigidity.
An approximate list of hardware is as follows:
30x M3 10mm bolts
50x M3 16mm bolts
10x M3 30mm bolts
15x M3 40mm bolts
14x Hex Female 8mm M3 spacers
80x M3 flat washers

80x M3 nuts

15x M4 12mm bolts

10x M4 20mm bolts

20x M4 flat washers

20x M4 nuts

2x M5 30mm bolts

2x M5 nuts

16x M6 12mm bolts

2x M6 flat washers

2x M6 nuts