Where Can I buy Resumer 3D if I missed Kickstarter?
eBay: https://www.ebay.com/itm/132757128584
Amazon.co.uk: https://amzn.to/2NR1OZY
Amazon.de: https://amzn.to/2wMKlv8
Amazon.fr: https://amzn.to/2MPb58g
Amazon.it: https://amzn.to/2MNvNWh
Amazon.es: https://amzn.to/2NTNEHE


How does it work?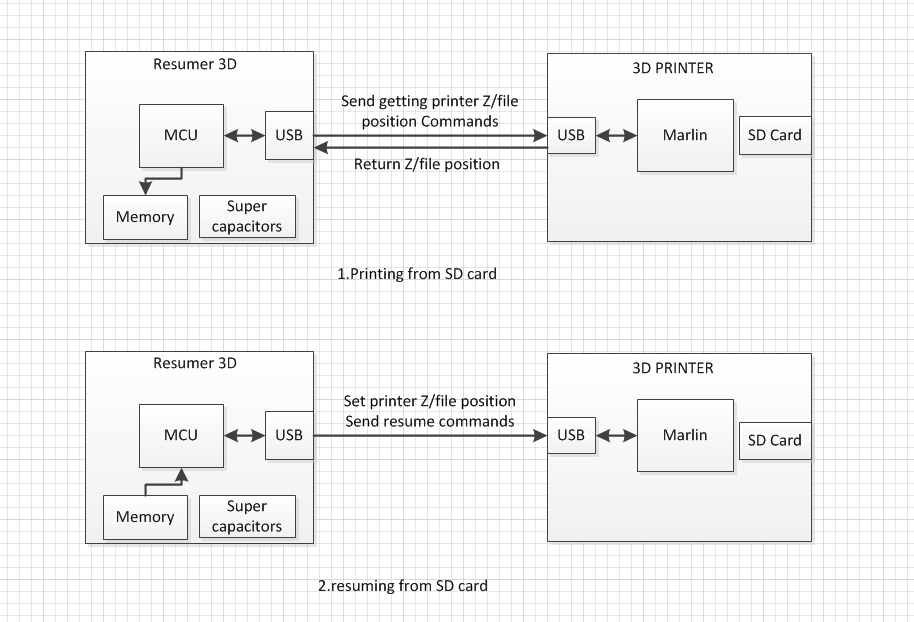 Resumer 3D simulate the way of how 3D printer software works, sending out and receive G-code by USB port. By this way, when your printer is working, Resumer 3D will monitor the status of the 3D printer, record the printing data in real-time. Furthermore, there is a super capacitor built in Resumer 3D, even if the power shuts off unexpectedly, the super capacitor will keep Resumer 3D alive and store your printing data solidly. When you turn on 3D printer, as Resumer 3D has stored all the printed data, it can resume the prints fromany printed layer automatically. Resumer 3D makes everything easier.
        At beginning, many people are doubt that why Resumer 3D is so compatible as it can work with different 3D printers. Thanks to my team, we have tried our best to insert different USB drivers of different 3D printers; furthermore, as how Repetier-Host and Cura control 3D printer, Resumer 3D  use the same way to communicate with 3D printer and control it by G-code command.
Easy to use!
You simply connect Resumer 3D to your 3D printer via USB cable, leave it alone. No headache of editing G-code, no afraid of technical problems when you choose Rasperry Pi.
       Although we have tested almost all the 3D printers that we can find in the market, we may miss some of them. If you find that your 3D printer is not compatible with Resumer 3D, please get in touch with us, our technical team will upgrade the firmware for you, please click here you can download the latest firmware. Thanks for your support.