Basic concept of a simple coil gun design.
A capacitor discharged through a switch into a coil with a Diode in the loop to protect the capacitor. The Magnetic Field generated in the coil will accelerate a metal slug. Most people desire to generate enough kinetic energy to pierce a can or box of cardboard.
Then there is some method to charge up the Capacitor.
The other side of the circuit is some way to power up the system. I initially looked at rectifying a Microwave Oven Transformer (MOT) using a Variac to tune to the correct voltage. This method was pretty effective but I had a dc - dc 12v to 450v converter that worked at 40w. So I found it easier to power my setup from the bench supply with an end goal of a battery bank.
OK- so That's the too little information - lets expand a little
Usually at this point most posts will start to get really technical and say a bunch of times hey THIS WILL KILL YOU - Yeah kids, you need some real concepts of how electricity works before messing with the High Voltage side of these , because our big Capacitors throw more than enough amps to Kill You. but the rest of us always say DUH Now tell me something. OK
First thing I did was try to find out what Caps I could get. I ended up finding 450v 6800uF large electrolytic caps that are a little bigger than a soda can (pop can if you live in the NE USA) and seemed that I could get a decent amount. I ended with 5 which is intended for an eventual 3-4 stage CG. I sourced these through AliExpress out of China. -- Hmm I will have to note this some where more appropriate but - I live in Guam, a small island in the middle of the Pacific. 30 days for anything to ship. So any design change sets back everything a month or more. So I had 6 or 7 months of just research and design before I have even gotten to this point. this also lends to parts that are highly likely to work and not burn out under the specs.--
With those caps now we need to find a switch. Lots of choices, ( IGBT, Mosfets, SCR .etc) The ideal choices that can handle the 1200-1600A are Holy Sh!t expensive. The long and short unless you have some awesome connections and can score some awesome IGBTs you are going to be stuck with an SCR for your first switch. I chose the KP100A again out of china. The problem with SCRs is that they only open they don't close on command. so you can loose your hole charge but this can have detrimental effects on performance. IGBTs can switch off the flow so you can time how long your coil is magnetized. This SCR can be triggered open with a simple 18650 LiOn battery and with a Normally Open (NO) switch as the trigger.
Now the safety diode, which protects the capacitor, allows the energy in the coil to circulate until its dissipated as heat, basically. I chose the RURU15060 to handle High Voltage and Amperage. Again out of china.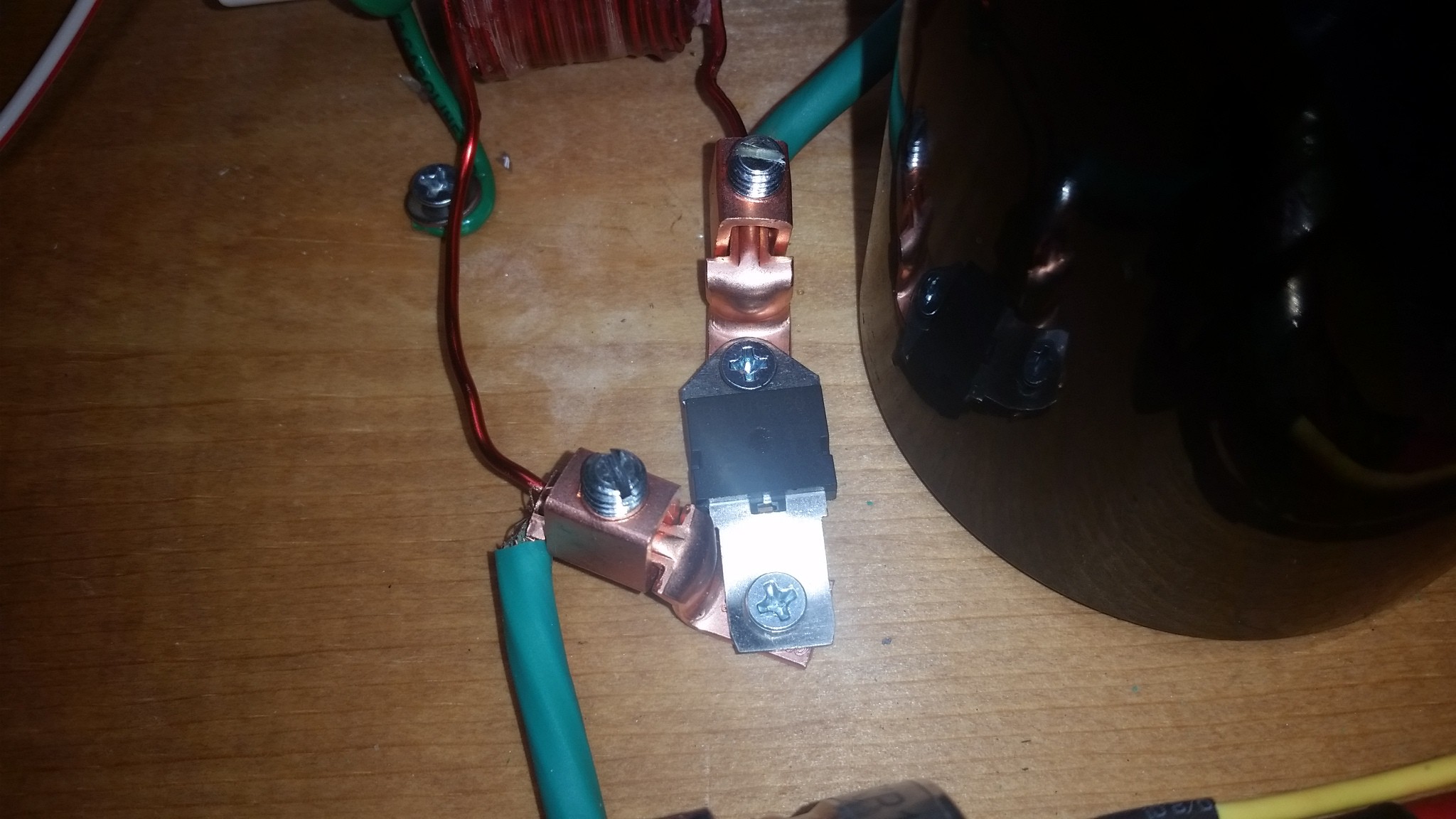 So we have the Caps, the Switch, the protection diode, what about the
Coil?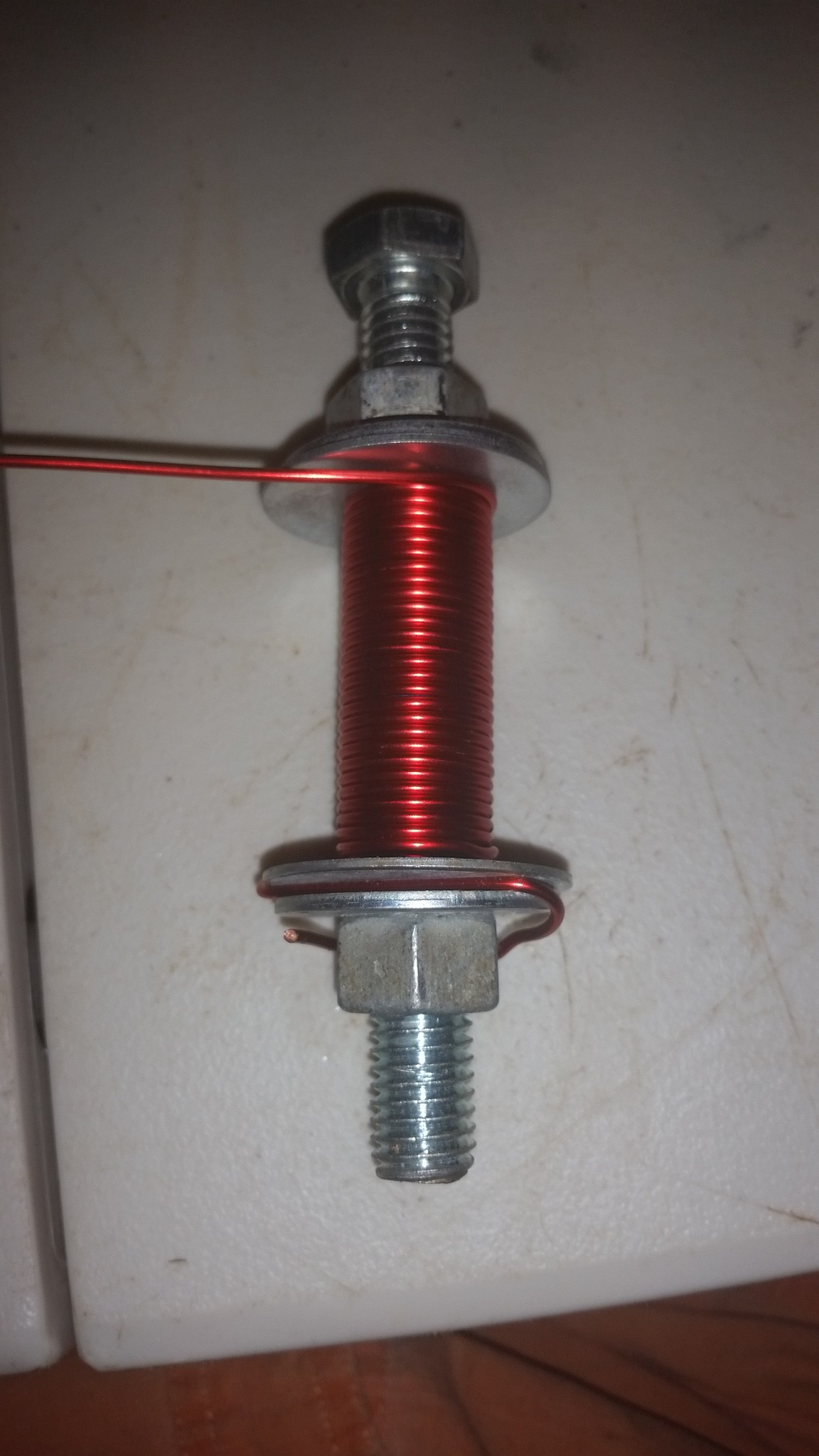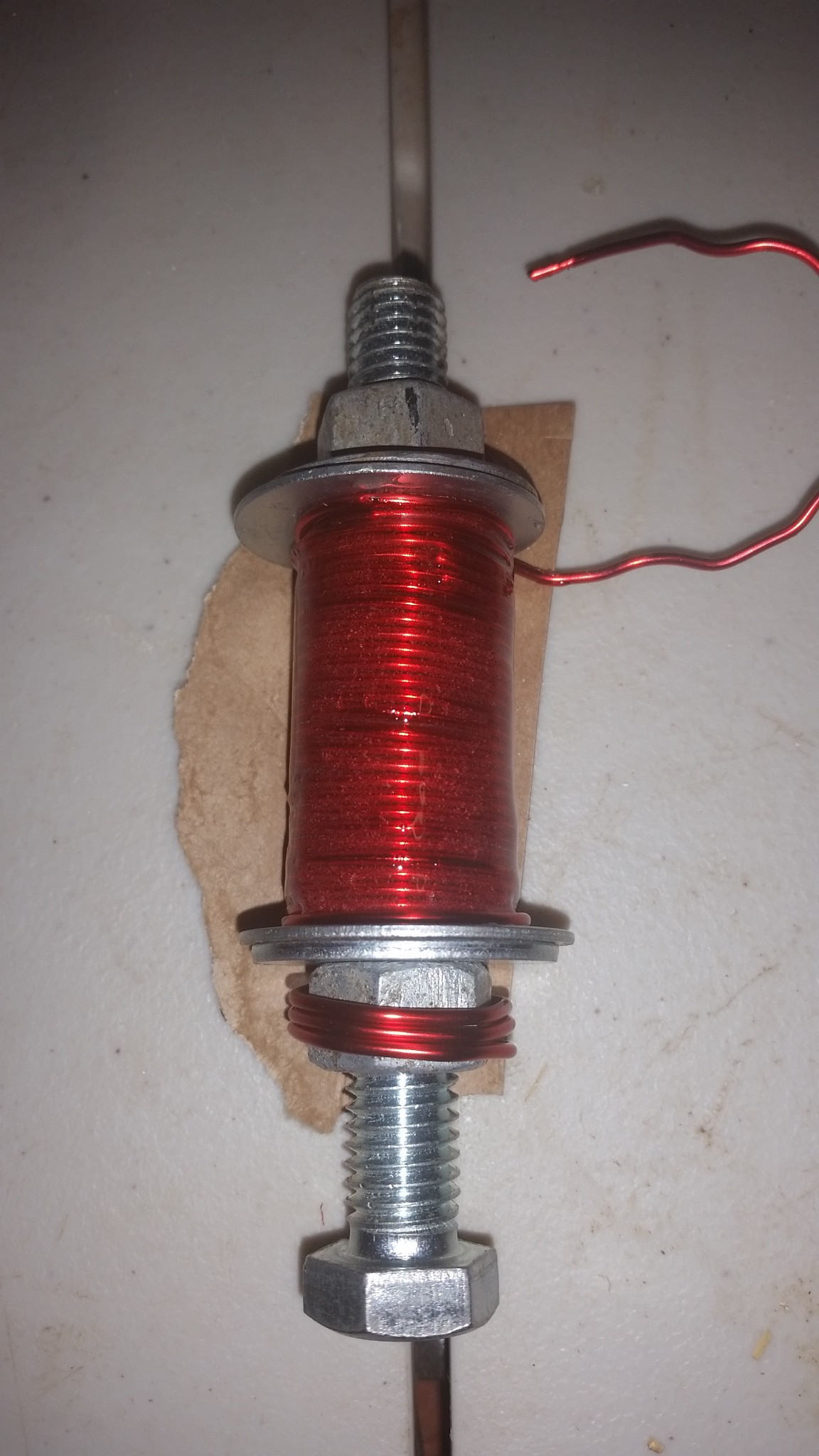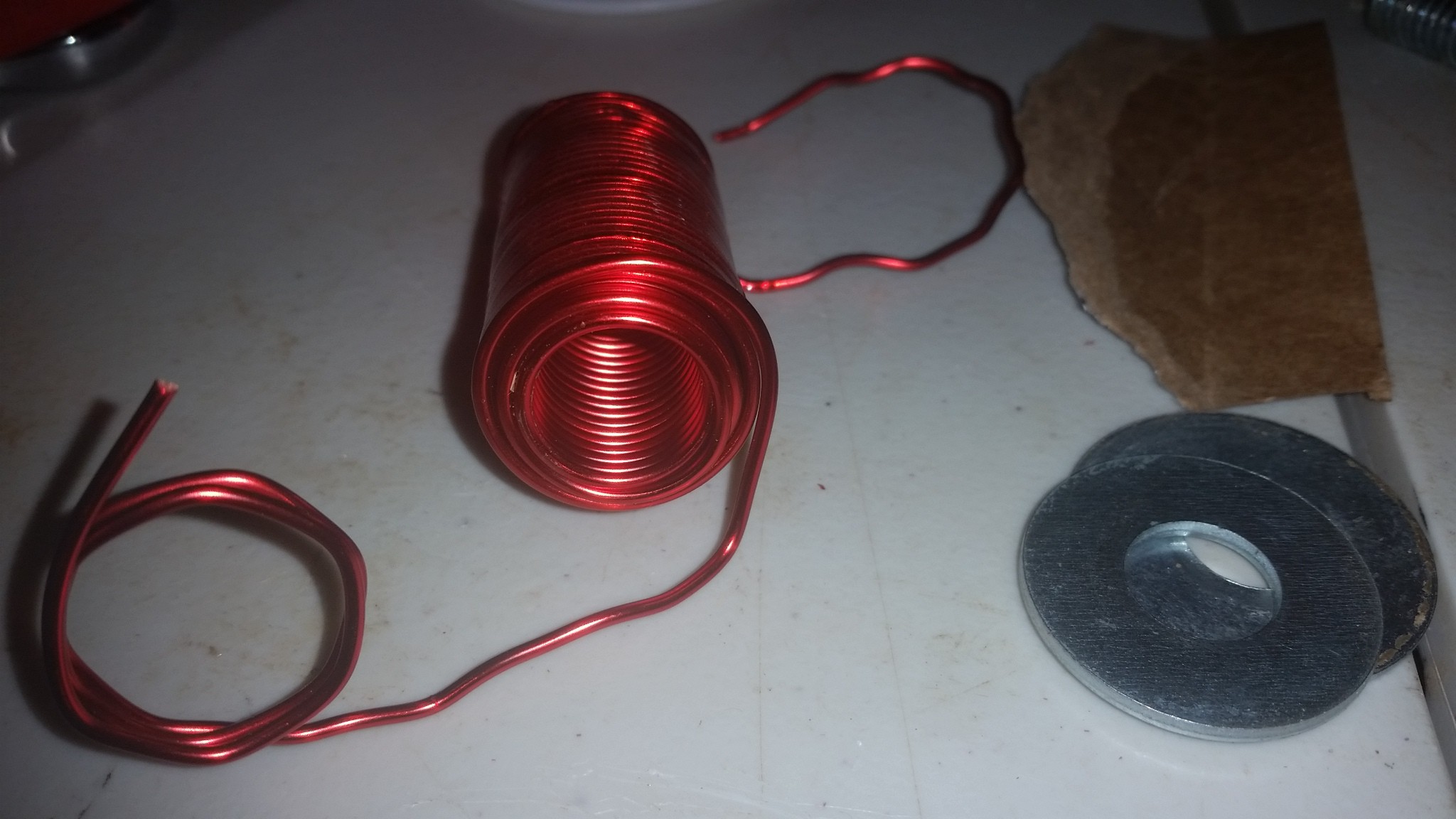 First Coil - After research I went with a 14awg 3 Layer 31 turns per layer. And a 31g bolt as a slug. I wrapped around a 1/2in (.5in) Copper Tube. This was specifically for proof of design. I changed it rather soon. It was quite interesting after firing it a dozen times or so I saw the looser ends of the coil get pulled to wrap around the center of the main coil. How cool. An empirical demonstration of how the coil constricts upon itself. These loose coils were the ones on the ends that did not get included in the epoxy coating. Using the 450v 6mF cap I get an under-saturated slug that limps across the room.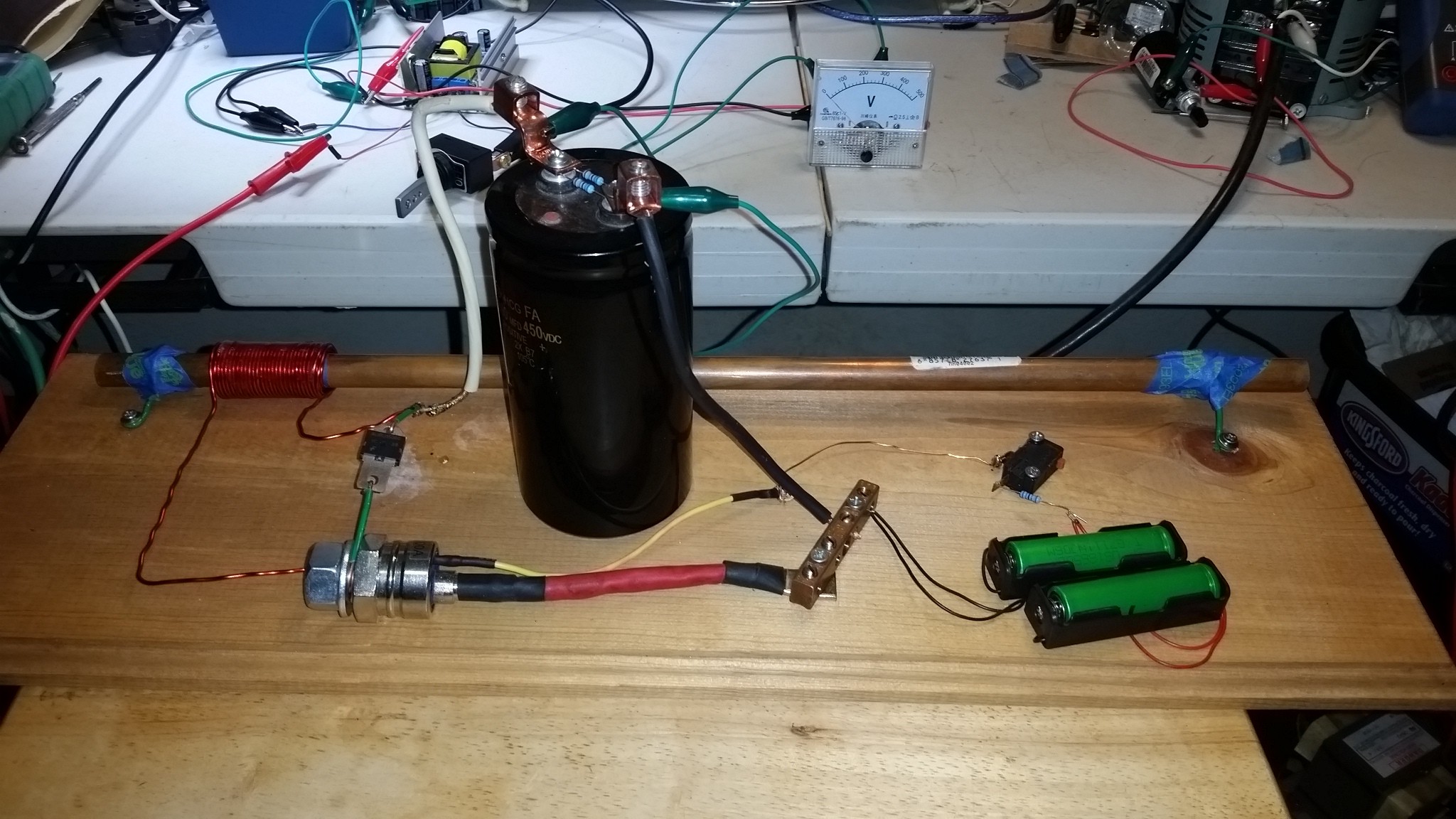 The second Coil - I wanted to use a plastic tube so I grabbed a round tube from a vertical blind, the rod that twists them open and closed. at a 10mm OD and 6.8MM ID it allowed for a nice small slug. I used a 10mm metric bolt that measured at 9.85mm diam. I epoxied large washers to the bolt and Nut to make a form for the coil. I need to add a layer of Tape to get me the last .2mm to allow the coil to transfer from the former to the plastic firing rod. This coil is 7 layers...
Read more »