I like the Hera Laborsysteme professional line , but as I've seen some prices, they are not the right choice for hobby use. I am not related to Hera in any way, I've just seen their and similar lab benches at various labs and used them a lot.
Most electronic lab benches I come across boil down to the following parts: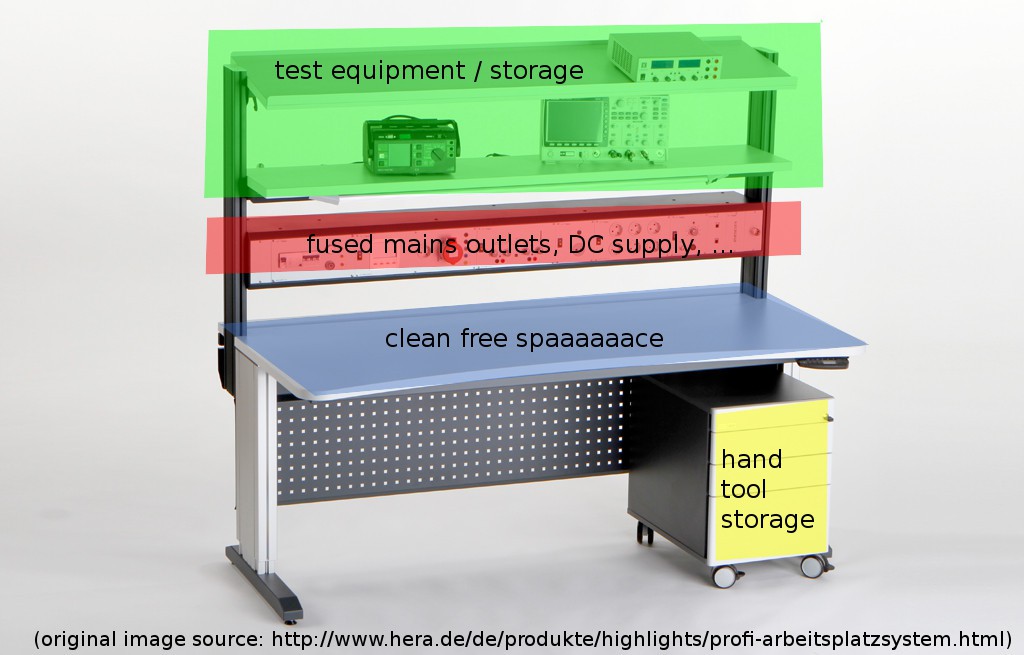 A clean free space is the most important part, and quite simple: "Just" a table. But to keep the table clean, it is necessary to not fill it up with test equipment, soldering stations, tools, cable chaos, ... For this, the other segments are necessary.
My hobby electronics lab bench is just a kitchen countertop on massive steel legs. An old printer table from the (g)olden times of giant endless-paper printers, is used as a lab cart. On top of that printer cart, a 19" rack contains an isolation transformer, residual current circuit breaker, normal circuit breaker, a bunch of mains outlets and a 19" DC power supply for all the basic supply tasks.
For now, there is a high pile of test equipment on top of that 19" rack, soldering stations and scopes block the workspace, ... - to reorganize these, I'll build an shelf thing for test equipment storage/placement (green box in pic above) and provide some pics of the progress.