Fast moving high energy muons created in the upper atmosphere by cosmic rays rain down across the entire surface of the surface of the earth. They do this continuously at approximately 200 muons per second, per square metre across the entire surface of the earth. When counting muons over time the average flux is nearly uniformly and isotopic varying little over time, other than small gradual variations due to the solar magnetic cycle every 11 years.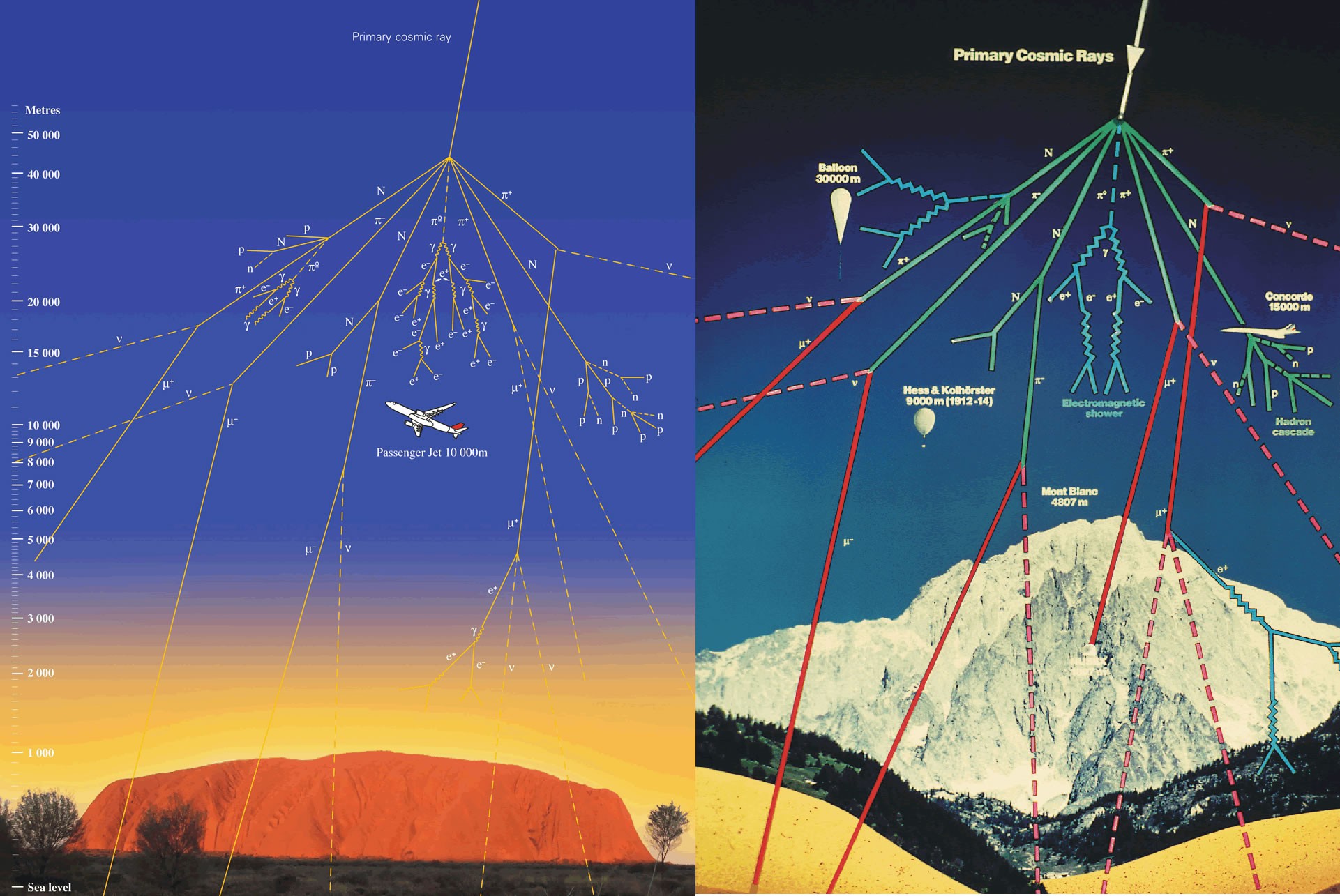 Muons lose their energy gradually, as they have little mass and travel nearly at the speed of light 0.98c meaning they can travel through large amounts of matter before being stopped.  When averaging muon flux over time from a specific direction, it is unlikely to be any different from any other direction. Except where it is passing through different densities of matter like a mountain.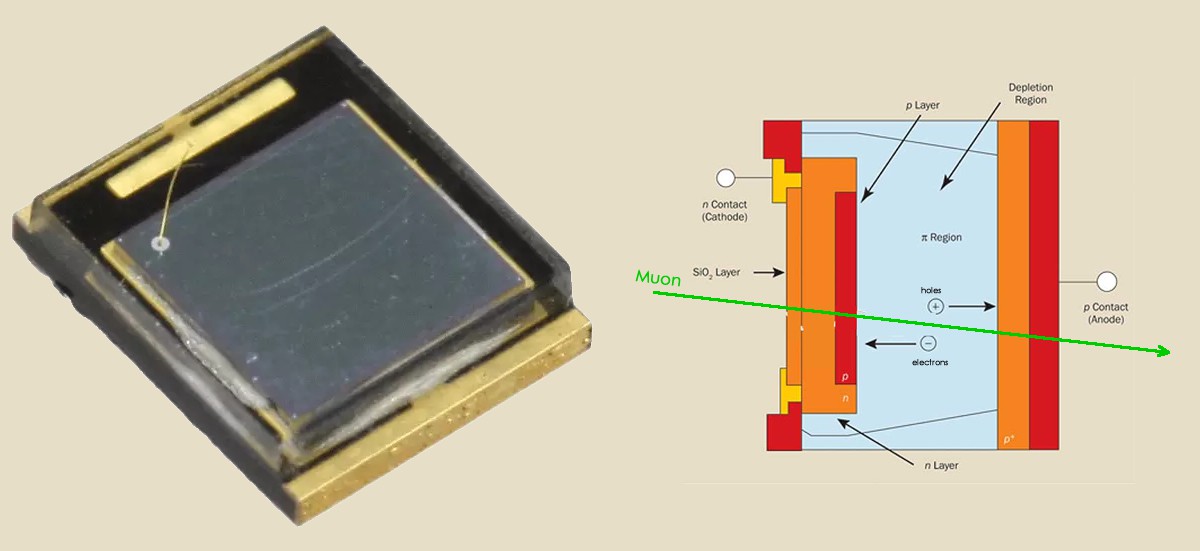 The heart of the muon camera are low-cost Si Pin Photodiodes commonly used in low cost geiger counters.  However, the Si Pin Photodiodes are stacked in an array to create a collimator that amplifies muons detections coming from one specific direction. 
It does this using an array of 8 detectors that are enclosed in copper shielding to reduce background radiation, rfi and other interference.  This creates a virtual collimation effect as each Si Pin Photodiode is stacked one above the other, where the signal from each is added together using a voltage summing operational amplifier.  
Consequently, when a muon travels directly through the entire length of 8 detectors they will be triggered simultaneously, and so will have the highest signal amplification.  Whereas, muons or local background radiation passing through at other angles will have a lower signal and so can be filtered.
Similarly a single element in the compound eye of an arthropod focusing light from one direction on the ommatidium where as light from other angles is absorbed by its dark sided walls.

An array of 16 virtual collimators each grouped together to form a simple compound eye camera will be the first test. Increased to 32 depending on the results of field testing.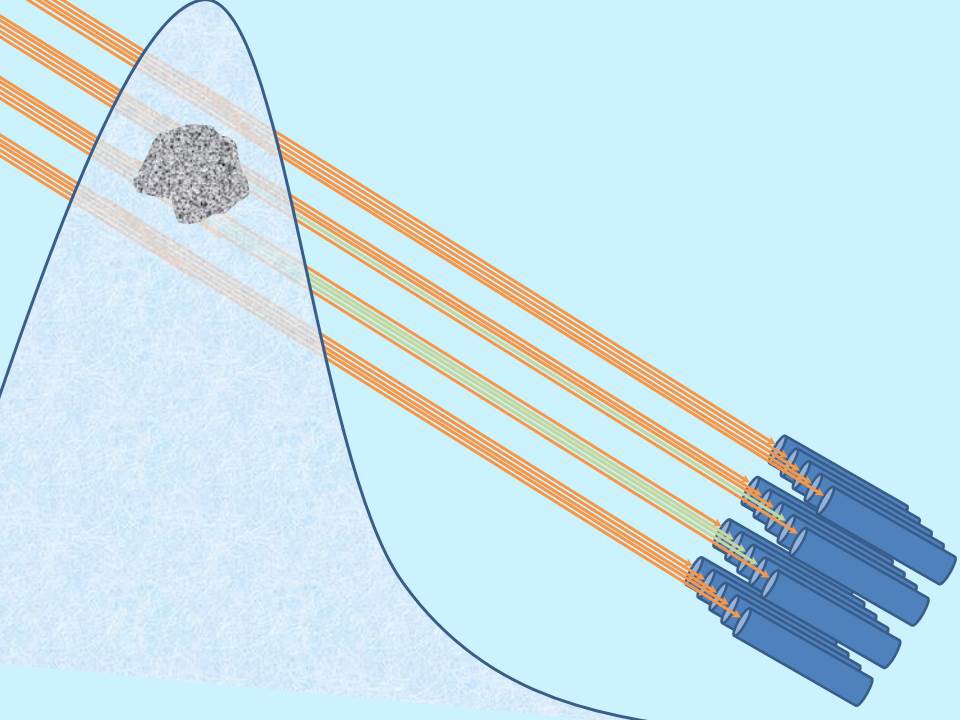 The image will be created based on the summed count rates of each virtual collimator spanning a number of week/days for a specific elevation angle and location coordinates.  Possible caverns or thick dense material concealed within a mountain may result in lower count rates than the surround detectors or in different locations and/or elevation angles.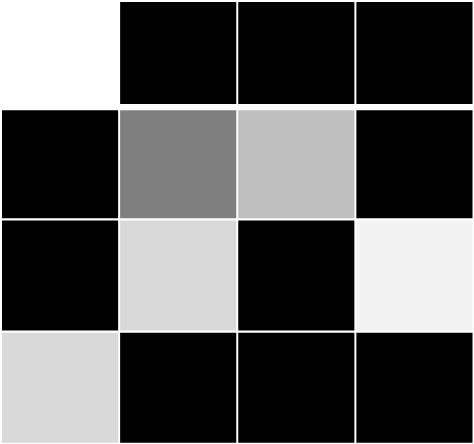 This design is not solely limited to use as the AMC: 
As it could also be used individually as a single cosmic ray telescope.  
In a small coincidence bundle like I have used in my Cosmic Array art project  ( the impetus that created this new design).
In other linear array configurations using raster scanning methods or,
Meridian drift scanning for an "all of sky" muon mapping. 
The design also lends itself to be arranged into a flat matrix of Si Pin Photodiodes and used as a beta, gamma and X-ray monitoring.  Also enhanced with the use of larger aperture Si Pin Photodiodes and/or scintillators. Consequently suitable for gamma ray spectroscopy.