Korg DW-6000 is a 6 voice polyphonic synthesizer from 1985. It's hybrid, because its tone generators are digital (sample based), but amplifiers and filters are analog. DW-6000 has been superseded by his bigger brother, DW-8000 which featured more waveforms (16 instead of 8), more voices (8 instead of 6), digital effects section (well, I think that the DW-6000's analog chorus is way better than DW-8000's digital delay, but you know, back then - c'mon - it's digital dude, and digital is better).
Internally, DW-6000 consists of 3 main boards:
KLM-653 - programmer / assigner board - (this is the board I'm working on)
KLM-654 - generator (here be voice ROMs)
KLM-655 - analog board
This is how it looks like on a block diagram: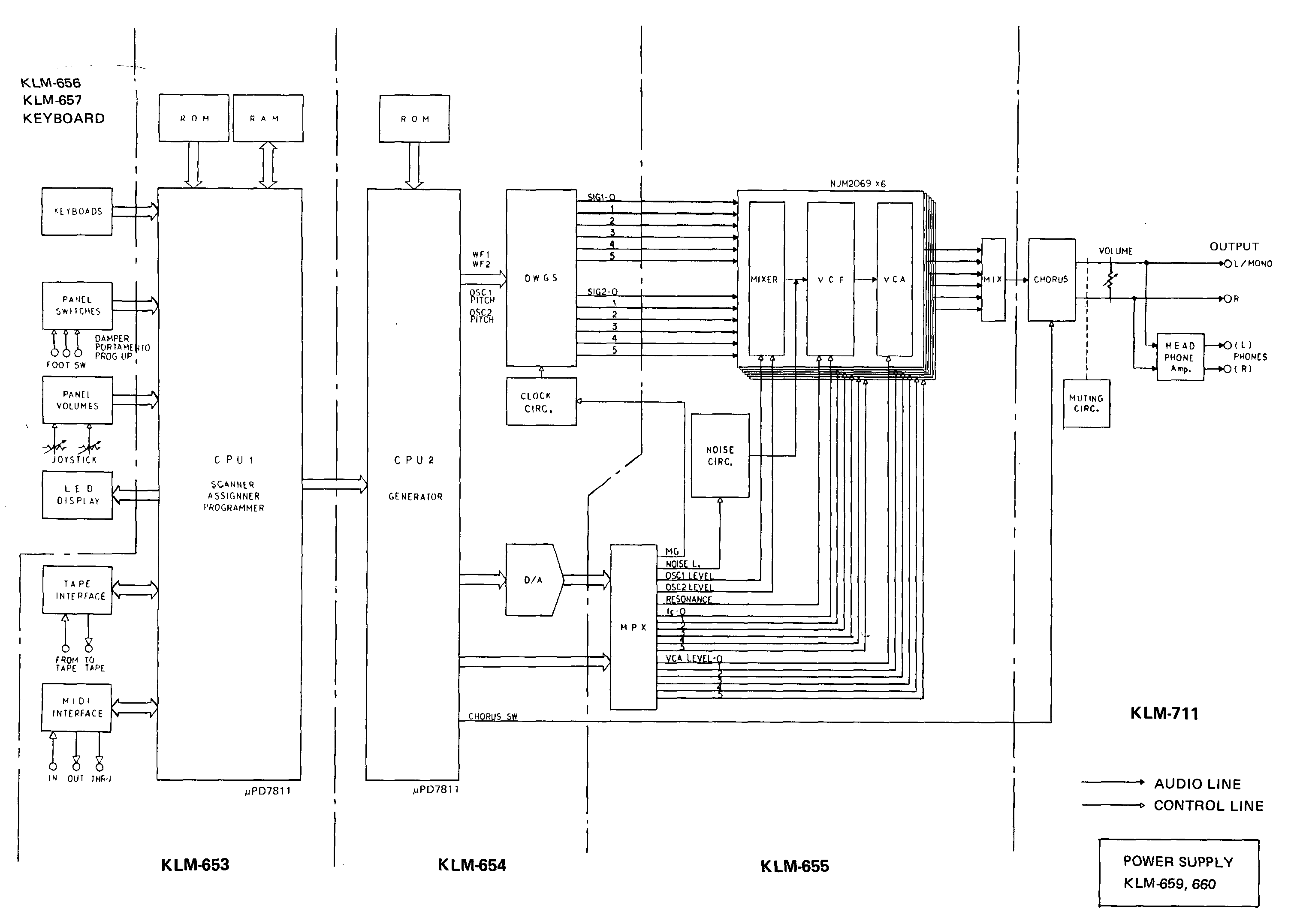 The idea (at least from electrical point of view) is fairly simple:
replace the stock ROMs (KLM-654, IC29 and IC30 - HN613256, 256 kb) with bigger ones (4 Mb) and fill them with some new waveforms
connect four unused address lines (A15-A18) to PB4-PB7 of IC1 (uPD7811, KLM-653)
modify DW-6000s firmware to implement bank switching mechanism - add a new parameter (14) with 4 bit resolution (1-16), which will tell the CPU to set a value on PB4-PB7
P.S. I have started this project some time ago and I didn't pay much attention to logging activities, that's why I'm adding a whole bunch of stuff right now and that's also why I'm missing some dates. Once I'm happy with my backlog, I will make this project public and start logging things as they appear.