The project has officially launched to Kickstarter
Main Features: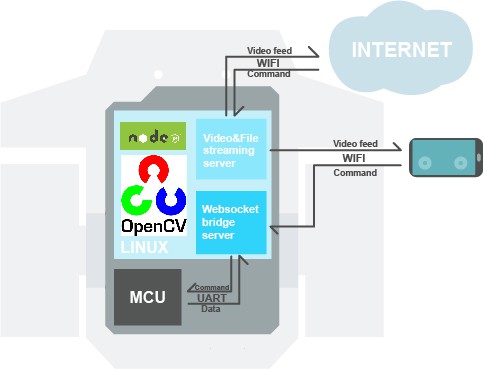 Hardware:
1. H.264 codec 720p/25fps HD video Live stream (under 300ms lag), 320p/25fps (100ms)
2.Atmel 32u4 brings pure Arduino IDE supported.
3.SD card supported(slot)
4.WIFI mudule
5.MPU6050 3-axie accelerometer and Gyroscope.
Software:
1.build in rtsp server provide you web api which help you do video live streaming, recording, controling.
2.bridge system which help you communicate between HI3518E and 32U4 mcu, manage the uart ocupation.
3.OpenCV available which enables face/object recognition.
4.Android(ios coming soon) app helps you set up things quicker.
HICAT.Livera contains a Hi3518E arm based chip sets corporate with an Atmel 32U4 MCU. HI3518E is a professional webcam solution which widely used in IP cam industry. Because of the huge marketplace of this technolog which lower down the cost and technical accessibility, that gives us good chance to bring it to makers :p. This powerful board would help makers to extend the ability of any visual based project(home automation, robotic, wearable...)
Of cause the whole project is open source.
License
The Whole project is Licenced under CERN Open Hardware Licence.
.
QUICK DEMO!
RAW HD H264 video output
Robot kit