System Overview:
This is designed to work with a quadrature encoder and a motor driver of some kind. (e.g. DC, ESC, Stepper, etc...) It's the "Servo controller" part of this block diagram: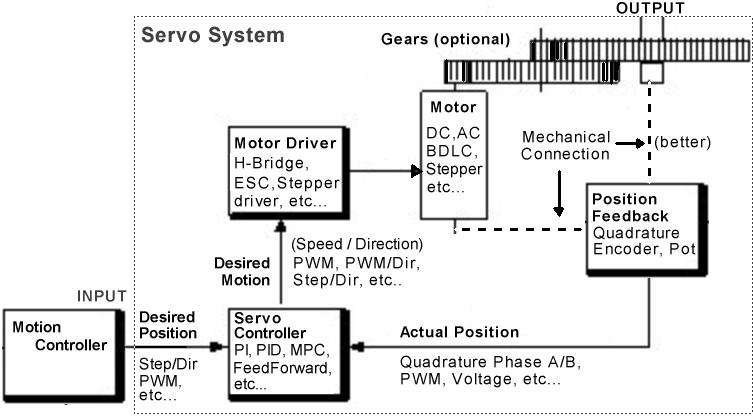 The "Motion Controller" could be a PC w/Mach3, LinuxCNC, etc... , or an Arduino w/ RAMPS/Marlin, GRBL, TinyG... basically anything that produces Step and Direction signals.
The "Motor Driver" could be a DC motor driver like this Low cost, 1 HP H-Bridge, or a SyRen 2 HP monster or an RC ESC, or Stepper driver... basically anything that accepts PWM pulses and Direction. Obviously, that will be whatever your motor needs as a driver.
The "Position Feedback" in this case needs to be a standard Quadrature Encoder like this Non-contact magnetic encoder, or any standard optical encoder.
Here it is working with a standard 3D printer board, replacing the little stepper drivers via an adapter cable.

Here is a sample session, getting the unit tuned and running: