This is an experimental project that aims to explore the limits of hobby 3D printing.
This project does not aim to reproduce a standard vehicle construction. Many things can go wrong, but we will enjoy and learn through the process. :)
Any suggestion and help is welcome. Feel free to comment.
  Plastic itself is not so stiff and strong as other materials like composites or metals.
But with 3D printing it is possible to create intrincated internal structures in the parts that are impossible to do with other manufacturing systems.
So it is possible to get final parts quite strong if properly designed.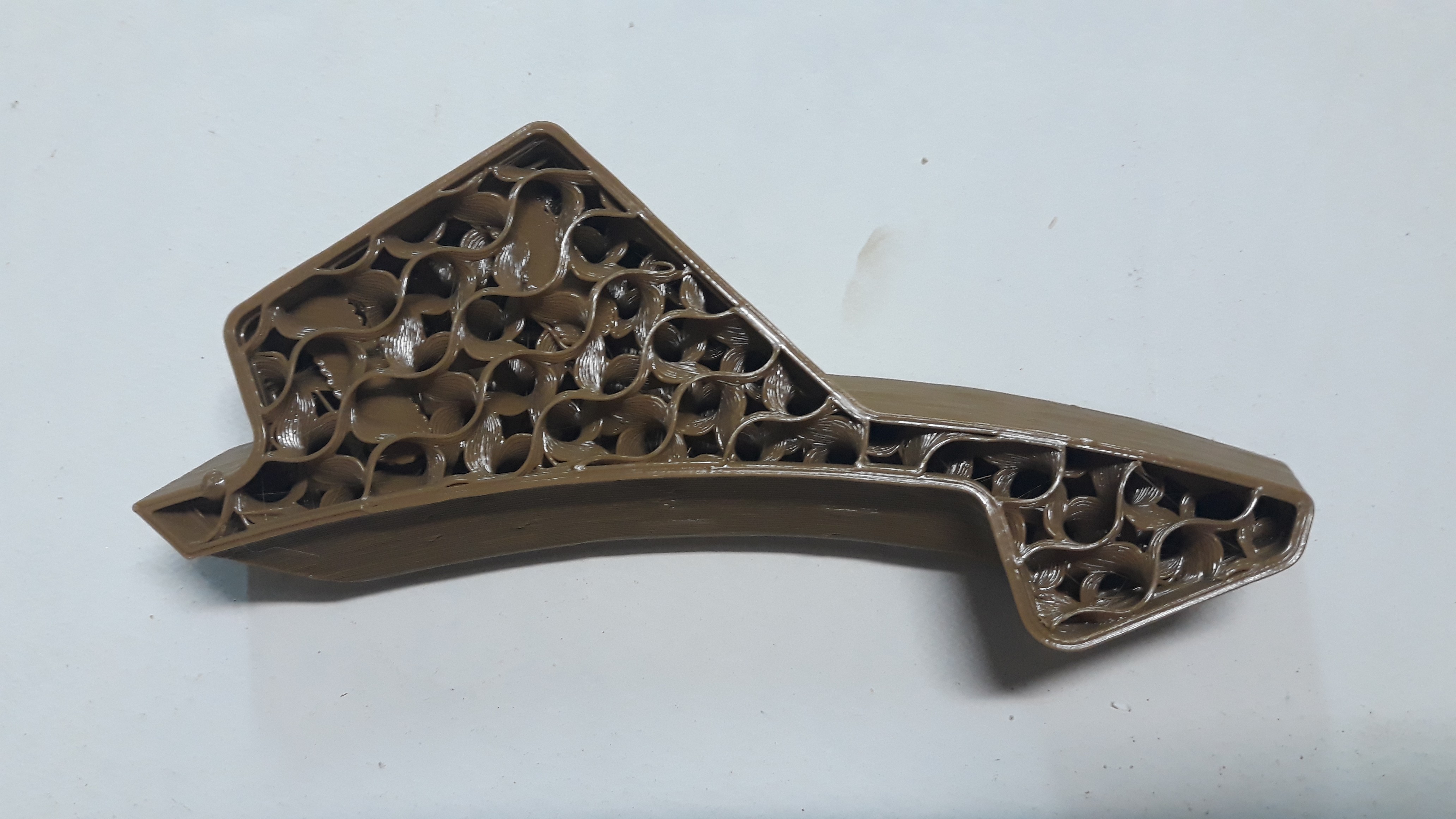 The main reason I have chosen PLA or PETG for most of the parts is because those materials are easy to find and most important, they are easy to print. So anyone can do it with a hobby printer. ABS, PA, PC and other plastics for big parts like the ones needed, are difficult to print on a hobby printer, as they tend to warp if you are not very careful when printing.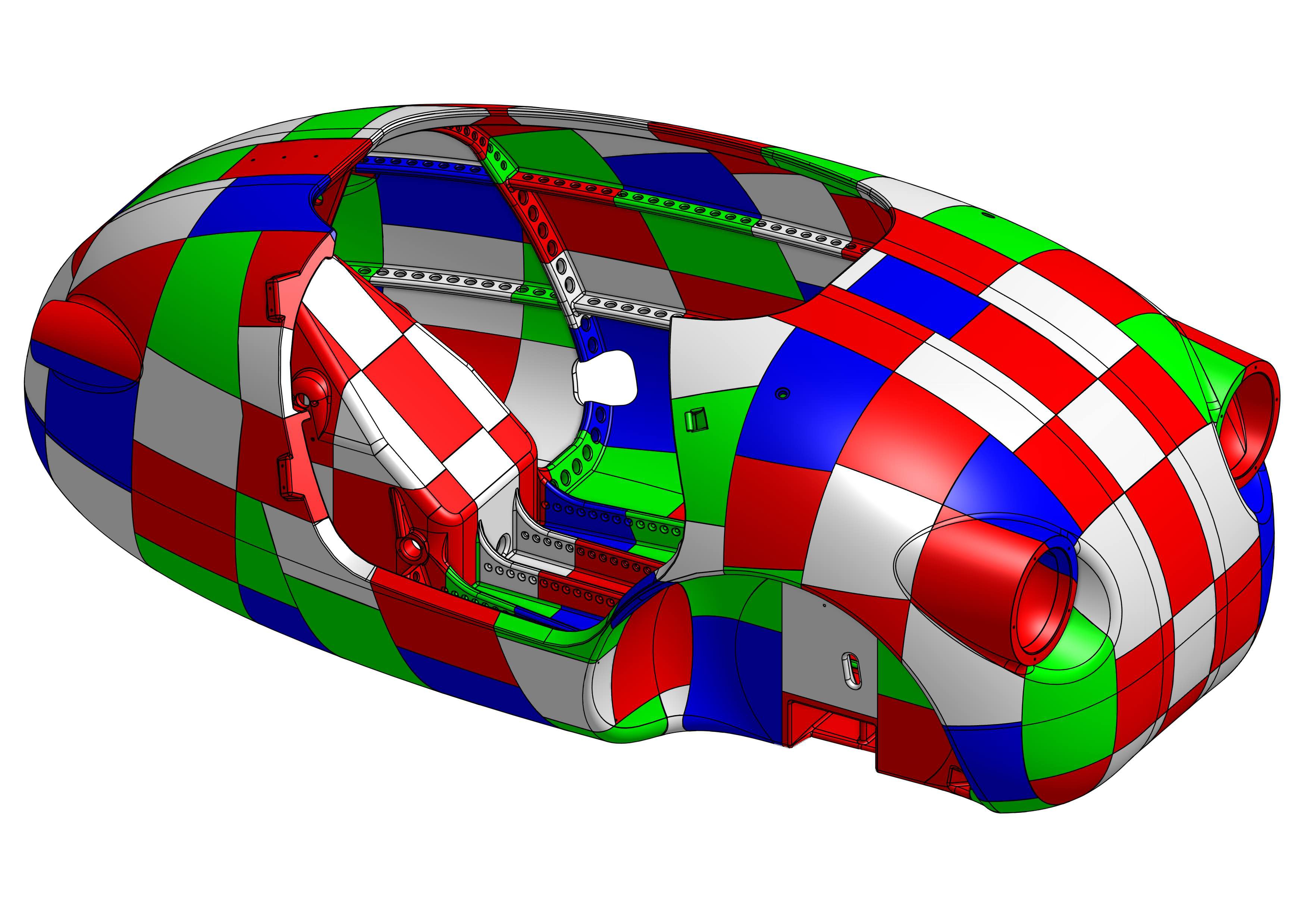 Vehicle technical details
Tadpole 3 wheeler.
Light self supporting structure body.
One seater and cargo space.
Partially enclosed to protect driver and cargo from damage, and weather conditions.
Ergonomically accessible: easy entry and exit.
Full lighting systems: Position light, High/Low Beam Road Lights, Brake Lights, Turning Blinkers, Rear light, Emergency light.
Rear mirrors.
Simple suspension for comfort and structure/systems conservation.
Rear Traction.
Sizes:  2020mm Length, 1050mm Height, 1050mm Width, 1240mm Wheelbase.
Estimated Vehicle weight 75 to 85Kg (Final weight may vary depending on printing material/s, printing adjustments and components chosen)
Cargo capacity: Driver + cargo ≥ 130Kg maximum (estimation)
Wheels sizes: 3 wheels around 20" to 23" overall diameter
Motor type: Brushless direct drive, Continuous/Maximum Power: 1000/2000W.
Controller: Programmable, 30 – 50A with reverse function.
Maximum speed: around 50Km/h (estimation). NOT RECOMMENDED TO DRIVE IT OVER 45Km/h
Maximum slope: ≥12% (estimation).
Battery: 48V 1.2 to 2kWh.
Range: ≥40-70 Km (estimation).
Charger: Internal 200 to 300W.
Charging time from mains: 5-10 hours from empty (Depending on battery size and charger power).
Brakes: Front wheels, discs. Rear wheel, regenerative braking.
Project technical details
Around 230+ printed parts for 220x220x220mm printers
Estimated printing time 400 to 500h
Weight estimation for 3D printed parts is around 35 to 45Kg (It will vary depending on the material/s chosen and printing adjustments)
Around 290 different components
Around 560 parts
  This is an Open Source Hardware project, I am putting all designs and info together in an understandable way, and will publish it soon.
Construction playlist: 
  All documentation of this project on any format is licensed under the Creative Commons-Attribution-ShareAlike (CC-by-sa 4.0) license Your comments here and other in places help to improve the project so its design will change as time passes.
Participation
This is a non commercial project borne with my own time and money and with the help of some collaborators, people and companies that decided to help me in this endeavour that alone may be impossible to do. THANK YOU to all of them.
Please, consider participate in these kind of projects by:
DONATE: If you want, you can make a donation via Paypal here: https://paypal.me/GonzaloChomon 
AFFILIATION: Make your purchases online by buying from affiliate product links.
WORD OF MOUTH: Invite your friends to come and discover this project and share them.
If you have any other ideas of how to participate, please contact me, through this project at Hackaday: https://hackaday.io/project/177105-jellybean3d-printed-car , by comments or by email.