Design
Programmable – our software interface interacts with hardware to cater to the caprice of every programmer. It replaces wires with a programmable switch fabric. The user interface interacts with the switch fabric so you can connect channels to IO pins. It also interacts with the onboard ADC so you can apply logic levels at a click of a button and monitor signals in real time.
Connectivity – this tool supports automated prototyping. With the onboard USB port, you can be a few steps from your breadboard and still interact with it.
Modular – the platform includes an interface for custom shields.
Compatible with Arduino
Applications
Replace wires
1. Connect the controller board to your breadboard and PC.
2. Connect channels to IO pins in the user interface.
The user interface will interact with the hardware and implement your configuration on a breadboard via a programmable switch matrix, thereby replacing wires.
Monitor signals
1. Connect the GPIO channel to the ADC channel on the same IO pin.
2. Set the ADC channel on.
Then you can analyse the signal.
Build custom shields
This feature is still in development.
Specs
We are working on specs right now for the current iteration. Expect specs of the standard features by next week.
Block Diagram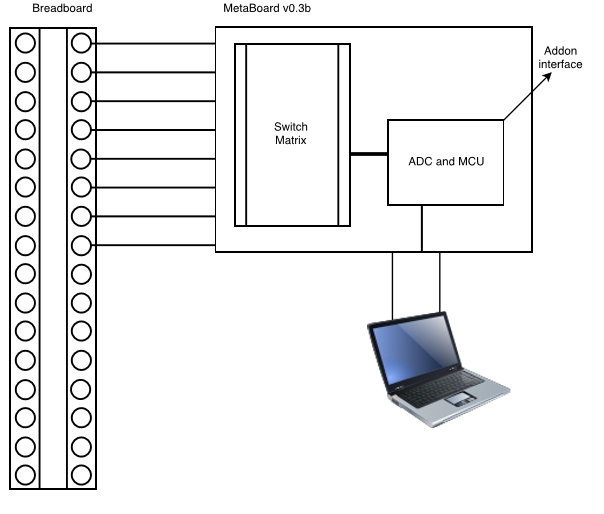 The Team
Hi everyone! We are a new startup called Freesearch. We are a team of makers based in Australia. We want to hack your breadboard for the better.
R&D