The display includes a small high voltage power supply, an Arduino-type microcontroller, a couple of shift registers and three IN-12 nixie tubes.
A 4-pin connector breaks out power, ground, and two data lines for interfacing sensors with the microcontroller.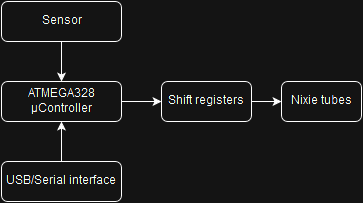 The user interface consists of a simple rotary encoder (with a pushbutton).
Two sensors are being used right now:
-Speedometer (with a GPS receiver)
-Thermometer (with a DS18B20 sensor)