Akarin Servo PCB (Rev. F)
Processor: ADSP-21479 floating point DSP
Bus voltage(max): 60v
Output power(max): 400W
Modulation frequency(max): 24000Hz
Servo mode: position, velocity, torque
Encoder resolution: 14bit
Modbus-RTU over RS-485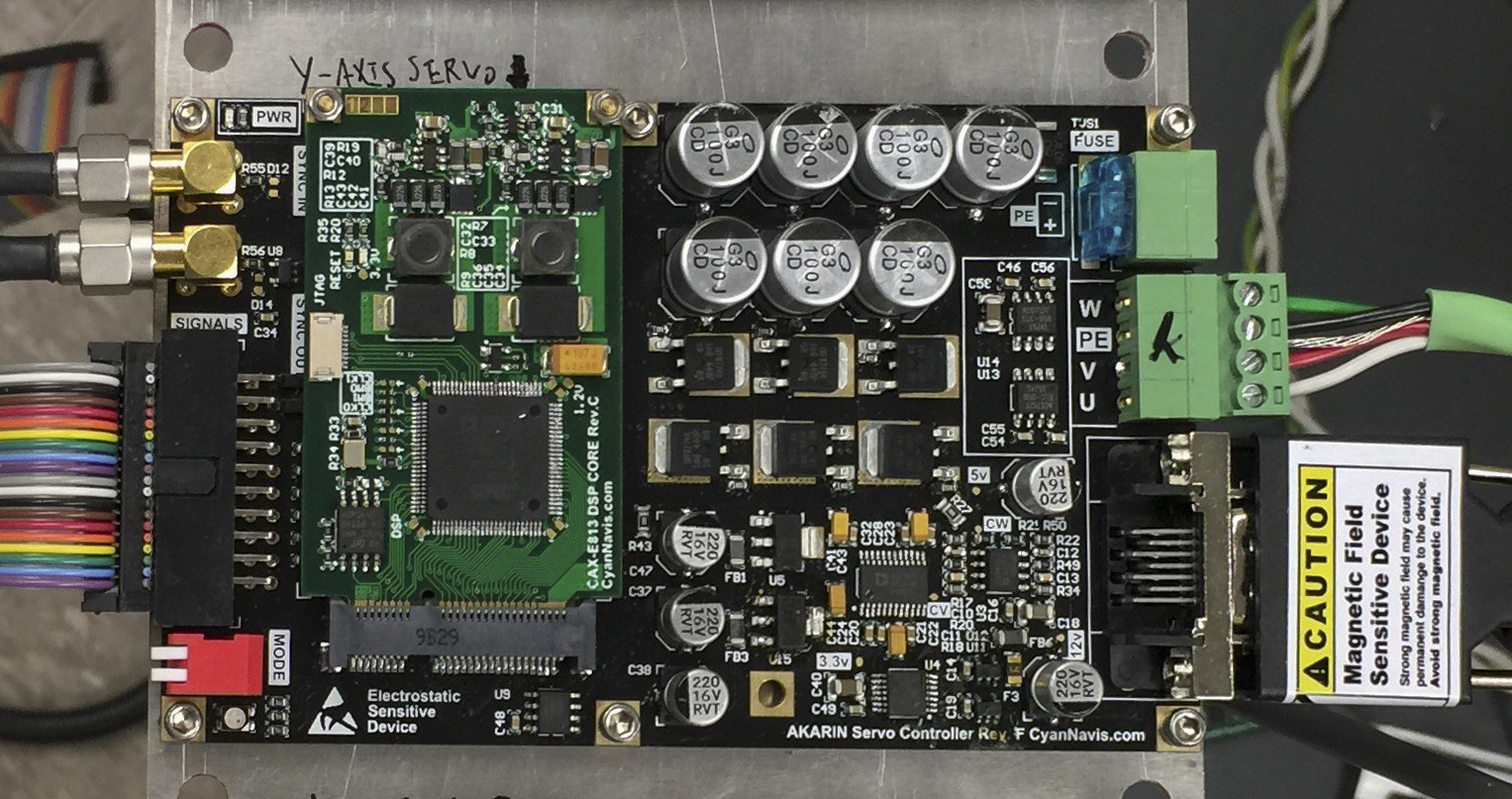 Features:
Motor state estimation using the Kalman filter
A Kalman filter is utilized to estimate the kinematic state of the motor. Smooth velocity estimation is accomplished to achieve high performance velocity control, even at very low speed.
Real-time vibration detection and suppression
The hardware FFT accelerator provided by the digital signal processor is utilized to analyze the error signal. Ten IIR notch filters are tuned in real-time based on the FFT result to detect and suppress mechanical vibration.
Jerk limited trigonometric velocity profile
A trigonometric velocity profile with jerk limitation is applied in the trajectory generation and interpolation for optimum kinematic performance.
Space vector modulation(SVPWM) / Field orientation control(FOC)
The modulation method applied is FOC based on SVPWM.
Multi-axis synchronized motion test
A multi-axis CNC milling machine is built to test the servo drives. It has 6 degrees of freedom - X, Y, Z, A, B and spindle. All axes are driven by AKARIN AC servos. X, Y, Z servos are rated 200W, A axis is rated 125W, B axis is rated 150W and spindle is rated 400W.
In this demonstration, two pencil leads were chucked onto the A axis, a flange with corresponding holes and two screws was installed on the spindle servo. A series of complicated motions were implemented using the AKARIN servos, running at very high speed(up to 3000RPM), without breaking the pencil leads.
High speed arc interpolation
Drawing demo