If you need a multithreaded web server, look at Apache (with CGI) or https://www.gnu.org/software/libmicrohttpd/

---
Here I resurrect the source code of the HTTP server that was published in "Comment contrôler les GPIO du Raspberry Pi par HTTP en C" (OpenSilicium n°6, march-may 2013)
Ideally this project supports the design of the
#HTTaP
protocol (as explained in "
GLMF n°173 "HTTaP un protocole de contrôle basé sur HTTP
")
The original source code was hosted there : http://ygdes.com/sources/

The code might use the GPIO library that I maintain in another project : #C GPIO library for Raspberry Pi (it was created and forked from the same article in OpenSilicium n°6)
TCP/IP socket setup : covered in "Un mini serveur HTTP pour dialoguer avec des applications interactives : les sockets réseau" (GNU/Linux Magazine n° 141 , sept 2011) (where I explain how it supports both IPv4 and IPv6)
Environment variables and user/group/chmod management were explained in "L'environnement POSIX du mini serveur embarqué en C" (GNU/Linux Magazine n° 177 , dec. 2014)
At this moment (20170225) the code is undergoing rework to serve files and better support HTTP1.1, including persistent connections.

---
Logs:
1. Timeout
2. MIME type handling
3. Licensing
4. New version
5. Security and sandboxing
6. Overview of the code
.

---
Since this is a software project, it's hard to create a diagram/illustration but the diagram showing #HTTaP works well because it shows how this server is intended to be used. It's the "HTTaP server" boxes: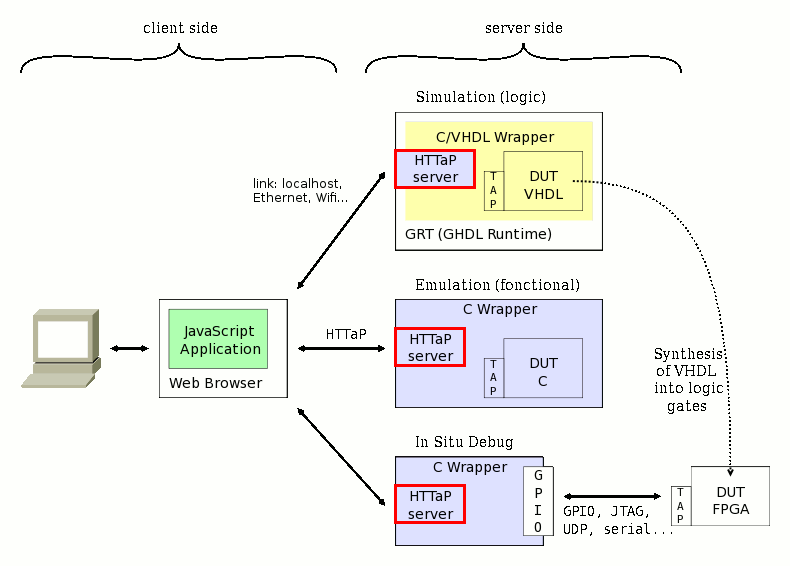 The server is not a competitor to Apache and others, but a piece of code that is embedded in other programs to make them web-enabled. This explains why it is single-threaded : only one user is expected at a given time.
Here is an example of use : in 2017/03, the server runs on the Pi to drive the "Remote Controlled Car" extension board, for the workshop at IESA. You wouldn't want somebody else to "drive your car" at the same time as you, right ?
---
.