rDUINOScope is an Open Source, Arduino Due based Telescope Control System (GOTO). Drafted as stand alone system, rDUINOScope does not need PC, Tablet or Cell Phone, nor Internet connection in order to operate and deliver stunning views!
Basically it have a database with THE BEST ~250 stellar objects ( Messier and Hidden Treasures Catalogues) and 200 stars, calculates their position on the sky and points the telescope. Implemented Alignment procedures allow for "Always in the eyepiece" experience when slewing to selected objects and once the object is in the eyepiece, the system keeps tracking it.
In case however you'd like to take advantage of your electronic devices, #rDUINOScope utilizes Bluetooth communication (Wire Free SetUp) to connect with all electronic devices and accept commands based on MEADE LX200 communication protocol.

The system works with stepper motors of all types and can be mounted on both DIY Mounts or Commercially available products like SkyWatcher, MEADE, Orion, Vixen and etc.
Recently a hardware project has been created, to revise the original content, reduce the price of ownership and make it look and feel professional. Project by Otto Winter: https://hackaday.io/project/21397-rduinoscope-control-v13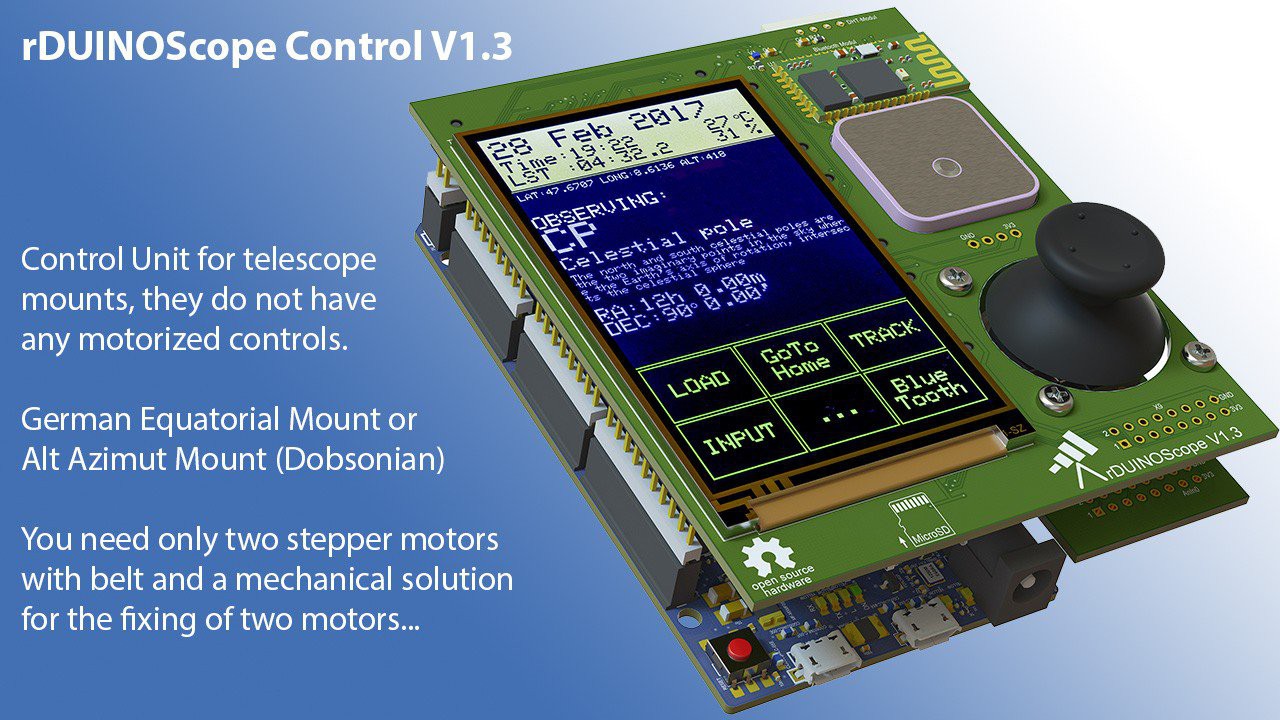 Functionality:
Best ~250 Stellar Objects database - Messier Objects and Hidden Treasures;
200 Brightest stars from Northern and Southern hemispheres;
Calculates the Local Sidereal Time and Hour Angle and points the telescope;
Hemisphere independent - works on both sides of the globe;
Auto Tracking, Auto Meridian Flip, Auto Stop when object below horizon;
"Observation Log" is kept for each observation, including temperature, location and etc.
BlueTooth connection with "Stellarium" and "#rDUINO Controller" Software;
Supports Bluetooth commands, based on MEADE LX200 protocol;
Stand alone operation ... or/and... Computer/Tablet aided operation;
Complete NGC & IC catalogue via "#rDUINO Controller" Software and Bluetooth;
Fancy Joystick multi speed manual control;
Day/Night mode of operation of the screen;
Precise and Quick Alignment methods for "Always in Eyepiece" experience;
... and many other small geeks which I consider useful :)
What's inside the rDUINO SCOPE
Arduino DUE Microcontroller Board - consumes ~ 500mA ;
TFT Touch Screen (240 x 400 px);
PS2 joystick;
GPS uBlox Neo 6M - GPS Module;
DRV8825 - Stepper motor drivers capable of passing 2A current;
HC-05 - BlueTooth module working as "Master";
PCB Mount Buzzer for Sound Alerts;
RTC DS3231 - clock to store Date and Time even when disconnected from power supply;
DHT22 - Temperature & Humidity sensor to show and record environment variables during observations;