Mechanic:
Wild Thumper 4wd chassis
Motors upgraded with encoders
Total weight: 3.3kg
Power supply:
Battery: 2x 7.2V NiMh, fused with 30A (slow)
5V via voltage regulator D24V50F5 (5A), fused with 3A (fast)
The two batteries are connected in parallel using a LM5050-2 active ORing circuit each. Another LM5050-2 can be connected in parallel for docking station supply.
Computer:
Solid Run Hummingboard (i.MX6 ARM Cortex-A9 Dual Core 1GHz, 2GB RAM)
AVR Atmega32 for motor control
AVR Atmega328 (Arduino Nano) for I/O
Peripheral:

Hummingboard: GPS (uart), IMU (USB), 3D-Camera (USB), 2xAVR over I2C, PCA9517 "Level translating I2C-bus repeater" to bridge the 3.3V with the 5V I2C.
Motor control:

Motors driven by 4x VNH2SP30, one for each on a 20kHz PWM
Speed control (PID) and Odometry from wheel encoders are calculated on Atmega328 (yes, doing float on it).
Inputs/Outputs on Atmega328:
3x distance sonar sensors, 2x infrared distance sensors, battery voltage
Odometry calculation:
Odometry from wheels corrected with Tinkerforge IMU Brick 2.0 with Kalman filtering
Sensors:
Xtion Pro Live depth camera
2x IR 2D120X (1x left, 1x right)
3x sonar SRF05 (2x front, 1x aft).
The point of the sonar sensors is to correct the dead zone of the depth camera in less then 0.5m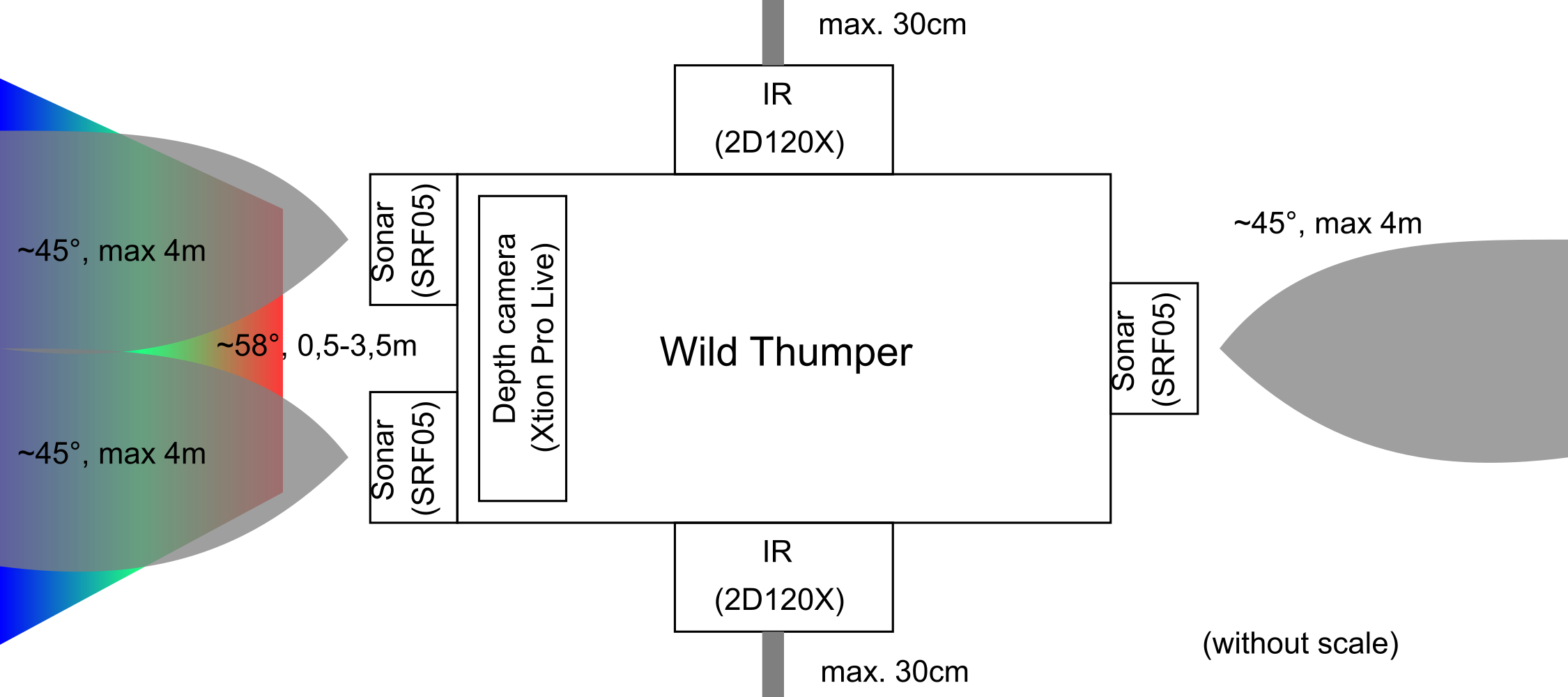 Software:
Debian Stretch
Robot Operating System (ROS) Kinetic
Object following:

With ultra-wideband (UWB) modules the robot can follow a target, in the following video a R/C car:
Details in the corresponding log "Follow me - part 4".

GPS test video:
The following videos shows the robot automatically driving a square by four GPS waypoints. The front camera is shown on the lower left, the rviz map video is shown on the upper left.
LED stripe demo: