Connect the two pins RST and D0 to activate wake up from deep sleep. On my WEMOS D1 mini (V3.0.0) this is easily possible if you connect the two solder pads marked with sleep.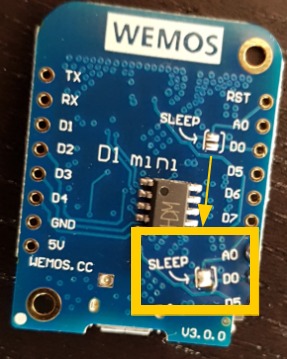 From now on (deep sleep on board activated) you need to connect GND and D3 (GPIO0) to program the D1 mini.
After you have connected the pins you can flash the script (github repository) onto the D1 mini.

To run the script  remove the connection between GND and D3 and assemble DHT Shield to D1 mini.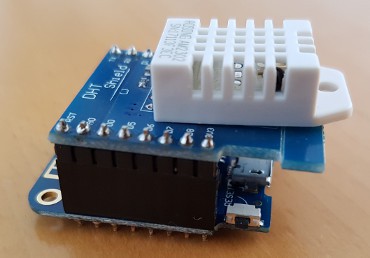 Connect D1 mini to a separate power source. If you use a power bank please be aware that a lot of power banks switch off during D1 mini is in deep sleep and no wake up is possible.
After the script had run your the configurated mqtt topic (e.g. /home/sensors/room) will have received a jsonified string like this:
{"

humidity

":

46.400002

,"

temperature

":

21.799999

}