Experience freedom of communication without 
borders
operators
networks
fees !!!


Create

 your own network, your own 

rules

 !!!
First prototypes manufactured in Aisler :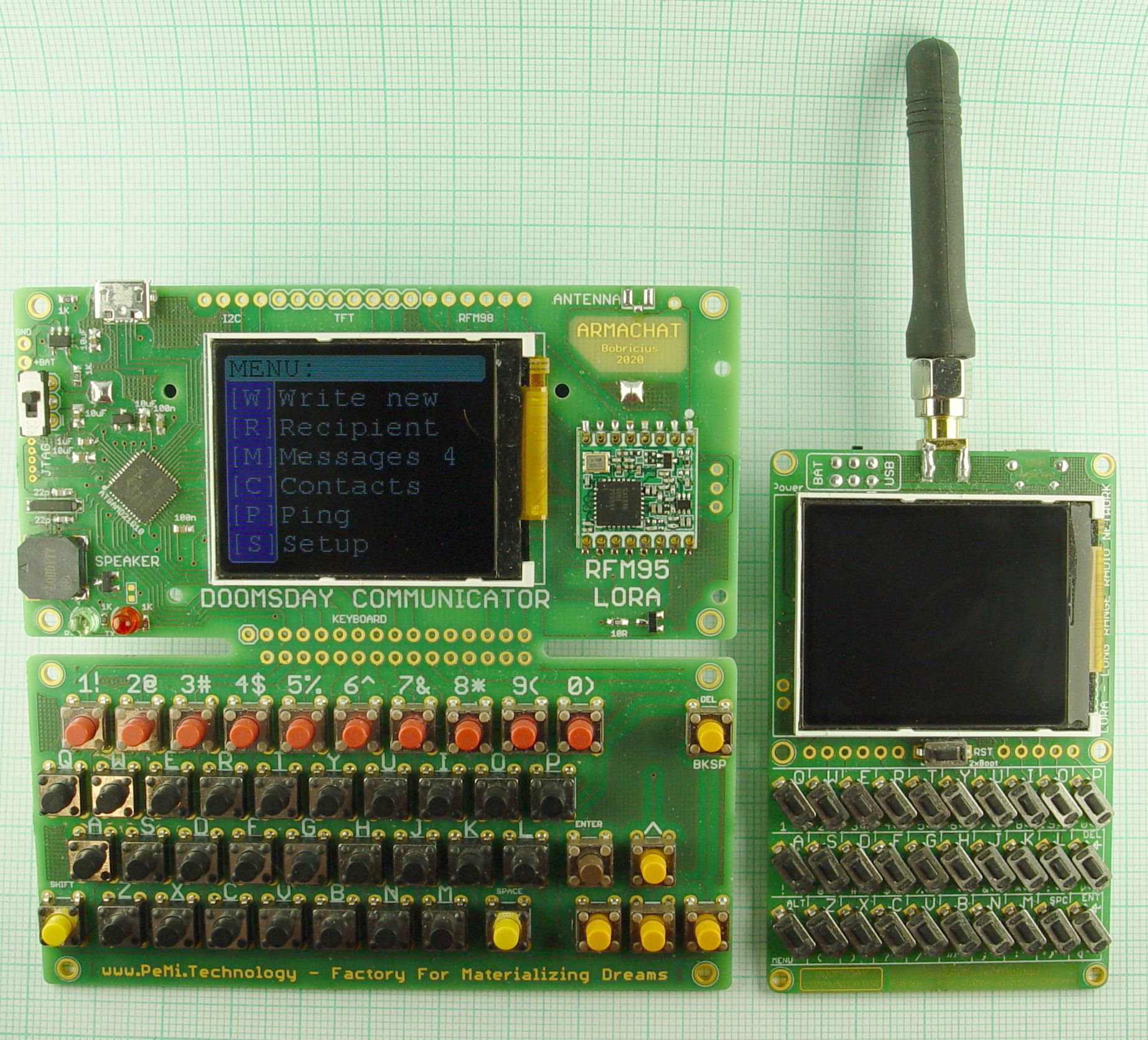 FUSION model - combine best features from both prototypes Manufactured in PCBWAY: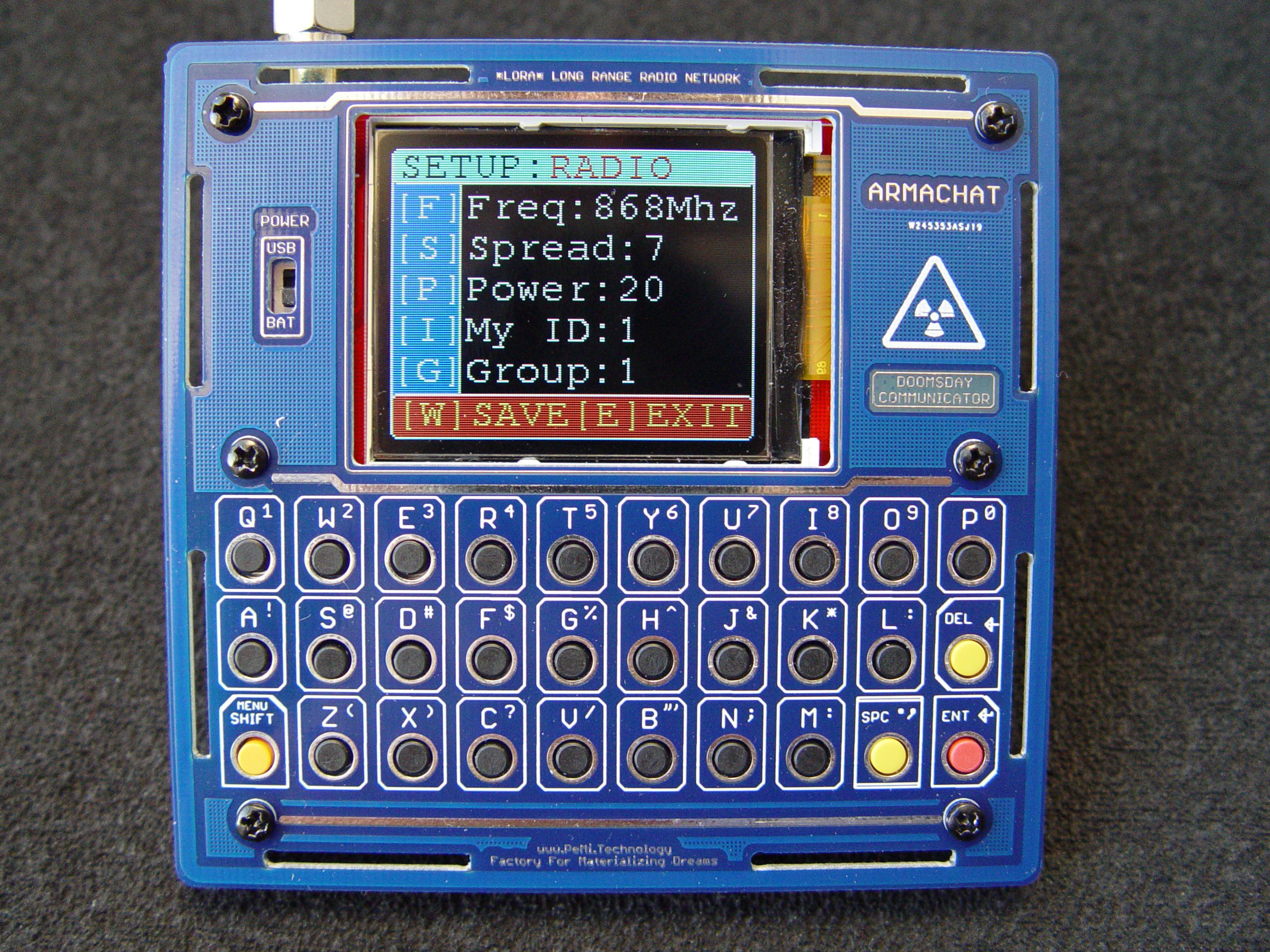 Hardware features:

SAMD21G18 for desktop version (pocket version use SAMD21E18, more easy to solder in TQFP32)
QWERTY keyboard
- 40 keys (4x10) desktop version
- 30 keys (5x6) pocket version
18650 li-on battery
1.8 TFT LCD display 128x160 ST7735
RFM95 long range radio module
- 3 freq. by your country
- IRQ / wake up
Beeper
Battery charging
Software RTC with alarms
Working software features:
Send message ... compose and send message to specified recipient or broadcast 
Receive message ... message is received on background and stored in memory.
Message editor ... write message about +/- 80 characters long ...
80 is now best readable on full display ....
Message memory ... all send/received messages are stored in memory
Display memory ... display memory content
RTC .... display time
Battery ... display battery voltage
Config ... user radio configuration spread factor / power
time set
check message delivery confirmation
contact list display and check online contacts
select recipient or broadcast
sort from memory by contact
BEST working feature - resend undelivered messages
if delivery fail, message is stored with "undelivered" attribute. Every station at power on broadcast "Ready receive status", then if any near station receive this broadcast and have undelivered message automatically try send this messages,
if then receive confirmation mark messages in memory as DELIVERED :)
TODO software features:
add message encryption
think about message forward (mesh)
add some USB link features like work as usb modem, send receive/message from PC terminal
GPS position parse
STEM Learning:
What you can learn on this board?
modern architecture based on M0 arduino zero compatible, with lot memory and native USB
QWERTY keyboard matrix reading
complex input/output HID processing read keyboard data,
create and display graphics, save data to flash, send results over radio or usb
radio communication with world best, most advanced long range radio technology
work with I2C sensors or process GPS data
learn lot about network architecture, packets, communication, addresing, delivery confirmation
RTC clock and alarms
power management, sleep, wake by alarm, wake on receive
( all this things I learning now on this project)
Production and marketing plans:
Hardware is very simple and easy to solder by hand (in pocket version with SAMD21E18), low active component count make it very attractive as learn to solder kit. Unfortunately SAMD21 come without bootloader, this is little problem because SAMD need special tools to burn bootloaders, I have no experience how much is complicated burn bootloader in factory on bare unsoldered chip. I suggesting sell this as semi populated board > PCBA all active components except buttons and radio module (Unsoldered radio module give small advantage because there is 3 world frequencies) Why TH tactile switches? because is very important to precise align with front cover plate and this can be little hard with hand.
SWOT analysis
Strengths:
no competition with almost finished and working communicator
compact design
qwerty keyboard, much user friendly than encoders or arrow keys
officially supported Arduino powerful microcontroller with lot free memory and computation power
using only 15% memory now, unlimited future enhancements
extremely simple just one easy solder chip and buttons, cheap and low component count
low power consumption
color graphics display
Weaknesses:
no community, no users (maybe because I have not started selling )
currently no mesh networking or advanced message routing
my programing knowledge is limited (I quickly learning)
Opportunities...
Read more »