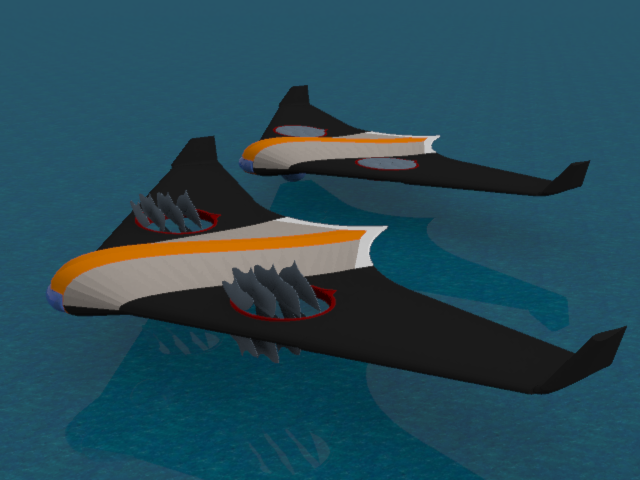 Extended flight times are often an asset in Search and Rescue operations and many other humanitarian and commercial endeavours. Originally conceived as an answer to border patrol woes in Cote d'Ivoire, Africa, the utility of this unit is unmatched. Vertical Take-off and Landing capabilities matched with cutting-edge hydrogen fuel cell technology make this bird a versatile piece of equipment.
The unique blend of battery and hydrogen fuel cell technology allow for smaller battery size and extended flight times. The estimated flight time of the current configuration of the power system exceeds 6 hours. Please read more about this system in the project logs.
The large size (3.5m wingspan, 2m nose to 'tail') ensures aerodynamic efficiency when measured against smaller craft and brings this unit into the realm of classical aerodynamic theory and calculation. The size also allows for a larger and heavier payload.
The body style is a hybrid of a traditional flying wing and delta wing. A large surface area packs a lot of lift into a small package. This allows for heavier payloads. Total All-Up-Weight of this bird is estimated to be approximately 25 kg, with most of that weight being power system and drive units. Two sets of fixed orientation BLDC driven rotors can lift the air-frame clear of ground obstacles. A single drive rotor at the back tilts 90 degrees from providing vertical stabilization thrust on take-off, transferring power to horizontal thrust in forward-flight mode.
In the main body, an auto-levelling 3-axis gimbal will carry the sensing equipment, be it visual or IR camera, thermal imaging, LIDAR or other payload. This gimbal will have downward-facing semi-spherical line-of-site, the body of the craft designed to maximize the extents. Several FPV style cameras can be mounted on this craft for monitoring control surfaces and structural stability, navigational aids and obstacle/danger avoidance.
Flight time is increased by the aerofoil lift the craft receives from the blended wing design. The large surface area will help increase lift.
Control will be achieved with thrust vectoring of the lifting drive units during vertical take-off, and traditional control surfaces during forward flight.
Several unique attributes will make this drone/UAV different from what is out there. Airframe design, power system, and VTOL all play a part in making this bird stand out.