The faster food grows, the more there is for the 800 million people estimated to already be undernourished. The less water consumed growing food, the more there is to drink. Farming doesn't have to pollute, it can reverse pollution.
Project EDEN is an automated aeroponics system which can grow plants faster, use less water, and consume more carbon dioxide than outdoor plants.

Aeroponics is essentially growing plants without soil, and has a few benefits:
Air as a growing medium lets more oxygen into the root structure
<50 micron droplets of mist easily deliver nutrients to the roots
Less water consumption through a self-contained system
More plants can be grown per square meter by utilizing vertical space.
NASA has experimented with aeroponics in space and have found High Pressure Aeroponics (HPA) systems to be efficient. EDEN will utilize HPA in a fully automated growing system to ensure that plants are watered in optimal conditions. A microcontroller will balance the pH level in a tank of nutrient solution using an ISFET for readings and peristaltic pumps to lower and raise pH. When the determined pH of the nutrient solution is detected, a solenoid opens to fill a reservoir where the temperature of the solution is controlled. Once the temperature is just right, water is sucked out of the reservoir and shot into a pressurized accumulator tank at 100 PSI and then blasted through a nozzle, producing 5 second mists of <50 micron droplets every 2 minutes.
It takes more than delivering nutrients to a plant to grow indoors. Plants thrive on carbon dioxide. The atmosphere typically offers 300-600 parts per million (ppm) of carbon dioxide (CO2) for plants to absorb and process into oxygen. That's about the amount needed to sustain growth, but there is a distinction between surviving and flourishing. An abundant amount of CO2 can increase growth by up to 30%. EDEN will pump CO2 from a tank at around 1200-1400 ppm based on calculations from PID and CO2 sensors. A gas solenoid will close approximately 2 hours before the night cycle begins respiration, so no CO2 goes to waste. EDEN definitely isn't carbon neutral, carbon enrichment of plants devours carbon dioxide at a much higher rate than what outdoor plants are capable of.
EDEN will use a large array of horticultural LEDs in conjunction with the CO2 system. Horticultural LEDs emit Photosynthetically Active Radiation (PAR) which uses less electricity by focusing on the spectrum of light plants actually use for photosynthesis. This saves electricity by not powering colors of light that plants don't absorb much of through photosynthesis.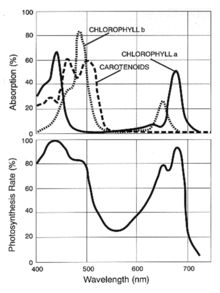 Plants use different amounts of light at different stages. The user will be able to access a web server which can configure growth profiles for various stages of the growth cycle. EDEN will allow the user to control the ratio of red/blue light the plant receives, the total amount of light, and the amount of time the plant receives light. The configuration doesn't stop there though, CO2 PPM, humidity, water temp, pH, and misting cycles can be controlled as well. By having the ability to import/export growth configurations in a controlled environment, users can share their results with others to find the best possible conditions that different plants can grow under. We hope that encouraging experimentation will expedite the production of plants used for food, fuel,medicines, and materials. Its possible for EDEN to make farms of cities, deserts, tundras, and oceans, considering aeroponics has already made farming in space a possibility. That matters when forests are being cut down to make room for farms, when they could go undisturbed - or at the very least be used for low income housing.