This is my entry into the 2018 Hackaday prize, although I have only 3d printed the inner fiber port as of yet, I have tested the concept to the point where I am comfortable in printing the rest of the design. My main logs are still intact at my original post for this project, and will change as these change.
The main detector for this design is a Nikon D5600 DSLR digital camera specifications are below:
Specifications for the Nikon D3400: 
Effective Pixels (Megapixels) 24.2 million.
Sensor Size. 23.5 mm. x 15.6 mm.
Image Sensor Format. DX.
Storage Media. SD. SDHC. ...
Top Continuous Shooting Speed at full resolution. 5 frames per second.
ISO Sensitivity. ISO 100 - 25,600.
Movie. Full HD 1,920x1,080 / 60 fps. ...
Monitor Size. 3.0 in.
BOM (bill of materials) for The 3D printable Raman Probe v23 project:
There is also a Zip file available in Excel format for download. 
This will be the fiber cable that will be used: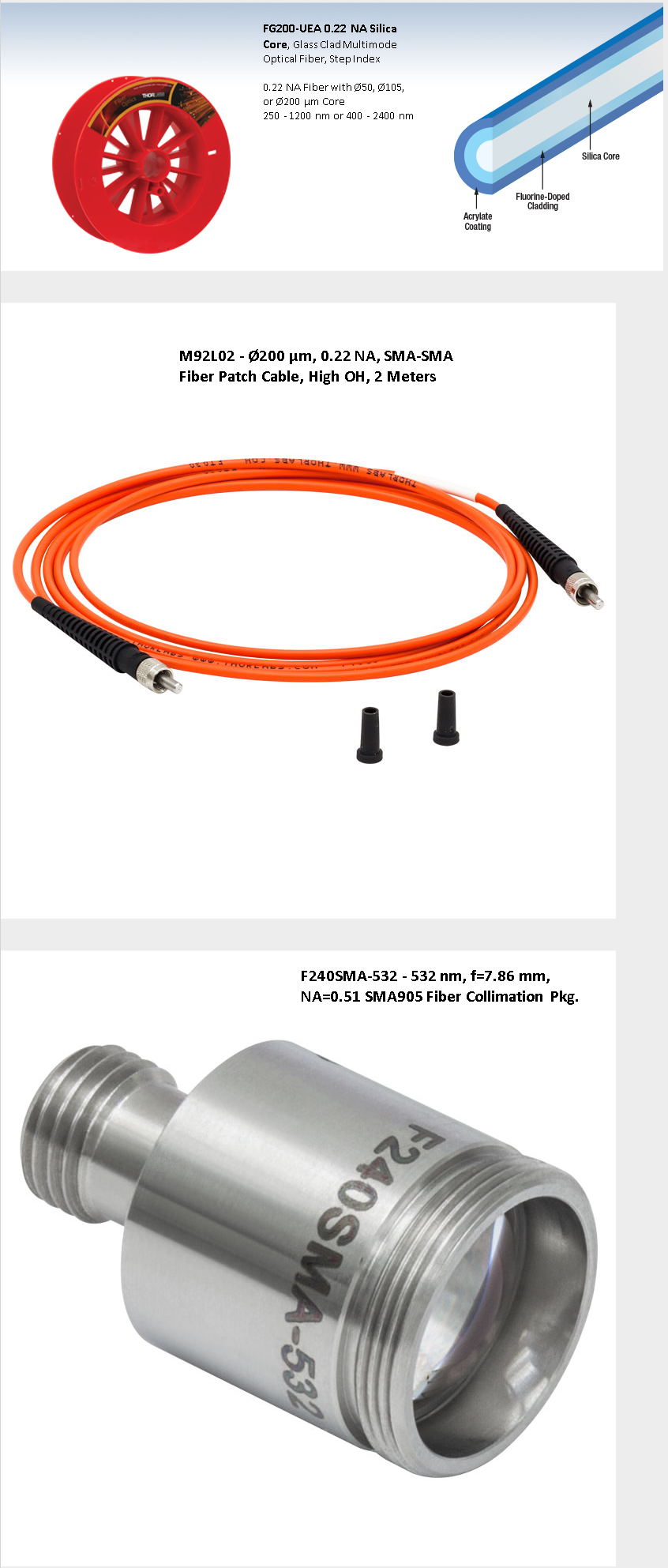 Raman spectroscopy an easy explanation:
Raman spectrometers
These systems consist of:
one or more single coloured light sources (lasers)
lenses (both to focus the light onto the sample and to collect the scattered light)
filters (to purify the reflected and scattered light so that only the Raman light is collected)
a means of splitting the light into its constituent colours (normally a diffraction grating or prism)
a very sensitive detector (to detect the weak light)
a device such as a computer to control the whole system, display the spectrum and enable this information to be analysed
Raman scattering offers significant advantages for the investigation of materials over other analytical techniques, such as x-raying them or seeing how they absorb light (e.g. infrared absorption or ultraviolet absorption).
So as this project progresses to it's final conclusion it's purpose will become clearer, I am removing any creative commons licenses or restrictions to keep in spirit with the heart and soul of open source knowledge, the kind here @ Hackaday we build and distribute everyday of the week, in hopes of building a better world :)