Overview
The Compost Professor is made up of multiple components
Compost Unit - A Smart Compost bin that monitors compost and take actions (hydrates the compost or opens/closes air vents). The Compost Unit takes measurements every hour and send relays measurements (and gets instructions) from the Base unit using radio packets.
Base Unit- Receives data from the Compost Unit and sends the data to Compost Professor Cloud, which analyzes the data and makes recommendations on action needed. Instructions on actions needed (water the compost or open/close the vent) are transmitted from the cloud to the Compost Unit via radio packet
Kitchen Unit - A small touchscreen device that sits in the kitchen and tells the user on actions needed (e.g. - turn the compost bin, add green materials, add brown materials, add compost activator, refill the water reservoir, replace the batteries). The unit is small and is meant to sit on the kitchen counter near the "compost scraps" bin
Compost Professor Cloud - an free-to-use machine learning system that takes input data (compost temperature, compost moisture, weather conditions, sunlight conditions, historical data) to make recommendations on actions to create compost in the shortest amount of time possible.
"Can I Compost" Alexa skill - lets the user asks what materials can be composted. Over time, will integrate with the Compost Professor to make specific recommendations based on the user's compost measurements.
The goal is that the system helps the user quickly create a batch of compost with minimal work. We are also looking to ensure that the compost is created using aerobic processes (with oxygen) versus anaerobic (without oxygen). Anaerobic processing (like landfills) can create higher concentrations of methane gas.
Data Flow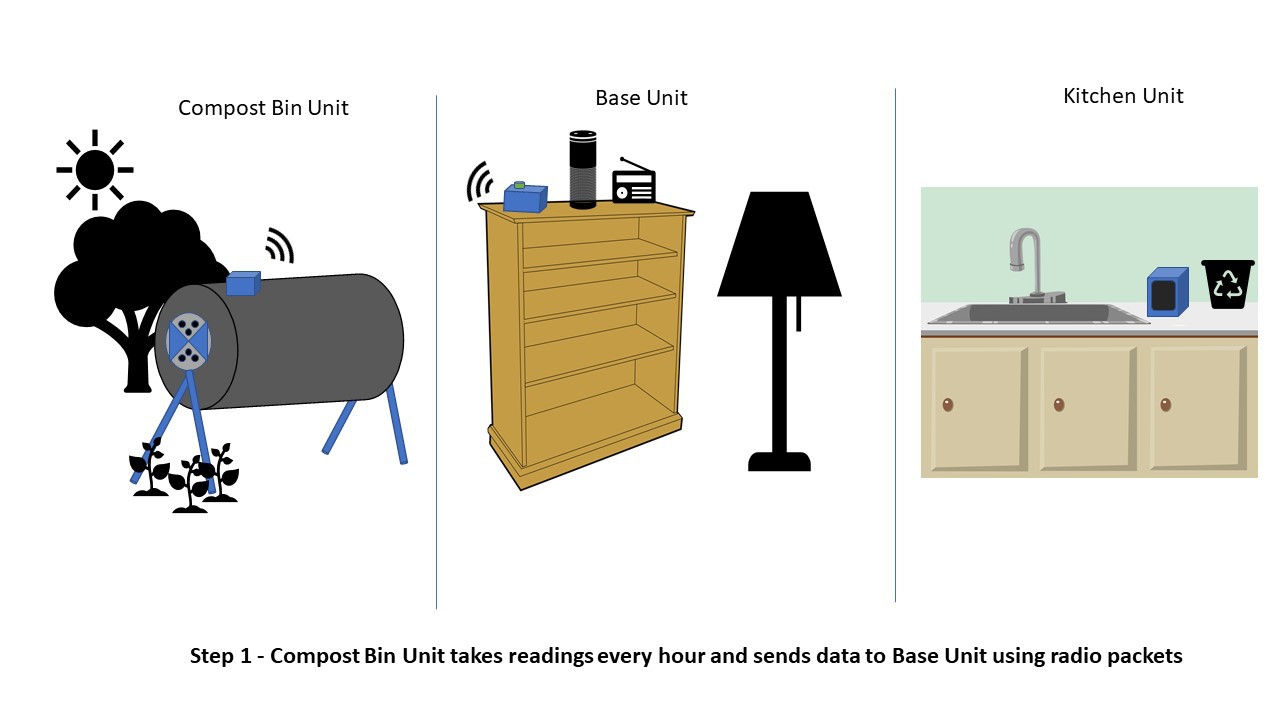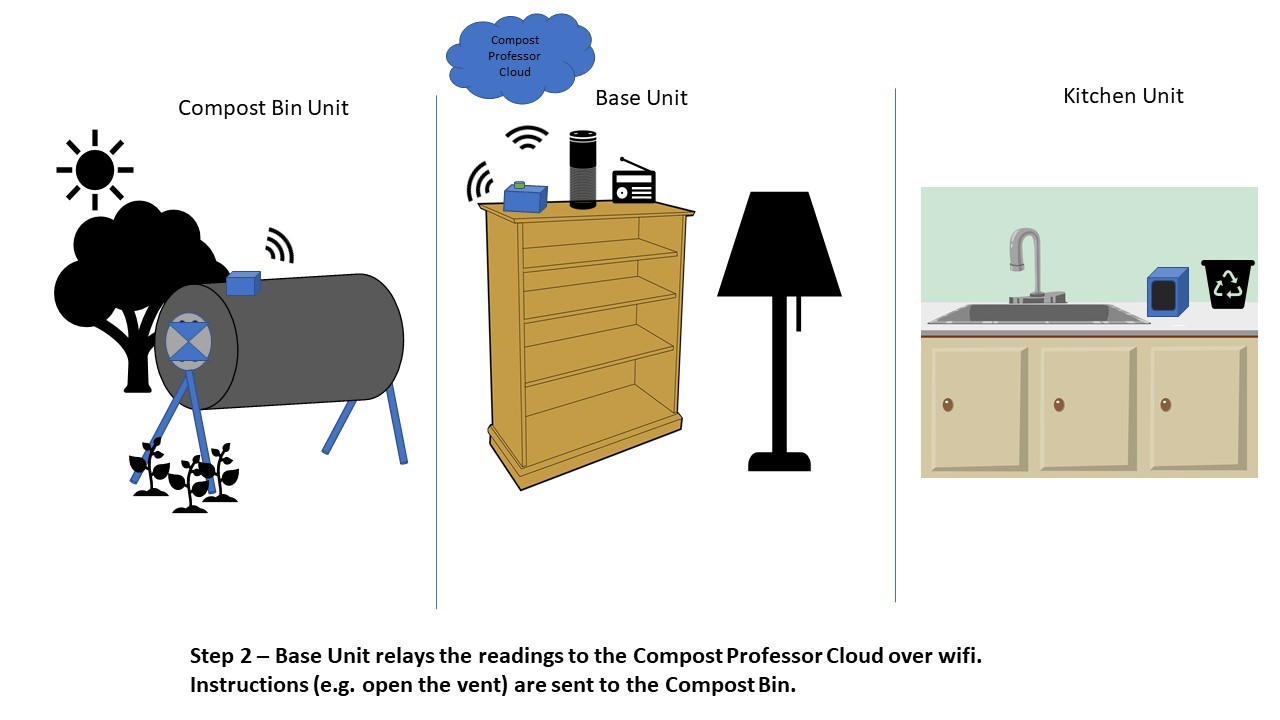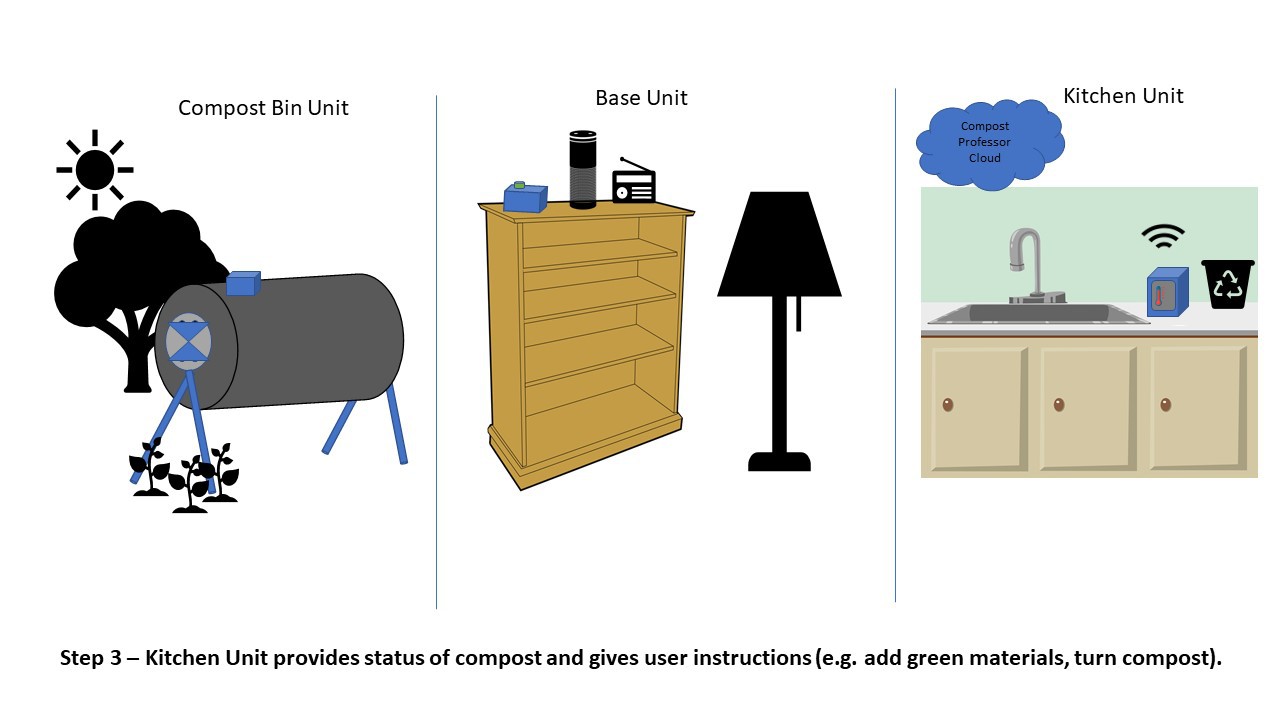 Project Phases
The project will be developed in multiple phases:
Phase 1: Sensor Tests (complete)
Proof of concept to validate sensors, output to serial print
Arduino 101 for Satellite System
Raspberry Pi for Base Station
Phase 2: Proof of Concept against small batch of compost (complete)
use LoRa radio to communicate readings between Satellite and Base System
Data stored in SQLite database
Initial dashboard with simple analytics
Phase 3: Prototype v2 (complete; feedback incorporated into Phase 4)
Base System - move from Raspberry Pi to Intel Edison and add warning indicators
Move from breadboard to soldering
Improved dashboard and analytics
Improved sensors
Add solar power
Phase 4: Prototype v3 (target completion - Oct 20)
Make system more "stand alone" (feedback was that the v2 required too much work to configure and install)
Incorporate components into Compost Tumbler
Tune devices for less power consumption/deep sleep
Build GUI for compost data
Build better analysis system (move to AWS in order to leverage server-less and machine learning modules)
Phase 5: Build MVP and Website (Dec 2017)
Move from retail products to custom built PCBs
Determine manufacturing options for compost bin
 Create website with registration for free use for cloud/APIs
Create order process to replenish consumables (carbon filters, compost activator, wood pellets). See Business Case for more details.
Running List of Requirements, Enhancements & Improvements
Open:
Build motor to automatically turn compost (added 10/12/2017)
Consider using Radio Packets versus Wifi for Kitchen sensor (as of right now, RFM69 library conflicts with TFT library). If change is made, this increases battery life of Kitchen Unit
Add Website - Unit Registration and Ordering capability
Add Registration process for free unit of APIs
Determine best model for creation/manufacture of compost bin
Complete:
Soil moisture sensor not robust enough - switch to combined temperature and moisture sensor probe (ETC - Phase 3) [use a corrosion resistant moisture sensor) - DONE
BLE not suitable for communication between devices, switch to LORA or radio packets (ETC - Phase 2) - DONE
Ambient temperature should factor into analytics (ETC - Phase 3) - DONE, but...
Read more »