**COMING SOON TO KICKSTARTER! Follow here: https://bit.ly/2P2K3

.
Video Link:

Introduction:
 This project started when my imagination was set to wander by a sentence from the book Invent To Learn.
 "Erector Set, Tinker Toys, Meccano, Lincoln Logs, LEGO ... All of these toys could be used to construct fanciful models of things, but not the things themselves. The game-changing 'toys' available to today's girls and boys are capable of making real things."
 Of course that quote refers to things like 3d printers, laser engravers, and the like, but I saw it as an interesting challenge. A toy that can make things...
Then one day I came across a 3d printed plotter bot design by MakerBlock. He and others developed arduino code that allowed a robot to read g-code and plot with a marker using hobby servos, a task typically done with stepper motors. Great idea and perfect for making an ultra low cost robot that still had lots of functionality. 
 My idea was to build off of his code and create my own set of robot hardware to draw on coffee mugs. The thought being to emulate the famous Egg-bot, except with even lower barriers to entry and to produce objects with more everyday appeal. 
Application Development and the Explosion of Ideas:
The key module in this set is the linear actuator assembly. I hadn't found anything available online so I designed one from scratch. During this process I realized that I could greatly enhance the usefulness of the actuator by giving it a standard hole mounting pattern to make it modular and use the same actuator twice.
 Then I realized that modularity allowed me to rearrange the robot components to make completely unrelated bots as well!  From there I just had fun designing different modules and at this point the collection can be used to make customized versions of any of the common industrial robot configurations, a walking robot (Pic Pending), or any other Voltron style monstrosity a kid can imagine with up to 9 servos.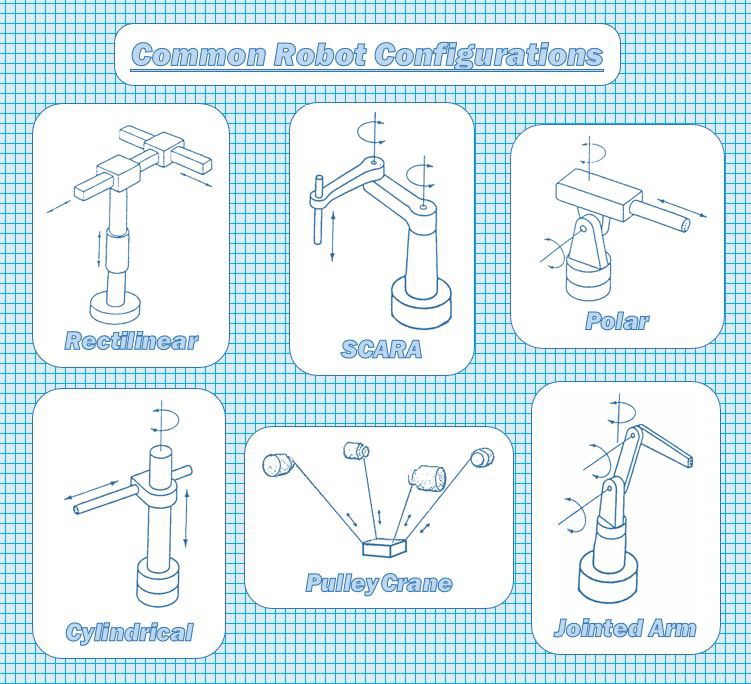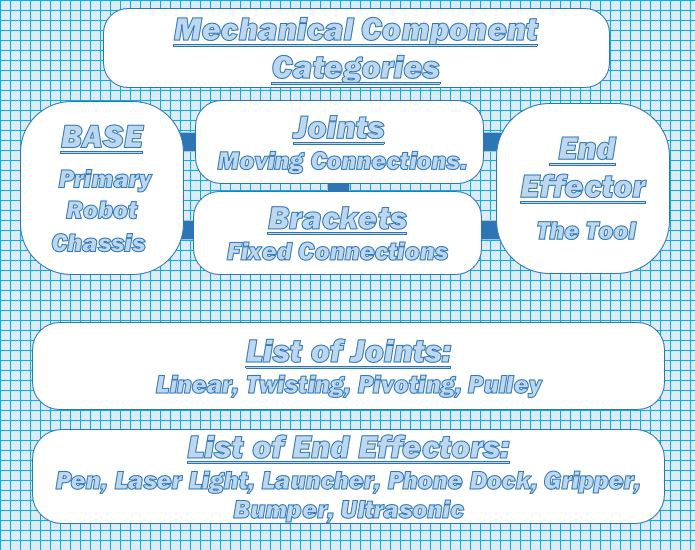 Why a Rack & Pinion Actuator?
I choose a rack & pinion type actuator to keep the vitamins low and the movement speed fast. (As opposed to a slow leadscrew or pulley driven actuator with belts & bearings).  Well for those reasons and the fact that hobby servos only have 180 degs of usable motion severely limits your options. 
I had to do some math up front to size the gear to get the 80mm of motion I needed to draw on an entire 11 oz coffee mug. The effective diameter is the only variable that affects motion, tooth size did not, so I picked a large (easily printable) tooth size that maintained contact ratio around 2. The tooth mesh benefits from some of the assembly compliance to keep it tight enough to prevent backlash, but squishy to prevent sticking points.
 Keeping it Tight: 
  For a drawing robot to be worth anything it needs to be rigid so you can draw straight lines. The challenge of designing a tight moving assembly without bearings is that to reduce slop you end up making it harder to drive, and hobby servos don't have much torque to waste. 
 Indeed, my research for an existing rack & pinion to start from yielded lots of wiggly/loose gear rack assemblies that are purpose built. Most of the machines I saw were hacked together, designed by folks gifted with software skills much greater than their mechanical design skills. I consider those projects to be fantastic works of art, rather than repeatable mechanically sound works of engineering. There is a limit to how much slop you can tune out of a machine. 
 So I had to design these models from scratch and during the iteration process I found it necessary to include some special compliance/adjustability features to facilitate reliably smooth motion. For those interested I wrote an article on...
Read more »