See http://www.instructables.com/id/Wifi-Webradio-With-ESP8266-and-VS1053 for the description of the minimal prototype.

See github source for the ESP32 version ( vs1053 or i2s or pcm or internal DAC)

See A project derived from KaRadio32 in progress.

See the lcd +IR software's on Github AddOn

See some realizations of users at KaraDio

A nextion touchscreen display for KaraDio from yo2ldk : Here
For more informations or questions, you can enter to the Karadio facebook group

---
KaRadio32 Release 1.9
KaRadio32:

Release 1.9 Rev6 - Built on 2020/01/11
New:

1.9 R4:

wifi.auto command now disable the AP mode if already connected to an AP in the past.
I2S corrected for 32bit output stream. Thanks to har-in-air github user.
Instant play: new button "Add/Edit", and update fields on cli commands.

1.9 R3:

blank password accepted.
New lcd types: LCD_I2C_ST7567, LCD_SPI_ST7567_pi , LCD_SPI_ST7567, LCD_SPI_ST7565_NHD_C12864
New nvs_partition_generator.sh and nvs_partition_gen.py: comment line # comment, now permitted.
cli.list correction.
Minor corrections.

1.9 R2:

New option for the active level of buttons.
Little bug removed on color lcd.
Telnet disabled in AP mode.
Key Ctrl space, Ctrl left, ctrl right, ctrl top, ctrl bottom on web page for control.

1.9 R1:

Labels in the csv hardware configuration.
Toggle main/time now permanent. On time display, an event go to the main screen for 3 seconds then return to time screen.
More reactive display on lcd.

1.9 R0:

Improved encoder for new chinese device (shorter pulses) (reverse A/B in case of reverse way)
Better vs1053 detection.
No more fall back to i2s when the vs1053 is not detected.
RSSI display needed a click of a button to start.
AP mode on init: the web page starts on the "Setting" panel and the stations list is skipped.
Wifi option: If wifi is disconnected choose to reset or wait for the connection on the same SSID:
Command wifi.auto("x") with x = 0: reboot, x=1: wait for the SSID
For internal reasons, the touch screen needs to be calibrated again.
Many small improvements in the code.



KaRadio: Release 1.9
Release 1.9 R6 - Built on 2020/01/11
New:

1.9 R6:
1.9 R4:

LWIP layer tuned. Better errno 11 computing.

1.9 R3:

Instant play: new button "Add/Edit", and update fields on cli commands.

1.9 R2:

AP mode no working. A wrong lwip was the cause. Now 192.168.4.1 is working.

1.9 R1:

Keyboard on web page correction.
cli.list correction.

1.9 R0:

Use of the RTOS SDK 2.0.0.
History:
ESP8266 Simplest prototype: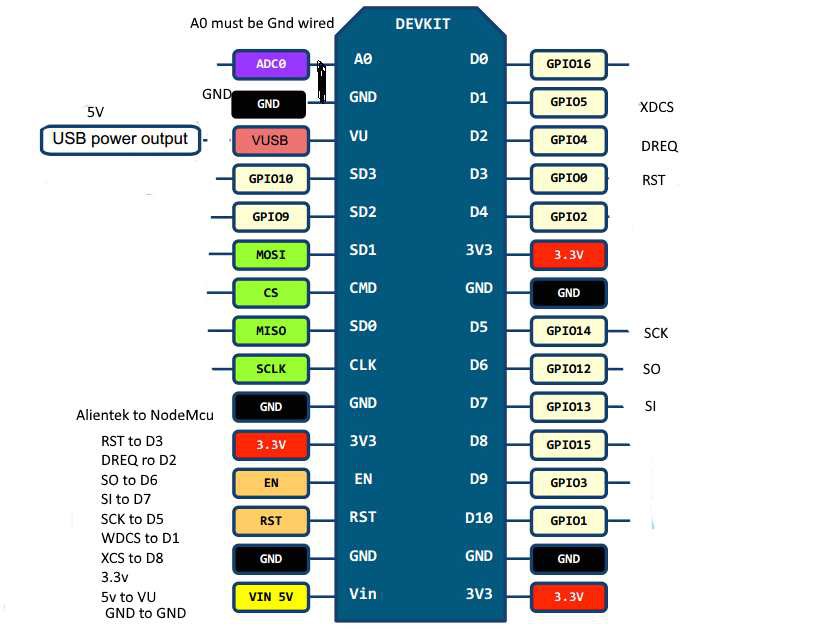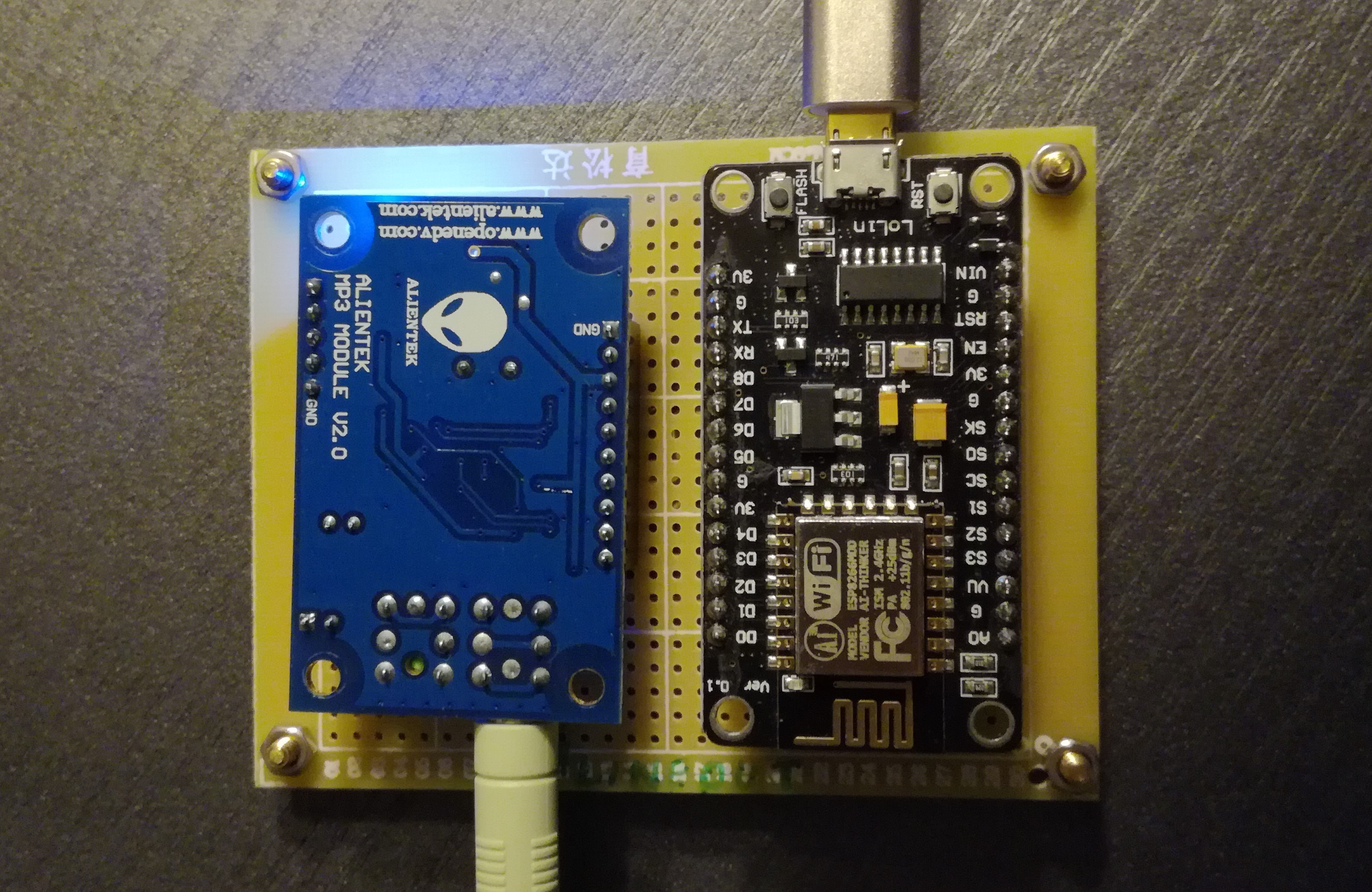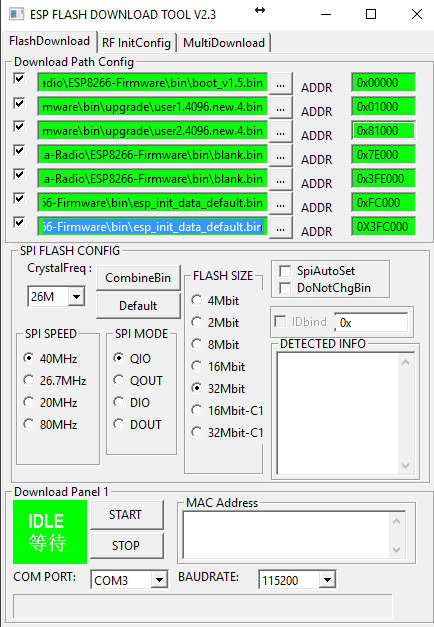 - Optional external ram (23LCV1024) support (1:CS/=GPIO16 2:MISO=GPIO12 3:NC 4:GND 5:MOSI=GPIO13 6:SCK=GPIO14 7:GND 8:3.3v)

Attention:
The optional led is now on GPIO2. The blue led on the ESP8266 is blinking at the same rate.
GPIO16 is now the Chip select for the external ram if any.
The external ram is detected at boot time if present.
To upgrade to this release, please flash user1.4096.new.4.bin at 0x1000 ,
user2.4096.new.4.bin at 0X81000 and blank.bin at 0x7e000 & 0x3fe000
After that, all next updates are done with the On The Air (OTA) feature.
New binaries are hosted at http://karadio.karawin.fr .

Loading the esp8266

First use

If the access point of your router is not known, the webradio initializes itself as an AP. Connect your wifi to the ssid "WifiWebRadio",
Browse to 192.164.4.1 to display the page, got to "setting" "Wifi" and configure your ssid ap, the password if any, the wanted IP or use dhcp if you know how to retrieve the dhcp given ip (terminal or scan of the network).
In the gateway field, enter the ip address of your router.
Validate. The equipment restart to the...
Read more »